Riding a bike with your pup is one of the most exciting and enjoyable ways to spend time together. Not only does it provide time for play and exercise, but it also gives you an opportunity to bond with your furry friend.
Taking your dog on a bike ride can be tricky. You want them to be safe and comfortable, while also making sure that they don't interfere with your ability to ride. So, what's the best way to carry a dog on a bike? Let's find out!
The Right Gear
First and foremost, you need to make sure that both you and your pup have the right gear. For yourself, this includes a helmet and bright clothing so that drivers can easily see you on the road. For your pet, make sure they're wearing a properly-fitted harness and leash so they don't get hurt if they decide to jump off while in motion. Additionally, look into purchasing a pet carrier specifically designed for bicycles; these carriers can be affixed onto bikes or held securely in place by straps. This will ensure that your dog is safe while riding alongside you.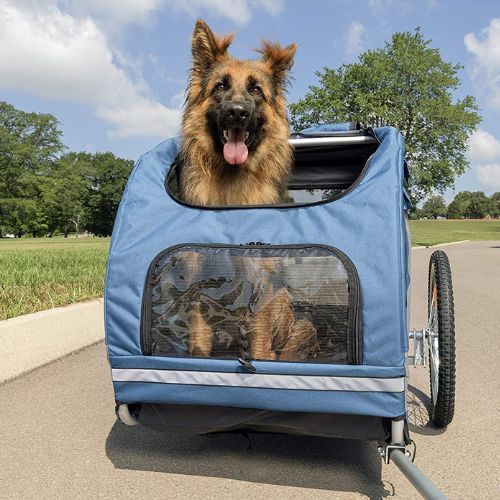 Dog Trailers
If you're looking for an option that will allow you to transport larger breeds, or one that has mobility issues, then a trailer is probably the best option. There are several different types of trailers available, from enclosed models that keep your pet secure and out of the elements to open-air varieties that allow them to stick their head out and enjoy the breeze.
When shopping for a trailer, make sure it is designed specifically for dogs—some pet trailers may not provide enough support or have enough room for larger breeds, so always double check before making a purchase.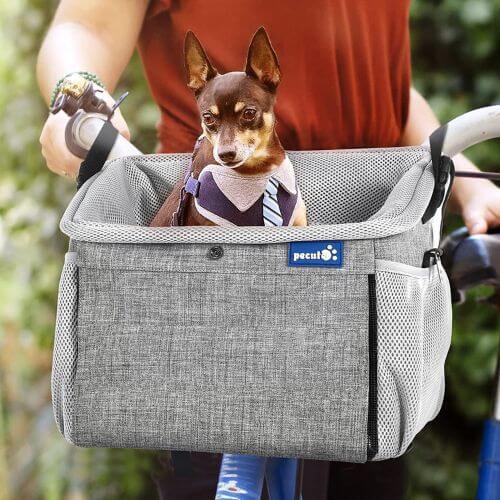 The Doggy Bike Basket
One of the most popular ways to transport your pup is with a doggy bike basket. These baskets are designed specifically for carrying small dogs and come in various sizes so you can find one that fits your pup perfectly. They attach easily to the front or back of a bike, depending on the model you choose, and include safety features like straps so that your pup won't fall out (or jump out). A few even feature mesh screens so you can keep an eye on your furry friend while they enjoy the scenery.
We also recommend avoiding any baskets that hang off of either side of the bike, as they can be difficult to manoeuvre when attempting tight turns or stops.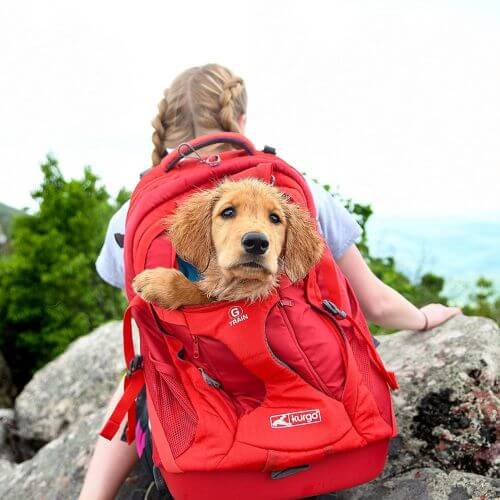 Backpacks
For small pups up to 20 lbs., backpacks are often the best option since they don't add extra weight or drag behind the bike like baskets and trailers do. Look for packs made from lightweight yet durable material and preferably those with adjustable straps so you can customize the fit—you don't want anything digging into your pup's skin! Also make sure there is adequate ventilation within the pack so Fido doesn't get too hot during your ride.
Training Is Essential
Once your pup has the appropriate gear, training them is essential to ensure both of your safety on the road. Let's assume he knows basic commands like "sit" or "stay". To become more comfortable with biking together, start off slowly by walking around with them in their carrier until they become more familiar with being on a bike. Once they're ready, short rides around quiet streets can help build up their stamina so that longer trips are possible down the line!
Be Aware of Weather Conditions
When biking outdoors with your pup, it's important to consider weather conditions as well as their overall health before embarking on any journey. Too much exposure can put strain on their bodies so if temperatures become too hot or cold (or there's inclement weather), take breaks frequently for water and let them rest periodically throughout rides if needed. Being mindful of these factors will ensure that you both have an enjoyable time together!
Additional Safety Tips
No matter which method of transportation you use, it's important that you take steps to ensure both yours and your pup's safety before heading off on any rides. Firstly, it's essential that they wear proper safety gear such as a well-fitted harness or collar at all times when riding on the bike with you. Additionally, make sure that their weight is evenly distributed throughout whichever form of transport you choose so as not to affect steering or balance. Finally, familiarize yourself with local laws regarding biking with animals—some areas may have specific regulations in place which must be followed in order for both of you stay safe while on the roads!
Conclusion:
Bringing Fido along for a bike ride doesn't have to be difficult or dangerous - there are plenty of options available when it comes time to transport him safely and comfortably! From doggy bike baskets for smaller breeds all the way up to trailers for large dogs – there are plenty of choices available depending on both your and your pooch's needs. Just remember – no matter what type of transportation method you end up choosing – always make sure that Fido is properly secured and equipped with appropriate safety gear before hitting those trails! Happy biking!
If you want to carry a large dog in a bike basket, check this out: