Do you love dressing up your pet in the latest fashion?
Of course, who doesn't? And what could be more fashionable than a dog hoodie? They come in all shapes and sizes, and in a variety of colors and materials. So no matter what your style is, you're sure to find the perfect dog hoodie for your pet.
Not only will your pet be stylish but they'll also be warm and cozy. A good dog hoodie can keep them comfortable even on the coldest days.
Check out our selection of the best dog hoodies today!
👉🏻
We are here to provide you with the best choices. Clicking on some of the links on this page may generate a small commission from purchases you make through those websites, but there is no extra cost to you.
How We Make Our Choices
It can be tough to keep your pup warm during the colder months, but you don't want them wearing a heavy coat all year long.
Dogs are always happy to see us, but they can really suffer when the weather is bad. In the winter, their fur can't keep them warm enough, and in the summer they can easily overheat.
We've got you covered. Our list of the best dog hoodies for different seasons will help you choose the perfect coat for your furry friend, whether they need something lightweight for summer or a thick jacket for winter.
Our Top Choices For You: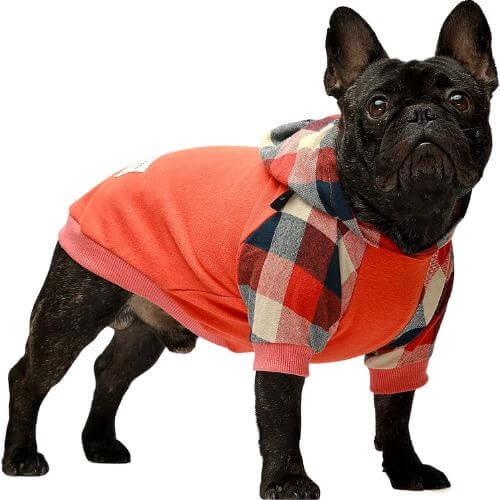 Fitwarm Dog Hoodies
Best Cotton Hooded T-Shirt
Check Price on Amazon
What we love about this choice
Fitwarm Dog Hoodies are the perfect way to keep your pup warm and stylish during the cooler months. With their super stretchy and easy-to-put-on pullover style, you can get lots of compliments on his great looks. It also features a discreet hole at the back for leash attachment, and is cut higher in the belly for easy potty breaks.
You should know this
These hoodies are made of 100% cotton soft and thick t-shirt-like material, so they are friendly to sensitive skin. With six sizes and three colors to choose from, you're sure to find the perfect hoodie for your pup.
So why wait? Get your pup a Fitwarm Dog Hoodie today!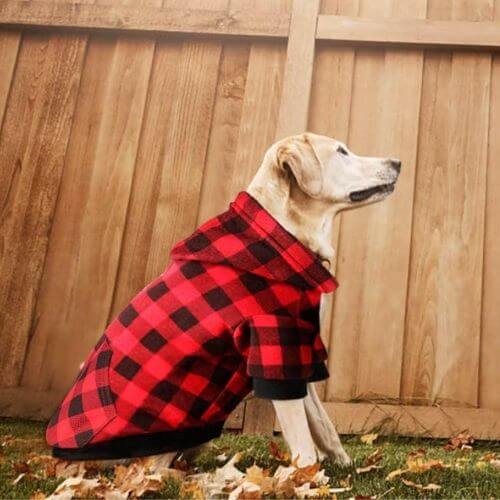 Mtliepte Red Plaid Dog Hoodie
Check Price on Amazon
What we love about this choice
We love the Mtliepte Red Plaid Dog Hoodie because it is a real hoodie with sleeves, complete with a pocket and matching hat. It is made of a comfortable flannel fabric that is very soft and fits well. The hoodie looks great in a red and black plaid and the belly is cut high enough so your pup won't pee on it. There is also a slit to clip a harness through.
You should know this
The Mtliepte Red Plaid Dog Hoodie is made from a polyester cotton blend fabric with a lining for warmth and comfort. This hoodie is also machine washable and colorfast, making it easy to clean. With its stylish design and comfortable fit, this hoodie is sure to be a hit with your pup.
So don't wait - order the Mtliepte Red Plaid Dog Hoodie today!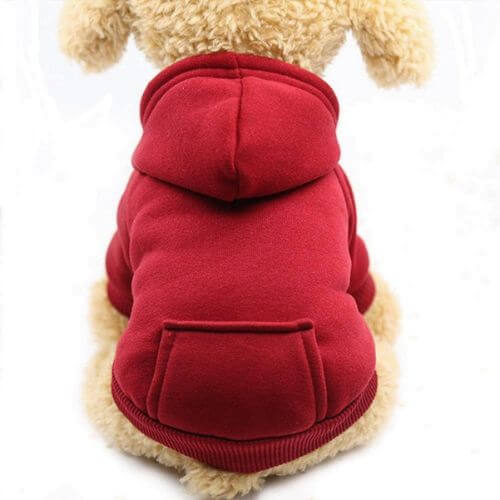 Jecikelon Winter Dog Hoodie
Check Price on Amazon
What we love about this choice
The Jecikelon Winter Dog Hoodie is the perfect way to keep your small dog warm and stylish this winter. This hoodie is made of a soft and stretchy fabric that is sure to keep your pup cozy and comfortable. It also features pockets for your pup to store treats or toys. The hoodie also has an opening for a harness so your pup can wear it indoors or outdoors.
You should know this
The Jecikelon Winter Dog Hoodie is made with high-quality materials that are comfortable and durable. Plus, it is easy to wash and dry, making it a great choice for all your winter adventures.. It's also designed to fit snugly on your pup, so you can be sure that your pup will stay warm and cozy all winter long. And with five sizes and a huge range of colors, you're sure to find the perfect hoodie for your pup.
With Jecikelon's Winter Dog Hoodie, you can keep your pup warm and looking great all winter long.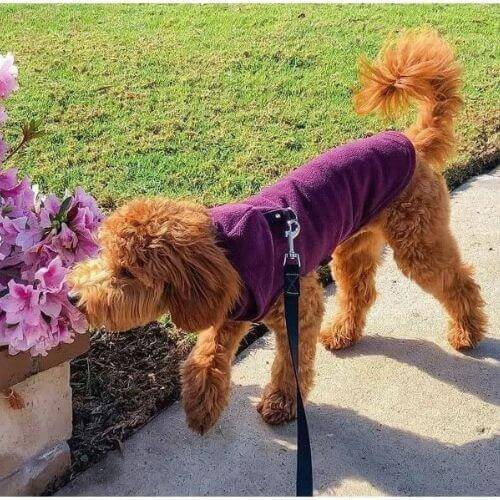 Gooby Fleece Vest Hoodie Dog
Best Dog Fleece Hoodie with O-Ring Leash
Check Price on Amazon
What we love about this choice
Gooby Fleece Vest Hoodie Dog is perfect for cold winter days! This pullover is easy to put on your pup and provides extra warmth for outdoor walks, as well as just lounging around the house. The O-ring on the back allows for short walks without needing a collar or harness.
You should know this
Gooby Fleece Vest Hoodie Dog comes in five sizes and a range of 8 colors, so you can find the perfect fit for your pup. It's made of 100% polyester, which helps keep moisture out and warmth in. It's also safe, durable, and made to last, so you can throw it in the washer and dryer without worrying about it getting ruined.
So, if you're looking for the perfect dog hoodie, look no further than Gooby Fleece Vest Hoodie Dog!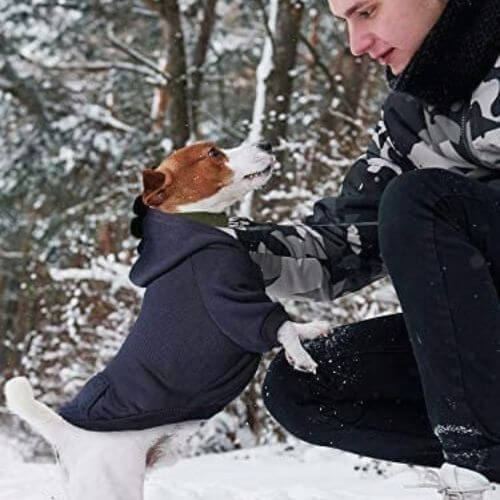 Syhood 6 Pieces Dog Hoodie
Best Multipack of Dog Hoodies
Check Price on Amazon
What we love about this choice
Keep your furry friend looking stylish and feeling cozy with the Syhood 6 Pieces Dog Hoodie. This multipack of hoodies is designed with a kangaroo pocket and hat, fits snugly and keeps your dog warm. Not only are they nice and soft, but they come in a six pack of different colors - dark blue, red, orange, pink, purple and brown - so your pup can look their best.
You should know this
Not only are these hoodies stylish, but they are also made of a cotton blend with light fleece that is warm and comfortable to touch and wear. The hoodies are machine washable, making them easy to maintain. Plus, they are great value for the money, so you can keep your pup looking fashionable without breaking the bank.
With the Syhood 6 Pieces Dog Hoodie, you can be sure that your pup will be looking their best and feeling cozy all season long.
Best Dog Hoodies FAQs
With so many different types and styles of dog hoodies out there, it can be hard to know which one is best for your pup. You want to make sure you get the right fit, material, and design, but how can you be sure you're getting the best one?
We've done the research and compiled a list of the most frequently asked questions about dog hoodies so you can make an informed decision on which one is best for your furry friend.
Should my dog wear a hoodie?
Do you want your pup to look absolutely adorable? Have you ever wondered if a hoodie is the answer? Well, it turns out that there are lots of good reasons why your dog should sport a pet hoodie!
Small or short-haired pooches can benefit from an extra layer of warmth when the temperature drops. A lightweight doggy jacket can help keep them warm and toasty, even on foggy mornings. And larger breeds often have fur that's not thick enough to provide adequate insulation in sub-zero temperatures. By layering up with some outerwear they can stay cozy outdoors and avoid feeling chilly indoors too!
Some dogs love wearing hoodies, while others find them constricting and uncomfortable. If your dog seems to enjoy wearing a hoodie, then go ahead and put one on him! Hoodies can help keep dogs warm during winter months and also protect them from the sun's harmful UV rays.
Are sweaters uncomfortable for dogs?
Are sweaters uncomfortable for dogs? It's a question many of us dog owners have pondered. After all, our furry friends need protection from the elements too! But unfortunately, not all sweaters are created equal when it comes to canine comfort.
So the answer? In some cases – yeah, sweaters might be a tad bit uncomfortable for dogs. Sweaters can be great for short haired breeds who need an extra layer during colder months, but they could cause issues if your pup has thick fur since that extra warmth can make them overheat easily. Some materials like wool or nylon also may irritate your pup's skin and cause discomfort.
On the other hand, there are fabrics specifically designed with dogs in mind! Soft cotton knit by natural fibers won't rub against delicate skin and does not add too much heat to their already fluffy coat - perfect if you live in a cool climate and need an extra layer when going outside! Similarly, fleece jackets offer just enough coverage without causing overheating or discomfort on cold days. And always look out for styles that allow plenty of movement so your pooch doesn't feel restricted in their fashionable outfit!
The bottom line: sure, sweaters aren't always comfortable for dogs – especially those with extra shaggy fur – but there are styles available today that keep canines warm without compromising on fit and style!
Do dogs hate wearing sweaters?
There's no definitive answer to this question since dogs vary in terms of their dislike or comfort with wearing sweaters. Some dogs seem to love being all bundled up, while others could care less.
In general, it's probably a good idea not to force a dog to wear a sweater if he clearly doesn't enjoy it. After all, you don't want your pooch to be constantly tugging at his sweater and trying to get out of it - that's just going to lead to frustration for both of you! If your dog does seem to tolerate (or even enjoy) wearing a sweater, however, then go ahead and put one on him during the cold winter months. Just make sure it's not too tight or uncomfortable.
How do you put a sweatshirt (or hoodie) on a dog?
Introduce your doggie friend to his new piece of apparel by letting him get familiar with the smell and feel of it. Don't push them into wearing it right away - let them come around to it gradually as this will help prevent any future resistance.
There are a few different ways to put on dog sweatshirts. The easiest way is to put the sweatshirt over the dog's head and then pull it down around their body. You can also put the sweatshirt on backward and then have the dog step their front legs through the armholes. Finally, you can also put the sweatshirt on while the dog is lying down by putting one arm through an armhole and then pulling it up around the dog's chest and neck.
The most important part about dressing up your pooch is making sure he stays happy throughout every step - from introducing him to his dog clothing item to finally taking him outside in style!
How do I know if my dog is cold?
Here are some of the signs pet parents should look for to know if Fido is in need of some extra warmth:
1. Shivering: Dogs will often start to shiver when it gets cold, just like we humans do! Though there are sometimes underlying medical causes (like pain or anxiety) that can lead to shaking, if you find your pup trembling even after they've had plenty of rest and food then it might mean they're too cold.
2. Unusually low energy levels: Cold temperatures can make dogs lethargic as their bodies work harder to stay warm; the lower their activity level drops the lower their body temperature becomes too. If your normally rambunctious pooch has suddenly become unusually quiet and laid-back then throw them an extra blanket or two until things heat back up!
3. Huddling/Curling Up: Cuddly pups love snuggles no matter what time of year it is - but when winter comes around our four-legged friends may try to get as close as possible not out of affection but out of necessity! When Fido curls up into a tight little ball with its head tucked away from the cold air, that means they need somewhere warmer ASAP.
4. Excess Panting/Heavy Breathing: Just like with people, panting is one way dogs regulate body temperature - however heavy breathing could also mean dehydration or overheating so check on this one carefully and have him examined by his vet if necessary!
By keeping an eye out for these telltale signs pinpointed above you'll know right away whether or not your fur baby needs some extra lil' bit o' warmth this season - take good care of them now and enjoy all those cozy cuddle sessions later!
Is it OK for dogs to wear clothes all the time?
It's totally okay for your pup to wear clothes - just not all the time! Not only is it super cute and can help them look their best, there isn't any harm in letting them sport a fashionable piece of clothing whenever they want. Whether they want to dress up as superheroes every day or just rock some stylish accessories from time to time, it's totally fine – as long as you make sure the weather permits it and that they don't get too hot in their new threads!
That said, be sure not to over-dress your dog – especially during warm months. Many pups (especially those with shorter fur) may already have trouble staying cool enough due to limited cooling mechanisms since their sweat glands are mainly located on their paw pads rather than across their entire bodies like ours are. Keeping an eye on how much additional heat is generated by clothing should be a top priority when dressing your pup this season.
So it ultimately comes down to whether the dog is comfortable in clothing and whether the dog clothes are appropriate for the weather conditions. If it's a cold day, put a coat on your dog when going to the dog park; if it's a hot day, leave your pup unclothed. And always make sure that any clothes you put on your dog are made from breathable fabrics that won't cause skin irritation. That way, your pup can stay cool and comfortable all day long!
Best Dog Hoodies - the Choice is Yours!
From classic and preppy to funky and fun, there is a stylish dog hoodie for every pup's personality. All of the hoodies we reviewed are great choices for keeping your dog warm, safe, and stylish. Depending on your needs and budget, any one of these could be the perfect fit for you and your pup.
Click on the buttons above to check out prices and reviews on Amazon.