Are you looking for a way to keep your furry best friend's teeth free of plaque and tartar? Tired of expensive trips to the veterinarian and costly dental cleanings?
Plaque Removers for Dogs come in several forms. They can be added to food or water, or gels they can lick, and of course, there are toothpastes and dental chews.
All of these specially formulated products are easy to use and help prevent gum disease, tooth decay, and bad breath. They work quickly to eliminate plaque and tartar buildup from your pup's mouth without any harsh chemicals or ingredients. With regular use, plaque removers can help keep your pup's teeth healthy and sparkling for years to come.
In this article, we look at some of the different products available to do just that.
👉🏻
We are here to provide you with the best choices. Clicking on some of the links on this page may generate a small commission from purchases you make through those websites, but there is no extra cost to you.
How We Choose the Best Plaque Remover for Dogs
It's no secret that plaque buildup on a dog's teeth is not only unsightly, it can also lead to more serious health problems.
The good news is that there are many different types of plaque removers for dogs on the market - but which one is best for your pup?
We have compiled a list of the best plaque removers for dogs, based on customer reviews and ratings. From dental chews to water additives, we have you covered.
Our Top Choices: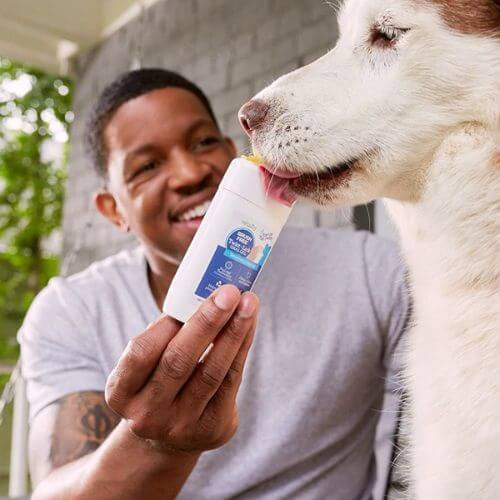 Vetality Twist + Lick Dental Gel for Dogs
Best Twist and Lick Plaque remover for Dogs
Check Price on Amazon
Why We Love It
Introducing Vetality Twist and Lick Dental Gel - gone are the days of tedious brushing to keep your pup's teeth clean. Now you can fight plaque, tartar, bad breath, and discoloration with just one easy product! And it's so easy - just twist it open, let your pup lick away at the chicken-flavoured treat - and voilà – perfect home dental care in no time - all without a toothbrush!
The special dental formula in Vetality helps control plaque and tartar build-up on your pet's teeth while simultaneously whitening and brightening their smile. Get refreshingly clean teeth and invigorating breath with this 24-hour cleansing system experience!
What You should know
This revolutionary and all-natural dental care product for dogs is formulated with ProLong Technology – a patented solution that guarantees your canine companion will have long-term protection against plaque, tartar accumulation, and gum disease. Furthermore, it won't dissolve in saliva or be swallowed by accident. As the dog licks, the gel coats and adheres to his teeth, then works gradually over 24 hours, continually releasing active ingredients that clean your dog's mouth. Then, as he munches treats or plays with toys, the plaque simply falls off!
Don't wait to start giving your pup healthy oral hygiene; get Vetality Twist and Lick Dental Gel today and enjoy easier home dental care. Your pup will love you for it!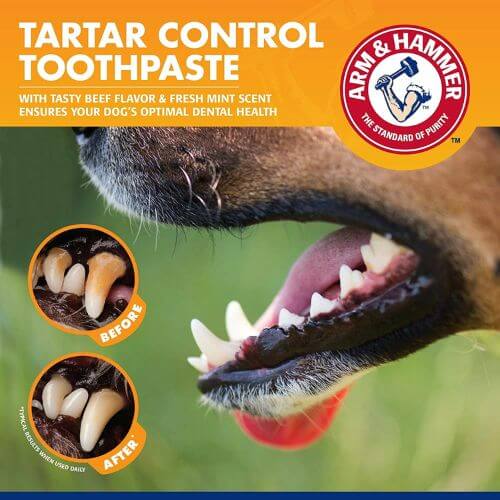 Arm & Hammer Toothpaste for Dogs
Best Enzymatic Toothpaste: Reduces Plaque & Tartar Buildup
Check Price on Amazon
What we love about this choice
What's the best way to reduce plaque and tartar buildup and keep your dog's breath minty fresh? Arm & Hammer Toothpaste for Dogs! Dog owners will love this enzymatic gel toothpaste that helps reduce plaque buildup and whitens and brightens their pup's pearly whites - all without harming them in any way. And you can use it with a toothbrush or even just on your finger!
You should know this
With its natural ingredients, including baking soda, and refreshing beef flavor, this 100% safe toothpaste is a gentle yet effective way to take care of your furry friend's smile. It's a great toothpaste for all dogs and puppies.
Get Arm & Hammer Toothpaste for Dogs today and give your furry family member the gift of optimal dental health beginning today.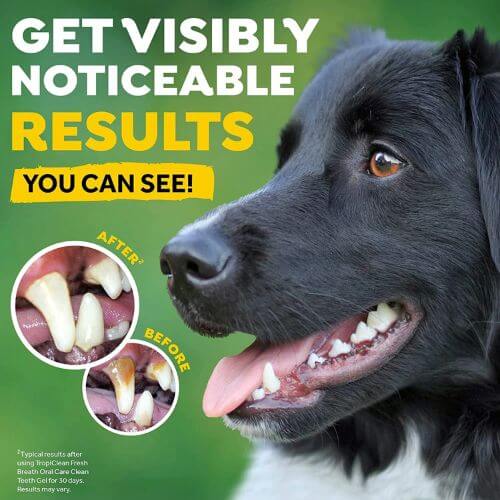 TropiClean Oral Care Gel for Dogs
Check Price on Amazon
What we love about this choice
Say hello to a world of fresh breath with TropiClean's Fresh Breath Oral Care Gel!  Forget tedious brushing and be amazed at how two drops of this easy-to-use formula can transform your pet's breath into something worthy of smooches! No fuss - clean teeth, and fresh breath without the hassles of brushing!
Utilizing a specifically formulated combination of ingredients, this product works to effectively and safely remove plaque and tartar. With no effort required, you can put an end to bad breath and keep their teeth sparkling clean.
You should know this
This revolutionary oral care gel combines powerful, natural ingredients to efficiently remove and guard against plaque as well as tartar for fresher breath with every smooch. Oral hygiene is vital to your pup's health and well-being, with research indicating that the majority of canines will show signs of oral diseases by their third year.
So why not aim for a product that not only removes plaque but offers long-term dental advantages?
TropiClean's Fresh Breath Oral Care Gel is the perfect solution to giving your pup fresher breath and a plaque-free smile - just one droplet away!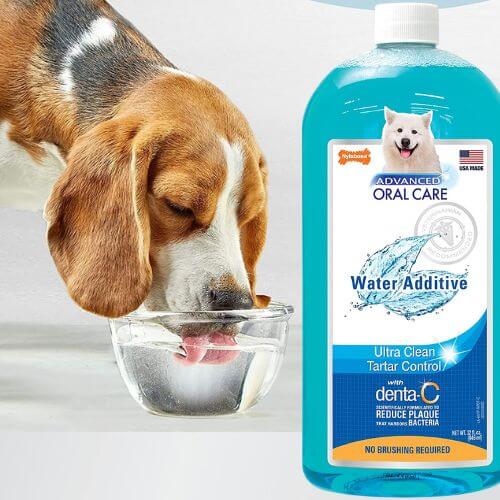 Nylabone Advanced Oral Care Water Additive for Dogs
Best Water Additive for Reducing Plaque
Check Price on Amazon
What we love about this choice
Introducing the Nylabone Advanced Oral Care Water Additive for Dogs, providing advanced oral care that will leave your pooch with minty-fresh breath! This easy-to-use liquid additive reduces plaque and tartar buildup and promotes healthy gums. All you have to do is to add it to the water in your pet's bowl!
You should know this:
Give your furry companion the fresher breath and improved oral health they deserve with this veterinarian-recommended dental liquid. This scientifically formulated blend of ingredients, including Denta-C, that helps reduce plaque buildup to keep bacteria at bay for complete mouth care.
Crafted here in America with convenience and comfort as a priority, this product allows you to provide your pet with the best oral hygiene possible without any effort on your part.
Don't wait any longer - give your furry friend's oral hygiene a helping hand with Nylabone Advanced Oral Care Water Additive for Dogs!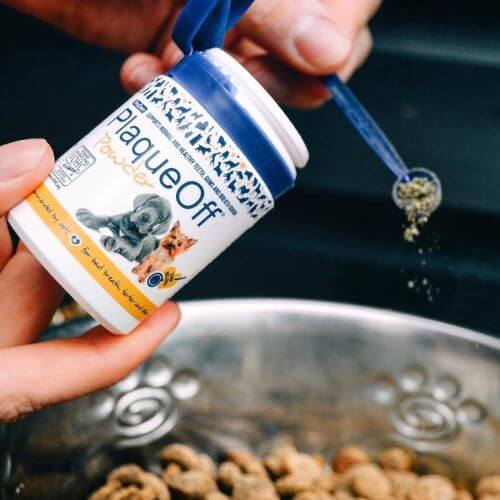 ProDen PlaqueOff Dental Care for Dogs
Best Oral Supplement for Reducing Plaque
Check Price on Amazon
What we love about this choice
Welcome to ProDen PlaqueOff Dental Care for Dogs - the perfect solution to help keep your pup's mouths healthy and happy! With this natural and effective dental care formula, you can say goodbye to bad breath, plaque, and tartar build-up.
To get started, simply scoop the recommended amount into your pup's food bowl each day. It can be used on both dry kibble, raw food or wet food, making it easy to incorporate into any dog's diet. And as an added bonus – not only will your pup have healthier teeth but also fresher breath that everyone in the family will enjoy too!
You should know this
ProDen PlaqueOff is made using only 100% natural organic kelp sustainably harvested off the coast of Scandinavia. This active ingredient works to dissolve existing tartar and prevents new build-up of dental plaque and tartar - giving your pup fresh breath almost instantly!
Watch your pup's teeth transform from dull and discolored due to plaque build-up to sparklingly clean with reduced tartar and fresher breath in no time!
So give ProDen PlaqueOff AquaDog Formula a try today - it is sure to make both you and your best friend smile.
PEDIGREE DENTASTIX Dog Dental Treats
Best Dog Dental Care Treats (for Adult Dogs of All Sizes)
Check Price on Amazon
What we love about this choice
Keep those long-lasting doggy smiles with Pedigree Dentastix Dental Care Treats! With a texture that's clinically proven to reduce plaque and tartar buildup, these dental chews also fight the source of bad breath. Treat your pup to a tasty snack that not only tantalizes their taste buds with a range of flavours, but also helps keep their pearly whites healthy and strong.
You should know this
These treats have a unique X-shaped design that scrapes away the plaque as your dog chews. Pedigree makes these treats to suit dogs of all sizes - they come in toy/small, small/medium, and large. Manufactured in the United States and Canada, with no added sugars or fillers, the dental treat works to clean teeth down to the gumline.
Make treat time a part of your dog's dental care routine with Pedigree Dentastix Dental Care Treats!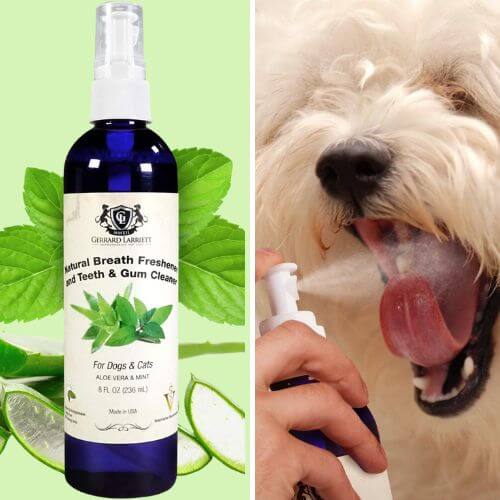 Gerrard Larriett Oral Care Spray
Best Oral Spray for Fighting Plaque
Check Price on Amazon
What we love about this choice
Gerrard Larriet Oral Care Spray is your one-stop solution to gently break down plaque and tartar on your dog's teeth, and freshen breath! And it's so easy to use - just spray it into your dog's mouth and you're good to go! Achieving a refreshingly clean mouth has never been easier!
You should know this:
According to veterinarians, this breath freshener, created with 100% natural ingredients such as aloe, mint, and baking soda can help you bypass the sensitivity-inducing chemicals, preservatives and sugar commonly used in other oral care products.
Made in the USA, this unique formula is paraben-free, phosphate-free, and cruelty-free. The addition of pure mint and a host of other natural ingredients ensures an efficient pet mouthwash without any alcohol or sweetener additives.
Keep plaque at bay with Gerrard Larriett Oral Care Spray!
Best Dog Plaque Remover FAQs
You know that If plaque is not removed regularly, it can lead to tartar buildup, bad breath, gum disease, and even tooth loss. But what is the best way of removing it?
We have answered some of the most frequently asked questions about the best plaque removers for dogs so that you can make an informed decision on which one will be best for your dog's dental hygiene.
What is plaque?
Plaque is a soft, sticky substance composed of bacteria, dead cells, and food particles that accumulate on the teeth. Plaque can lead to tooth decay and gum disease if not removed regularly. It forms when bacteria in your mouth react with sugar from the food you eat and form a film on your teeth called dental biofilm.
If plaque is not removed regularly, it can develop into an off-white or yellow substance called tartar in a matter of days. Tartar builds up along the gumline on the fronts and backs of teeth. and is much more difficult to get rid of yourself.
It's important to keep all types of oral plaques at bay since they can cause serious problems if left untreated for too long. These include cavities, bad breath, receding gumlines as well as more severe issues such as periodontal disease and tooth loss!
How can I remove plaque from my dog's teeth?
It can be tricky to remove plaque from your dog's teeth, but with the right techniques and supplies, it doesn't have to be a daunting experience. The most common approach is brushing your dog's teeth on a daily basis. However, if that sounds like too much of a task for you, there are other options available.
Toothpastes specifically designed for dogs are one option for removing plaque from their teeth. In addition, dog dental chews and dental treats are an easy yet effective way to help keep their teeth clean. These chews contain compounds that help breakdown plaque and tartar buildup while also freshening breath at the same time!
If you're looking for something more convenient and less time-consuming than brushing your pup's fangs every day, wipes or gels may be the answer you're looking for. If this still seems like too much work then sprays or water/food additives can help as well– these act as concentrated solutions that when added to food or water will break down any existing built-up plaque in their mouth during mealtimes!
And if the problem becomes too great, a trip to the vet may be in order!
Can you scrape plaque off dogs' teeth at home?
It is not recommended that you scrape the plaque off your dog's teeth at home. Plaque removal should always be performed by a qualified and experienced professional. Although handling your own dog's teeth may seem like an easy task, it can quickly become dangerous if done incorrectly. Improperly executed, this procedure can actually cause further damage to both the tooth enamel and gum tissue – issues that no pet owner wants to deal with.
The best way to maintain healthy dog teeth and avoid any future dental procedures or surgeries is with proper daily care such as brushing your pup's teeth with a canine-specific toothpaste; giving them appropriate chews, treats, and toys; making use of rinses or sprays formulated for oral hygiene; offering raw bones or antlers; regular dental checkups from your vet – particularly if you observe yellowing on the gum surface of their adult teeth – plus paying attention to signs that could indicate periodontal disease (e.g., red swollen gums/bad breath) early on so that professional assistance can be sought out immediately before further complications arise.
How can I get plaque off my dog's teeth naturally?
Fortunately, there are some easy ways you can help keep your pup's teeth clean without needing any special equipment or products! One of the most efficient methods is through feeding treats or chew toys that are specifically designed to help remove plaque from their mouths; they contain unique ingredients that break down plaque while they're being chewed. Look for those labeled "dental" or "tartar control" when choosing these kinds of treats and chew toys.
Is there a dog toothpaste that removes plaque?
Yes, there certainly is a dog toothpaste that can help reduce plaque on your pup's teeth - more than one, in fact! To ensure the best possible results for your pet's dental health, look for a product that specifically claims it's designed to fight plaque. It's also essential to use these products properly; follow instructions carefully so you don't damage their tooth enamel or gums in the process. And you'll want to keep their teeth brushed with a dog toothbrush or a finger brush designed especially for dogs.
If all else fails in your efforts to keep your dog's teeth clean with dog-safe toothpaste and other products specifically made just for them, there is always professional dental care like cleaning or scaling at your vet!
How do vets remove dog plaque?
Removing plaque from a dog's teeth typically involves the process of scaling and polishing. Scaling is usually done by hand or with an ultrasonic scaler which uses sound waves to vibrate off tartar and calculus buildup around the gum line of your pet's teeth. The scaler is designed to be gentle on the tooth enamel while still efficiently removing deep plaque deposits. After all the debris has been removed, your vet will likely polish with special pastes that smooth out any small bumps, ridges, or rough edges on the tooth surface which can contribute to tartar formation.
Best Dog Plaque Remover - the Choice is Yours!
Choosing the best plaque remover for your dog may seem like a daunting task, but we hope this article has helped make the decision easier for you. Each of the products we've reviewed is unique and has its own set of advantages and disadvantages. Ultimately, the best plaque remover for your dog is the one that fits both your budget and your pet's needs.
To compare prices on Amazon, simply click the buttons above. Thanks for reading!