Are you a dog owner who is looking for the best way to maintain your furry friend's coat? Well, look no further than the versatile and popular slicker brush!
Known for its ability to remove tangles, mats, and loose fur, the slicker brush is a must-have tool for any dog grooming kit. But with so many options on the market, how do you choose the best one for your pooch?
In this article, we will explore the top-rated slicker brushes and highlight the key features and benefits of each. Whether you have a long-haired, short-haired, or double-coated dog, we've got you covered. So, let's dive in and find the perfect slicker brush to keep your pup looking and feeling their best!
👉🏻
We are here to provide you with the best choices. Clicking on some of the links on this page may generate a small commission from purchases you make through those websites, but there is no extra cost to you.
How We Choose the Best Dog Slicker Brush
Selecting a high-quality slicker brush that caters to your dog's specific hair type and grooming needs is crucial to ensure their coat stays healthy and shiny throughout the year. But choosing the right dog brush can be a daunting task – with a wide variety of options available, how can you possibly choose the perfect brush for your pup?
Don't worry—we have taken the guesswork out of it for you! Our team of dedicated researchers have scoured through thousands of reviews on Amazon and have cherry-picked the best dog slicker brushes that will keep your dog's fur in top-notch condition.
Our Top Choices: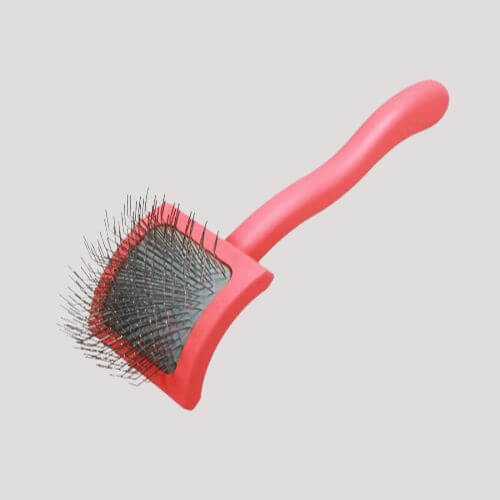 Chris Christensen Big G Dog Slicker Brush
Best Overall Dog Slicker Brush
Check Price on Amazon
Why We Love This Choice:
Introducing the Chris Christensen Big G Dog Slicker Brush! This is the most effective dog grooming brush available, and so easy to use! The soft cushion and pins work together to remove large knots, tough mats, and tangles from your pet's coat.
Besides brushing, fluffing, and styling your furry pal, it also works wonders as a de-shedding tool, effortlessly removing unwanted hair. The ergonomic handle with a fantastic comfortable rubber grip makes the brush a dream to use.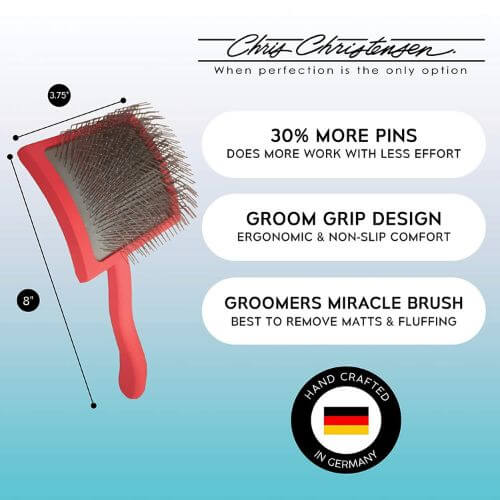 What You Should Know:
This iconic brush has 30% more pins than other premium brands, which means it can do more work with less effort. Its long, angled, flexible pins reach deep into her coat and separated the strands more efficiently. And because the tips are ground it won't irritate or scratch your dog.
And if that weren't enough, there are four sizes available - large (dimensions shown in the image are for the large size), medium, small, or "baby" size – so you can choose the perfect style for your furry friend.
Get shopping today and experience the convenience of Chris Christensen's Big G Dog Slicker Brush yourself!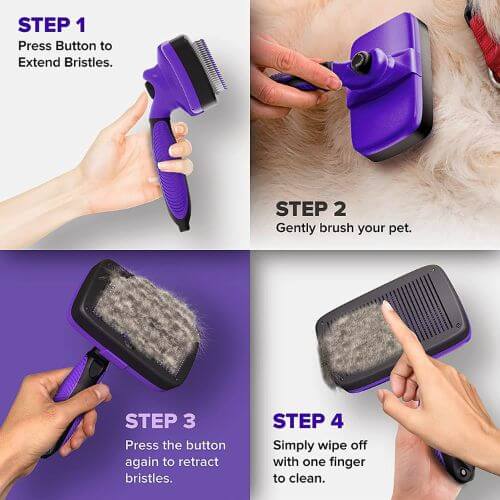 Ruff 'N Ruffus Self-Cleaning Slicker Brush
Best Dog Slicker Brush with No-Pain Bristles
Check Price on Amazon
Why We Love This Choice:
Say goodbye to the hassle of grooming your furry best friend. Ruff 'N Ruffus Self-Cleaning Slicker Brush is here to make pet owners' jobs simpler, easier, and more efficient in removing knots, dander, and loose hair from all sizes of dogs and all hair types!
This slicker brush has special rubber tip bristles that are gentle on your pet's skin, while still being powerful enough to break up even the most difficult tangles. With a rubberized ergonomic handle, it's easy to hold onto and keep a firm grip during grooming.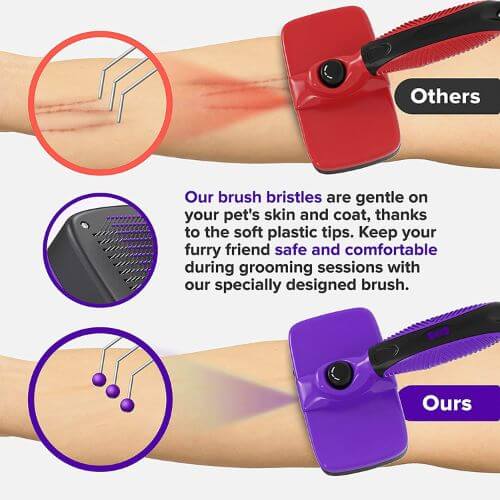 What You Should Know:
And cleaning is no longer an issue either - when the brush head is full of fur just press the button, the bristles will retract and the hair will fall right off! Plus, it comes with free dog nail trimmers and a comb for fluffing and finishing – all in one convenient set!
At Ruff 'N Ruffus, your satisfaction is 100% guaranteed.  So give this "no-pain" self-cleaning slicker brush a try today and experience the ease of pet grooming for yourself.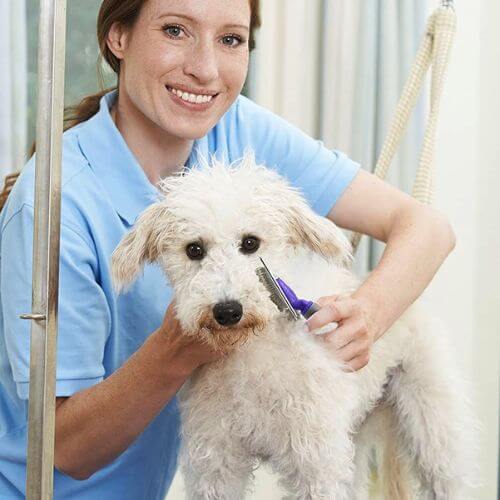 HERTZKO Flexible Slicker Brush
Best Flexible Head Slicker Brush
Check Price on Amazon
Why We Love This Choice:
Are you looking for the perfect grooming brush for your beloved pet? Look no further than HERTZKO Flexible Slicker Brush! This flexible and durable slicker brush is the ideal brush for everyday brushing, and detangling your pet's coat.
Its firm yet comfy bristles can remove even the toughest tangles and mats while still leaving your pet's coat soft and shiny. On top of that, its flexible head contours to your pet's skin as you brush it, grooming and massaging it to increase blood circulation for a healthier coat.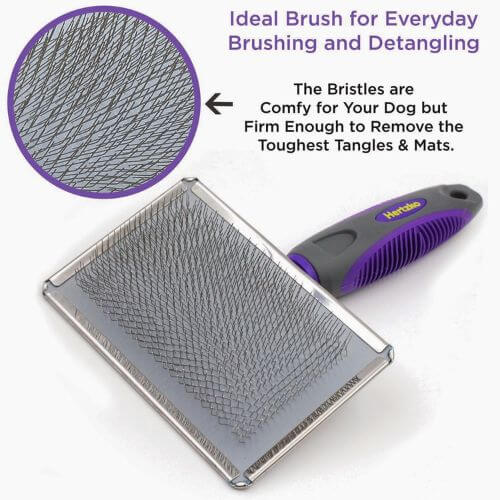 What You Should Know:
And because this brush is designed with a comfortable grip handle, you don't have to worry about hand or wrist strain no matter how long you brush your pet! Plus, it's suitable for both large and small dogs with either short or long hair—so everyone can share in the ultimate grooming experience.
Hertzko is so confident in their Flexible Slicker Brush that they offer a 30-day money-back guarantee. So don't miss out on experiencing all of these amazing benefits today - get HERTZKO Flexible Slicker Brush now!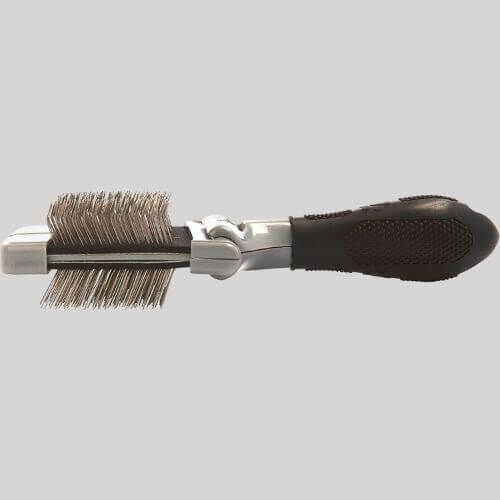 FURminator Firm Grooming Slicker Brush
Best Double Sided Slicker Brush
Check Price on Amazon
Why We Love This Choice:
Do you want the best possible grooming experience for your beloved pet? Look no further than FURminator Firm Grooming Slicker Brush! With it, you can clean and maintain their coat in the utmost comfort.
The double-sided brush is ideal for medium, long, and curly coats as it carefully removes surface mats and tangles, effectively grooming your pet's fur, and providing a smooth finish without causing any damage to their coat. As if that weren't enough to get excited about, the brush also creates a natural shine for an overall finishing touch.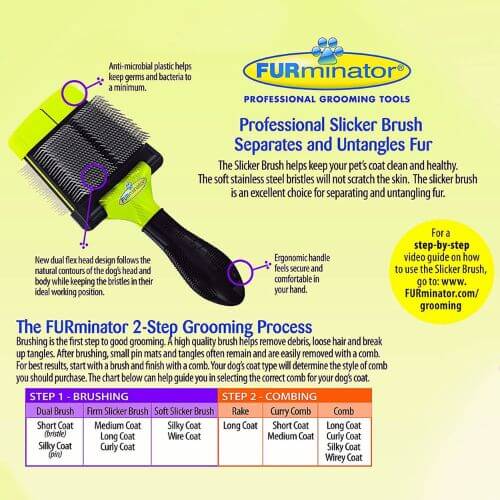 What You Should Know:
Plus, its dual-sided design allows for straight bristles on one side and bent bristles on the other side so that you can customize your grooming experience. While the flexible head follows the natural contours of your dog's body, the design allows the bristles of the brush to stay in their best working position. And the ergonomic handle provides a secure yet comfortable grip in order to make brushing easier.
Get your hands on the revolutionary FURminator Firm Grooming Slicker Brush today.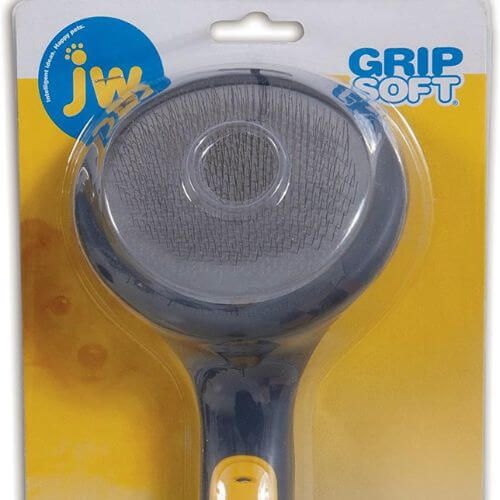 JW Pet Company GripSoft Slicker Brush
Best Soft Pin Dog Slicker Brush
Check Price on Amazon
Why We Love This Choice:
Keep your pet looking their best with the JW Pet Company GripSoft Slicker Brush! This helpful brushing tool is ideal for daily grooming of your pet's delicate, sensitive skin. The soft pins are gentle yet effective in helping to reduce matting and remove dead and shedding fur.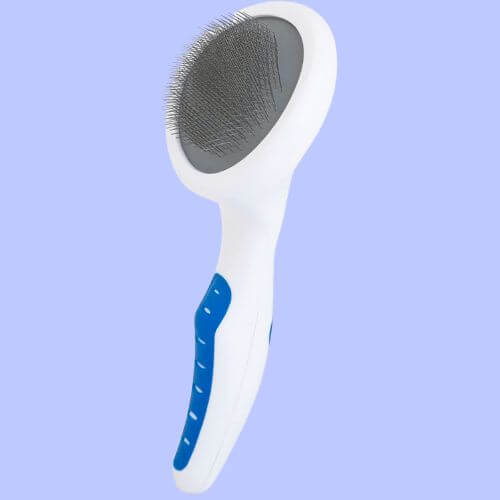 What You Should Know:
This round-headed slicker brush comes with angled soft pins that are designed to run parallel to the dog's skin rather than straight down, preventing raking and protecting them from any potential discomfort or irritation.
Additionally, its ergonomic handle features a no-slip grip design called Gripsoft technology, so you have better control over your grooming moments.
Keep your furry friend happy, healthy, and well-maintained with the JW Pet Company GripSoft Slicker Brush!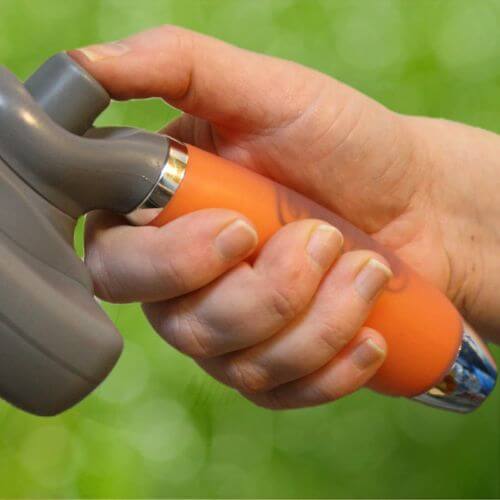 GoPets Professional Slicker Brush
Best Self-Cleaning Slicker Brush
Check Price on Amazon
Why We Love This Choice:
Welcome to the world of a stress-free grooming session with GoPets Professional Slicker Brush! This slicker brush is designed to pamper your furry friend, gently removing loose hair, tough tangles, and dirt trapped in their coats.
With its high-density pins and fine bent wire bristles, you can easily remove burrs, foxtails, or anything else that sticks to your pet's coat, as well as reduce shedding and matting for both long and short-haired dogs of all sizes.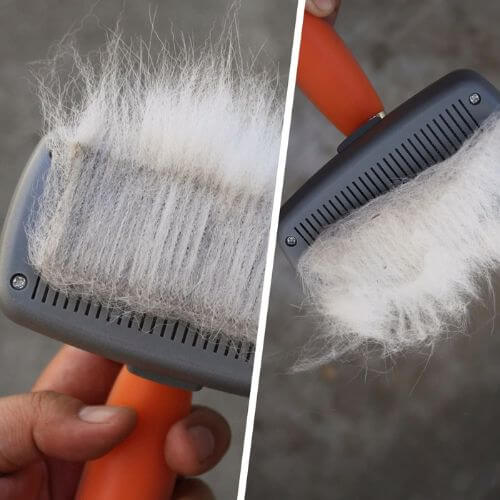 What You Should Know:
With everything factored in from ease of cleaning down to the retractable pins for safe storage, this is truly the perfect tool for hassle-free styling. To remove excess hair from the brush, simply click the button to retract the pins, and the hair falls off.
The non-toxic silicone gel handle guarantees maximum comfort for you in the grooming process. And when you purchase from GoPets, they donate some of their profits to animal charities, allowing you to contribute to the betterment of furry friends and their communities.
Get your GoPets Professional Slicker Brush today and make grooming sessions more enjoyable than ever!
Dog Slicker Brush FAQs
Are you considering purchasing a dog slicker brush but have some questions before making your final decision? Look no further! We have compiled a list of some of the most frequently asked questions about these brushes, so that you can make an informed choice.
From understanding the benefits of using a slicker brush, to knowing how to choose the right one for your furry friend, we've got you covered. Let us help guide you in selecting the perfect slicker brush for your dog's needs.
What is a slicker brush?
A slicker brush is a grooming tool used to detangle and smooth the coats of your dog, efficiently loosening and removing dead hair and keeping the skin and coat healthy. It is designed to penetrate deep into the coat to remove mats, tangles, dirt, and debris.
A slicker brush comprises close-set, bent wire pins that are either soft or firm, tightly packed together. The bristles are bent at an angle, to avoid scratching the skin. They generally have a round or rectangular head, which can be firm or flexible, and also can be flat or curved.
Are slicker brushes good for dogs?
Yes, using slicker brushes can be very helpful in getting rid of knots, tangles, and mats without having to resort to cutting them out. Additionally, it makes the coat look shiny and healthy by distributing the dog's natural oils throughout the fur. For regular pet brushing, your best option is a slicker brush.
How often should I use a slicker brush on my dog?
How often you use a slicker brush depends on your dog's breed and coat. So it could be anything from daily to weekly. It's important to use a slicker brush regularly - consult with your veterinarian or groomer about how often to brush your dog.
Generally, it's a good idea to brush your dog's coat once a week. However, dogs with longer hair will require more frequent brushing to prevent mats and tangles from forming.
What is the difference between a pin brush and a slicker brush?
The main difference between a slicker brush and a pin brush is that the slicker brush has bent pins, and the pin brush has straight pins.
Pin brushes also have more widely spaced pins, whereas the slicker has more tightly packed pins. Some pin brushes may have soft tips that are gentler on the skin, but they may not be as effective in removing loose fur as a slicker brush.
Do slicker brushes remove mats?
Yes, you can use them to remove mats as well as prevent them from forming. They can be used on many coat types, including medium-coated, long-coated, wire-coated, and curly-coated hair dogs.
Can slicker brushes help with shedding?
Yes, slicker brushes can help with shedding hair. Regular brushing will remove loose hair and prevent it from ending up on your furniture.
How do I choose a slicker brush?
There are a few factors to consider when choosing a slicker brush. First and foremost, you want to make sure the brush is appropriate for your dog's coat type. Not all brushes are created equal; what works for one breed may not work for another.
The next is size- Slicker brushes are available in different sizes, and it's important to choose one that is appropriate for your dog's size. For example, smaller breeds like Chihuahuas will require a smaller brush than larger breeds like Great Danes.
The bristle length of a slicker brush is also an important factor to consider. For short hair dogs, a shorter bristle length is ideal. Longer bristle lengths are more appropriate for long-haired dogs, as well as double coats, and fluffy or curly coats.
Fourthly, consider the bristle type - some brushes have finer wires that suit softer coats, while thick, dense coats may need a harder wire. Ideally, the pins must be round ground at the tips, so that they won't hurt the skin.
Additionally, you'll want to look for a brush that is comfortable for you to use. After all, you'll be using it often, so it's important to find one that feels good in your hand.
And finally, you'll want to consider the overall quality and durability of the brush - after all, you don't want to have to replace it too frequently! The best dog brushes are made with high-quality materials and have flexible bristles that won't break easily.
Can a slicker brush damage my dog's coat?
If used correctly, slicker brushes will not damage your dog's coat. However, it's important to use a light touch and gently brush through the fur, so as not to result in skin irritation. Using a harder slicker brush on your dog too frequently can cause skin abrasions, also known as 'slicker burn' or 'brush burn'.
How do you brush a dog with a slicker brush?
A Dog Slicker Brush - the Choice is Yours!
Whether you're a first-time pet parent or a seasoned pro, we hope this article has helped you learn more about dog slicker brushes and how they can benefit your pup. Regular grooming with a slicker brush can help keep your furry friend's coat tangle-free and looking great. Plus, it's a great bonding experience for you and your furry friend!
To make your selection, simply click on the product buttons above  We're confident that you'll find the perfect slicker brush for your furry companion, and we can't wait for you to see the results in their shiny, healthy coat. Happy shopping!
---
You may also like: