Are you an adventurous cyclist looking to take your pup along on rides?
Then you may want to look at a dog trailer for your bike. These innovative products come in models ranging from lightweight carriers to full-size trailers, so you can find the perfect option for any size pup. Not only do these trailers provide your pet with protection, but they also help tuck them away in an aerodynamic spot so that you can enjoy the ride!
Whether it's just a quick trip around the block or a day-long adventure, these dog trailers are sure to make biking with your pup more enjoyable and stress-free. Plus, they're easy to install and come equipped with extra features like plenty of space for treats or toys as well as adjustable straps for extra comfort. So grab yours today and get ready to hit the open road!
If you're looking for dog trailers to take your dog along on your next bike ride, you've come to the right place. Read on to make sure your pet is safely secured during all of those bike adventures.
👉🏻
We are here to provide you with the best choices. Clicking on some of the links on this page may generate a small commission from purchases you make through those websites, but there is no extra cost to you.

How We Choose Dog Trailers for Bikes
Finding the right bike trailer for your dog can be challenging! There are many types of trailers available – so it's important to do some research to see which one best suits your needs.
We have taken away the hassle of research - we have done it for you! We have read hundreds of customer reviews and chosen 4 of the best dog bike trailers available on Amazon, so you can be confident in finding the best dog trailer for your next biggest adventure with your pup!
Our Top Choices: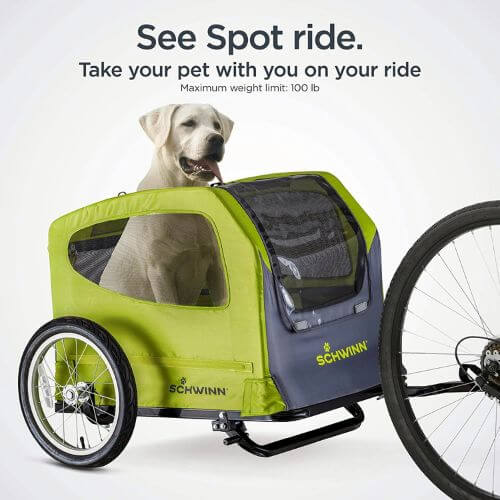 Schwinn Rascal Bike Pet Trailer
Best Folding Frame Dog Bike Trailer
Check Price on Amazon
What We Love About This Choice:
Are you looking to take your beloved pooch for a bike ride? Look no further than the Schwinn Rascal Bike Pet Trailer! This trailer is perfect for pet owners who want to enjoy a safe, smooth, and responsive ride with their dogs.
The trailer also provides plenty of air ventilation, has an adjustable bug screen, and has a rear doggy door for easy access. It also comes with an internal leash with adjustable length, as well as a washable trailer liner. And don't forget about the sunroof feature on the large size, which gives your pup a great view of the world on your ride!
You Should Know This:
The Schwinn Rascal features an easy-to-attach coupler that can connect to almost any bicycle. It also has a unique folding frame and quick-release wheels to make storage and transport easier than ever. Plus, this pet trailer comes in two sizes – small and large – so it's perfect for pooches of any size, even those up to 100 pounds!
With two 16-inch air-filled tires with aluminum rims and a sturdy steel frame, these trailers are built to last for years and years of enjoyment. And best of all, this product from the reputed Scwhinn brand comes in three stylish colors – blue, green, or orange – so you're sure to find the perfect one for you and your furry friend.
Don't miss out on making memories with your pet: get a Schwinn Rascal Bike Pet Trailer today!
Retrospec Rover Waggin' Pet Bike Trailer
Best Dog Bike Trailer for Small Dogs
Check Price on Amazon
What We Love About This Choice:
Your pup can enjoy the sights as she sits comfortably in the Retrospec Rover Waggin' Pet Bike Trailer while you take her on a ride with you. Nothing says responsibility quite like riding around with your pet safe and secure. ensuring a comfortable and smooth ride without any fuss! This quality bike trailer will keep your pet protected from critters and bad weather while providing a relaxing atmosphere that she can enjoy along the way.
With an internal leash to hold them safely in place, you won't have to worry about them jumping out as you ride along, and the mesh sides provide plenty of ventilation as well as visibility. The wide bed offers plenty of room for stretching out, while its anti-slip surface gives them something secure to stand on. For added convenience, the rear doggy door allows easy access and exit when needed, plus it also features a secure zipper for extra safety.
You Should Know This:
Choose from 3 colors of the weather-resistant canopy,  that shields them from inclement weather, so no matter what awaits you on your journey – you know your four-legged buddy will stay safe from start to finish! And once you reach your destination, the durable frame folds easily for stress-free travel or storage – so you won't have to worry about lugging around too much bulk. Now that's something both pet owners and their pups can get behind!
Get ready to explore all kinds of terrain with your favorite companion by taking advantage of the Retrospec Rover Waggin' Pet Bike Trailer today!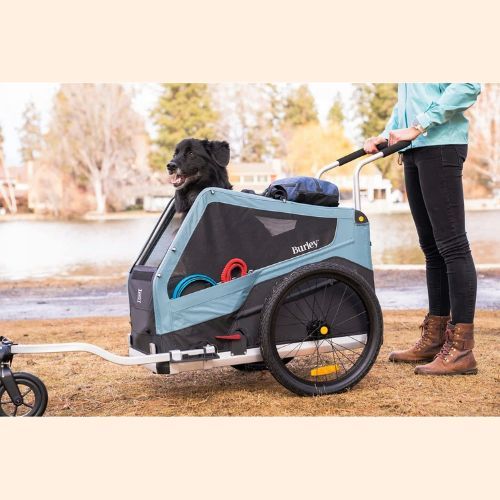 Burley Bark Ranger™ Pet Bike Trailer
Best Dog Bike Trailer for Large Dogs
Check Price on Amazon
What We Love About This Choice:
Introducing the Burley Bark Ranger™ Pet Bike Trailer – the ultimate pet trailer that gives you and your furry friend an unparalleled biking experience! This trailer is designed with both you and your best pup in mind, offering all the features you need to make sure your outdoor adventure is a safe one.
This trailer is perfect for big dogs (up to 100 lb) and features zippered side panels with mesh windows that allow for plenty of ventilation. And with a large rear tailgate, it's never been easier to load and unload even senior dogs or those with shorter legs. Plus the integrated parking brake provides maximum security and stability when stopped.
You Should Know This:
You can easily switch from biking to strolling in no time flat with the 1-Wheel Stroller Kit; complete with height adjustable handlebar. The trailer also doubles as a kennel for times when you're not on the go, thanks to its level, elevated base.
With its aluminum frame, steel hitch and tow bar, and removable floor for easy cleaning up after all your adventures – this is the perfect companion for pet owners looking for an unrivaled biking experience and enhanced security & protection on every ride.
The Burley Bark Ranger™ has got it all - so hit the road together today!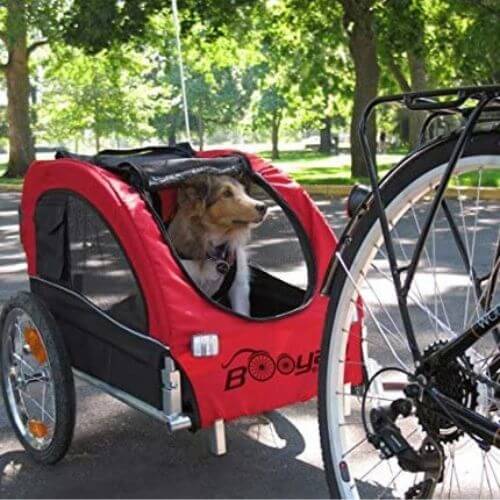 Booyah Dog Bike Trailer
Best Dog Bike Trailer with Suspension
Check Price on Amazon
What We Love About This Choice:
Are you a pet owner who loves riding bikes? The Booyah Dog Bike Trailer is perfect for your on-the-go lifestyle! This trailer allows you to easily take your furry friend along with you wherever you go, and the suspension allows for a smooth and comfortable ride. You can also conveniently switch from a bike trailer to a stroller if needed.
This trailer's features include a leash, rain/wind cover, removable cushion, and safety flag.  The pneumatic rear wheels are made of rust-free Aluminium wheels and can be released quickly and effortlessly. And when it's time to hit the road together, the Booyah Dog Bike Trailer makes it easy to hook up to most bikes - even electric bicycles!
You Should Know This:
Booyah Dog Bike Trailers come in several sizes, and reviewers have used the larger ones for two (or even 3) small dogs. The item featured here is the medium-sized trailer, but Booya also makes these trailers in small and large sizes; you can check out their features by clicking on the links. Whatever size you choose, always check the internal dimensions to ensure your dog will fit.
Bringing your pup on adventures just got easier with the Booyah Dog Bike Trailer—now there's nothing stopping you from making all the memories you can together!
Dog Trailers for Bikes FAQs:
Dog trailers for bikes are a great way to bring your canine companion out on bike rides with you for some quality time and fresh air. Knowing which one to choose, though,  can be an overwhelming process.
That's why we've provided answers to the most frequently asked questions about them - from why you need them, to how you choose one. We hope this will help you to make an informed decision about which trailer will best fit both you and your pup's needs so that you can get back to having some quality adventures together as soon as possible.
What is a dog trailer for bikes?
A Dog Trailer for Bikes is an innovative and convenient way to bring your pup with you on your bike ride! It's a small, compact trailer designed specifically for transporting dogs while cycling. It attaches to most standard adult bicycles (usually to the rear axle) and provides a snug fit that ensures a safe journey for your furry friend.
Dog trailers come equipped with multiple windows around the sides or even mesh sides so they can stay cool during their travels and have plenty of ventilation while enjoying the view. Additionally, many are outfitted with interior straps that provide extra security when needed during rides over rough terrain or bumps in the road.
What are some of the reasons for having my dog ride in a bike trailer?
Riding a bike with your dog can be an enjoyable and convenient way to get around. There are several reasons why you may want to consider having a pet bicycle trailer for your pup to ride in, some of which include:
Safety: Having your dog in a bike trailer ensures they remain safe while you're out on the roads. The enclosure of the trailer offers extra protection from cars, bikers, and other potential hazards.
Companionship: Your pup may not be the most active, but they relish the opportunity to join in on the fun! Riding in a dog trailer means they can join you - without having to exert themselves at all!
Discipline: Some dogs may never get the hang of running beside you in a safe manner. But if you still want to take them along with you, a trailer is a good option.
Health benefits: A bicycle ride in a trailer gives sick or older dogs the chance to enjoy fresh air and stimulation while still being comfortable and safe.
Storage capacity: If you plan long rides with multiple stops along the way (perhaps even camping?) then utilizing a bike trailer makes sense as it doubles up as storage for all those essential items you'll need such as food supplies, water bowls etc.
What features should I look for in a dog bike trailer?
Dog trailers for bikes provide pet owners with the perfect solution to bring their furry friend along during a bike ride, without the added fatigue or stress that oftentimes comes with it.
When shopping for one, be sure to consider the internal size, ride stability, and price point of the trailer. Consider factors such as bike compatibility, storage space, and the weight limit that works for you. Then read customer reviews to get an idea of what other dog owners have experienced when using the product. With a bit of effort, it's definitely possible to find the best bike trailer for you and your pup.
Are bike trailers for dogs safe?
Yes, bike trailers for dogs are generally safe as long as you take the necessary precautions. All bike trailers should have a secure harness or netting to keep your dog safely inside, and the trailer itself should be designed to protect against harsh weather conditions like rain and sunshine.
Additionally, make sure the trailer has good suspension to provide a comfortable ride for your pup and that it attaches securely to your bike. Finally, always double-check that the trailer is properly secured before taking off on your journey.
How do I teach my dog to ride in a bike trailer?
Teaching your dog to ride in a bike trailer may take some time and patience, but can be done with proper training techniques. Start by introducing them to the trailer without actually attaching it to a bike. Allow them to explore and get comfortable in it before attempting any rides.
Once they're comfortable with their new environment, attach it to the back of your bicycle and show them how it goes - with no passengers onboard. Then start with short rides with your dog riding inside the trailer. Once they fully understand how to behave while inside it, you can hit the road.
Can small dogs use bike trailers?
Yes, all sizes of dogs can use bike trailers as long as they are under the recommended weight limit of the model you choose. Smaller dogs may require special accommodations such as cushioning or additional safety harnesses in order to ensure their safety during their ride. Many bike trailers are specifically designed for smaller breeds so they can enjoy their adventure too!
What kind of terrain can I take my dog on using a bike trailer?
Bike trailers are designed for smooth surfaces such as pavement or flat trails making them suitable for most urban environments. However, depending on the type of terrain you plan on riding through and its ability to support the weight of both you and your furry friend along with other gear if necessary, some rougher terrains may be possible too - just always make sure that safety comes first!
How much does a bike trailer cost?
The price of a bike trailer varies depending on factors such as size, features (like weather protection), materials used (plastic vs metal), etc. Most models range anywhere from $140-700+ USD based on these factors. To determine which model best fits both your budget and needs it's best to shop around various stores or online retailers before making a purchase so that you get exactly what will work best for both you and your pet!
Dog Trailers for Bikes - the Choice is Yours!
Now that you've read all about the best dog trailers for bikes, you should feel confident in making a purchase. These pet bike trailers will ensure your pet is able to join you on outdoor adventures, and have a fun day out with the family. Whether your priority is value for money or luxury comfort, there's something here that meets everyone's needs. We know the best option for your pup is out there waiting.
All it takes is one click of the buttons above to get checking pricing on Amazon.  So start browsing now and pick the perfect trailer that'll provide safe and comfortable travel for both you and your four-legged friend!
Thanks for reading our guide on picking a suitable dog trailer – happy shopping!
---