Boost your dog's mental stimulation and banish boredom with the Nina Ottosson Dog Brick, an interactive treat puzzle toy designed for intermediate-level canine play. This toy is designed to hold your pup's attention as he works his way through the game, trying to remove or dislodge treats from the compartments of this brick-shaped puzzle. This is a great way for pets to stimulate their brains, have fun and stay occupied with hours of playtime!
This fun and rewarding treat-dispensing dog game will keep your pup entertained for hours as they use their natural hunting skills to seek out hidden treats that you fill the toy up with. With added obstacles, this level 2 puzzle is ideal for more experienced pups and will encourage positive play habits while helping to reduce anxious dog behavior and destructive behaviors.
In this comprehensive product review, we'll take a closer look at the design, features, and overall performance of the Nina Ottosson Dog Brick. Let's dive into all the features of this product, so you can decide if it is the right fit for your pup!
Product Description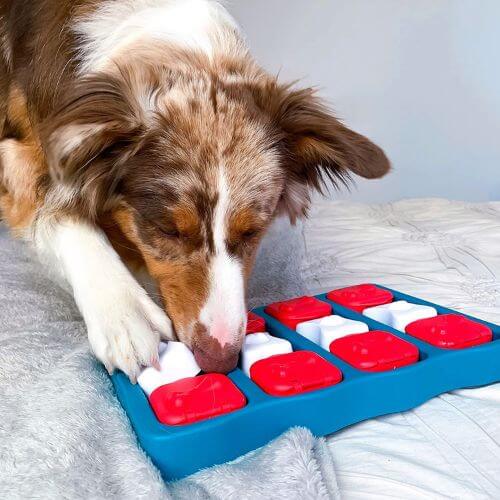 Make playtime fun and rewarding for your pup with this Nina Ottosson toy from Outward Hound. It comes with multiple hiding places that can be revealed with the "flip, lift and slide" actions. This versatile puzzle toy adds a new dimension to playtime by incorporating additional obstacles that require a combination of actions from your dog to access the hidden goodies.
The tray has 3 rows of 4 bricks each, with a total of 20 compartments or hiding places. The middle row has removable "bone" puzzle pieces, that can be lifted out to hide treats below, or they can be turned upside down to hold treats directly. The two outer rows have red "bricks" with lids that can be flipped open to access the treats inside. They can also be slid across into the middle (once the white bones have been lifted or knocked aside) to reveal another set of hiding places for treats. Plus, they all have scent holes on top so your dog will know about the goodies inside!
In this intermediate-level puzzle, some pieces must be removed before others can be slid across the board to reveal hidden treats. It allows dogs to utilize their paws and nose for exploration and problem-solving.
Product Specs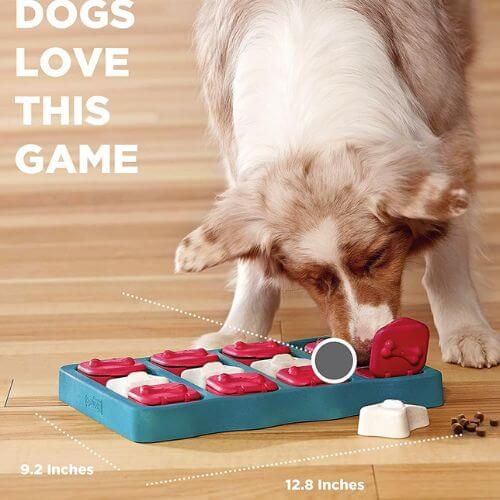 Product Specs
Size: 12.75 x 8.75 x 1.75 inches
Weight 1.2 Pounds
Made from tough removable plastic parts
Made from food safe materials that are BPA, PVC, and phthalate-free.
Non-slip base
Product Quality
When it comes to your beloved pet, quality and safety are of the utmost importance. The Outward Hound Nina Ottosson Dog Brick treat training dog puzzle is crafted with these priorities in mind, ensuring a durable and safe playtime experience for your canine companion. Made from high-quality, non-toxic materials, the Dog Brick is free from BPA, PVA, and phthalates, providing you with peace of mind as your dog enjoys their interactive play.
Features and Benefits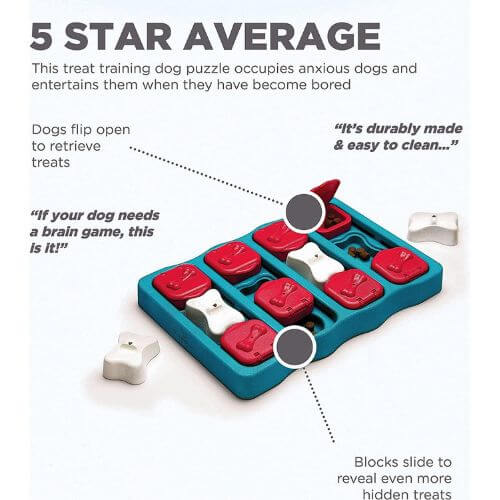 The Outward Hound Nina Ottosson Dog Brick Interactive Treat Puzzle Dog Toy boasts a range of features and benefits that make it an essential addition to your dog's playtime routine. Here are some of the key highlights:
1. Mental Stimulation: This Level 2 intermediate puzzle toy keeps your dog's mind sharp and engaged, promoting cognitive development and problem-solving skills.
2. Enriched Playtime: This interactive toy adds variety and excitement to your dog's play sessions, making them more enjoyable and engaging, which contributes to a happier, more fulfilled pup.
3. Boredom Buster: By offering a fun, interactive challenge, the Dog Brick helps to prevent boredom, keeping your pup entertained for extended periods and reducing the likelihood of destructive behavior.
4. Develops Problem-Solving Skills: The Dog Brick helps your dog learn to think critically and strategize as they work to uncover hidden treats, fostering his problem-solving abilities and cognitive growth.
5. Builds Confidence: As your dog successfully navigates the challenges posed by the Dog Brick, they'll gain confidence in their skills, leading to a more self-assured and well-adjusted pet.
6. Suitable for All Dogs: Designed with inclusivity in mind, this versatile toy caters to dogs of all breeds, sizes, and ages, ensuring that every pup can enjoy the mental and physical benefits of interactive play.
7. Customizable Play: With 20 hidden treat compartments and added obstacles, you can tailor the difficulty of the puzzle to suit your dog's abilities, providing a personalized play experience that evolves as your dog masters new skills. You can skip the bone blocks as your dog learns the ropes, then incorporate them slowly to increase difficulty once your pup has mastered the first step of finding and eating treats.
8. You can fill the compartments with wet foods, and freeze them for an even more interesting challenge, or for a refreshing activity on a hot day.
9. Reward-based Training: The Dog Brick encourages positive reinforcement training by rewarding your dog's efforts with treats or kibble, helping to reinforce good behavior and strengthen the bond between you and your pet.
10. Easy Maintenance: The simple yet effective design of the Dog Brick allows for effortless cleaning using soap and water, ensuring that your pup's toy remains fresh and hygienic after each use.
11. Aids in Reducing Anxiety: By providing mental stimulation and a sense of accomplishment, the Dog Brick can help alleviate anxiety and stress, promoting a calmer and more relaxed demeanor in your pet.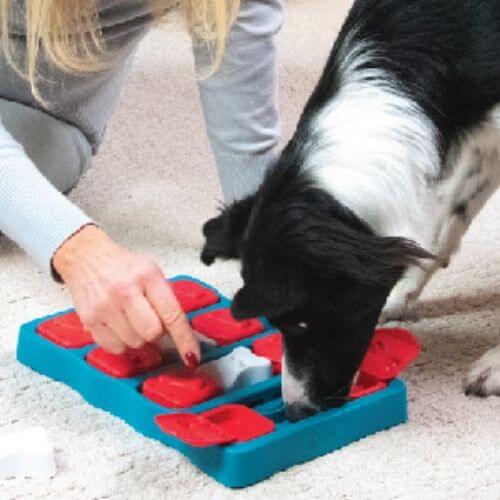 Some Other Pros (and Cons)
Pros
Can be used as a slow feeder
This puzzle can hold 1-2 cups of food, which is more than other puzzles.
The tray is stable and not easy for the dog to flip over.
The product features a non-slip base
Easy to use - simple for both you and your dog to use
Caters to dogs at different skill levels
Cons
It can't take large treats - small treats or kibble are the best options to use with this.
It does not claim to be dishwasher safe - hand wash only with soap and warm water
Some dogs chewed up the lids and bone blocks (though we found them surprisingly sturdy ourselves)
Pricing
The Outward Hound Nina Ottosson Dog Brick Interactive Treat Puzzle Dog Toy is not only an excellent investment for your pet's mental and physical well-being, but it also comes at an affordable and competitive price. The pricing of this high-quality puzzle toy offers great value for money, considering the numerous benefits it provides to both you and your furry friend. Click the link below to check pricing in your region.
Comparison with Similar Toys
In this comparison, we will compare the Nina Ottoson Dog Brick with three similar toys: the TRIXIE Dog Activity Flip & Fun Dog Puzzle Toy, the KADTC Dog Puzzle Toy, and the SPOT Ethical Pet Interactive Seek-A-Treat Shuffle Bone Toy Puzzle. These interactive dog toys are all designed to mentally stimulate your pet by hiding treats under sliding or flipping elements. Let's explore their features, similarities, and potential drawbacks.
TRIXIE Dog Activity Flip & Fun Dog Puzzle Toy: Like the Dog Brick, this Level 2 difficulty toy has sliding discs that reveal hidden treats below. It's important to note that this toy may require some time for your dog to learn how to use it, and they may become frustrated if not properly taught.
KADTC Dog Puzzle Toy: This toy features little domes that can be filled with food, in addition to slide elements. Some reviewers have reported that the flippers on the side tend to get stuck, making it difficult for dogs to access the treats.
SPOT Ethical Pet Interactive Seek-A-Treat Shuffle Bone Toy Puzzle: Similar to the Dog Brick, this toy also has sliding discs that reveal hidden treats below. It has fewer compartments, though, which might make it less challenging for some pets. The wooden puzzle design is a more eco-friendly option, but it can expand when washed, leading to jammed sliders.
Customer Experiences
Overall, customers were very pleased with the Nina Ottoson Dog Brick. Many commented that their dogs took to playing with the puzzle quickly and enjoyed it immensely. They also reported that the toy kept their pup's attention for long periods of time, helping to reduce boredom and encouraging mental stimulation. Some noted that the price was very reasonable in comparison to other similar products.
A few customers reported that the pieces seemed a bit flimsy and were easily chewed by their dogs, while others mentioned that their pet was able to quickly solve the puzzle with minimal effort, and so it was not really a level 2 toy.
However, overall, customers seem very pleased with this product.  With so many benefits, this toy is a great addition to any pup's playtime routine.
FAQs

Is the Outward Hound Dog Brick suitable for all dog breeds and sizes?
Yes, the Outward Hound Dog Brick is designed to accommodate dogs of various breeds, sizes, and ages. Its versatile design ensures that it can provide a stimulating and enjoyable experience for every pup. However, it's essential to supervise playtime, especially for aggressive chewers or larger dogs, to prevent any potential damage to the toy or ingestion of broken pieces.
Can the difficulty level of the Dog Brick be adjusted?
Absolutely! The Outward Hound Dog Brick allows you to adjust the puzzle's difficulty to match your dog's skill level. By adding or removing obstacles, such as the bone-shaped pieces, you can create a more customized play experience for your pet, ensuring that they remain engaged and challenged as their problem-solving skills improve.
How do I clean the Dog Brick after use?
Cleaning the Outward Hound Dog Brick is relatively simple. First, remove all the bone-shaped pieces and slide the blocks to open positions. Then, use warm water and mild soap to gently clean each component, making sure to remove any treat residue or dirt. After cleaning, thoroughly rinse the toy and allow it to air dry before reassembling it for your dog's next play session.
What type of treats should I use with the Dog Brick?
The Dog Brick is designed to hold small treats or kibble in its compartments. It's best to use treats that easily fit within the compartments, ensuring that your dog can access them without difficulty. If your dog prefers larger treats, you may need to break them into smaller pieces to fit inside the toy.
Is the Dog Brick made from safe materials?
Yes, the Outward Hound Nina Ottosson Dog Brick Interactive Treat Puzzle Dog Toy is constructed from non-toxic, BPA, PVA, and phthalate-free materials. This ensures that the toy is not only safe for your pet but also designed to withstand the test of time, offering long-lasting value.
Will the Dog Brick help with my dog's separation anxiety?
While the Dog Brick cannot completely cure separation anxiety, it can certainly help reduce its symptoms by providing an engaging and rewarding activity for your dog. The mental stimulation offered by the toy can help keep your dog occupied and less anxious when left alone, promoting a more relaxed and content demeanor. However, for severe cases of separation anxiety, it's essential to consult with a veterinarian or professional dog trainer for additional guidance and support.
Conclusion
The Outward Hound Nina Ottosson Dog Brick Interactive Treat Puzzle Dog Toy is an excellent choice for pet owners looking to provide their pup with a mentally stimulating and rewarding playtime experience. With its adjustable difficulty levels, durable materials, and treat feeding features, this toy is one of the most versatile dog games and offers plenty of entertainment for dogs of all breeds, sizes, and ages.
We hope you found this review informative and helpful in making a decision for your furry friend. Don't forget to share this review with fellow pet owners who might find it useful. And if you're ready to bring the Outward Hound Nina Ottosson Dog Brick Interactive Treat Puzzle Dog Toy home for your dog, simply tap the button below to purchase it on Amazon. Happy playtime!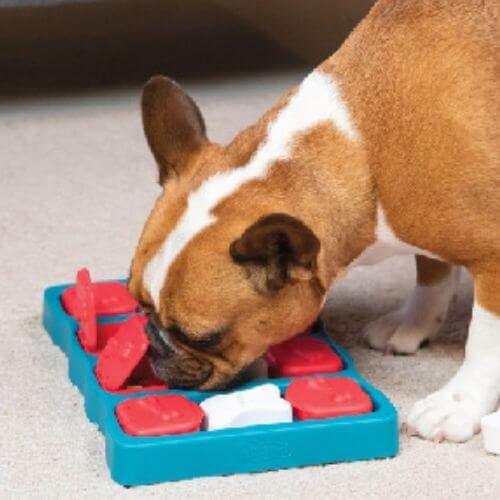 Nina Ottosson Dog Brick
Check Price on Amazon