Diapers aren't just for babies - dogs can wear them too!
Diapers for dogs come in all sizes and styles, and serve many purposes - from diapers for puppies to diapers for senior dogs, diapers for male or female dogs, disposable or reusable, you can find just the right one for your pet.
There are a variety of reasons why your furry friend might need to wear a diaper, and we can help you find the best one for your needs. You will want to make sure that your dog is as comfortable as possible when wearing a diaper, so we will provide some tips on how to choose the right product for your dog's needs.
With the right diaper, your dog will be able to feel confident and secure while going about its day-to-day activities. The most important thing is to remain patient and understanding with your furry friend as they navigate their way through potty training or incontinence issues.
Keep on reading to learn more about the different types of dog diapers available!
👉🏻
We are here to provide you with the best choices. Clicking on some of the links on this page may generate a small commission from purchases you make through those websites, but there is no extra cost to you.
How We Choose the Best Dog Diapers
If you've ever dealt with a dog that's in heat or suffering from incontinence, you know how frustrating it can be to keep your home clean and free of accidents.
Diapers are a great solution, but which one should you choose?
Don't worry, we're here to help. We have gone through thousands of reviews and have come up with a list of the best disposable or reusable diapers for both male and female dogs.
Our Top Choices: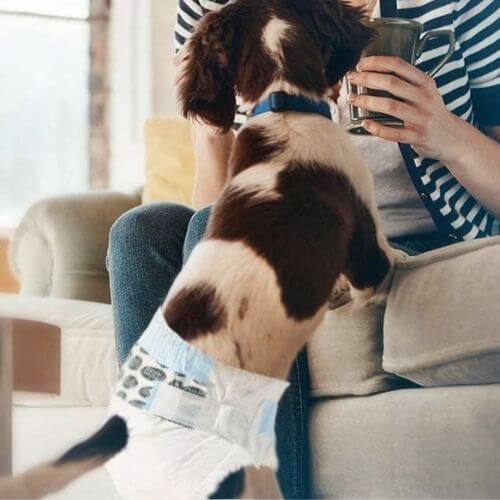 Simple Solution Dog Diapers for Female Dogs
Best Disposable Female Dog Diapers
Check The Price On Amazon
What We Love About This Choice
Keep your home clean and give yourself peace of mind with Simple Solution Disposable Dog Diapers for Female Dogs. With a secure, leak proof barrier and super absorbent core that locks in all moisture, accidents will be a thing of the past. And the wetness indicator makes it easy to know exactly when it's time for a diaper change!
Fur-Friendly Fasteners are designed to keep the diaper securely in place. The diapers also come with a tail-hole, and extra-long wings make sure they stay put without causing discomfort or skin irritation.
You Should Know This
These diapers come in 5 sizes, from XS to XXL, so that every furry friend is taken care of. You can buy them in packs of 12 or 30 depending on how often you need them.
For easy cleanup, simply dispose of the used diaper in the trash. Keep your home clean and tidy with Simple Solution Disposable Dog Diapers.
Put an end to those messy moments with Simple Solution Disposable Dog Diapers and keep life clean and stress free!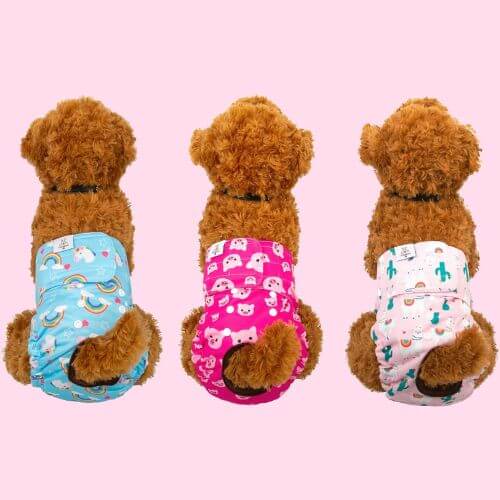 CuteBone Reusable Female Dog Diapers
Best Reusable Female Dog Diapers
Check Price on Amazon
What We Love About This Choice
Looking for a cute, washable alternative to traditional dog diapers? Look no further than CuteBone's Reusable Female Dog Diapers! These darling little pants are perfect for your female pup during her heat period, as well as for potty training or incontinence. And they're much more environmentally friendly than disposable options.
You Should Know This
Each pack comes with 3 reusable diapers in three fun and stylish designs. They feature leg elastics that can be adjusted for a better fit. Fast-dry and soft birds-eye mesh fabric against the skin, a super absorbent pad that's sewn in, and a waterproof exterior shell will keep her dry and comfortable while protecting your furniture and floors from any accidents.
Each package comes with 3 washable, reusable dog diapers that are available in a variety of colors to suit any taste. Just pick a size to suit your pet, from small to extra large. Not only that, but CuteBone's waterproof exterior is washable and reusable — making them not only cute but environmentally friendly and budget-friendly too!
CuteBone Reusable Dog Diapers are an economical and eco-friendly way to deal with your dog's heat period or incontinence issues.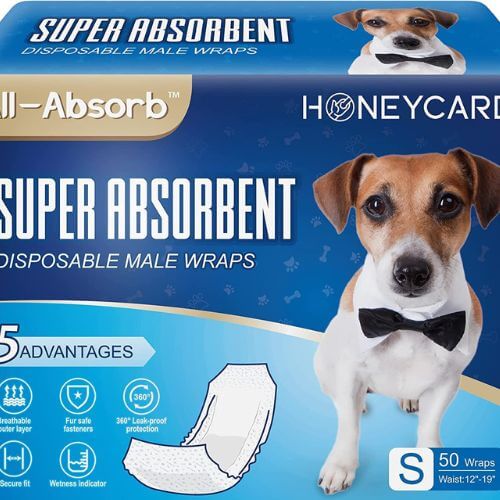 HONEY CARE All-Absorb Male Dog Wrap
Best Disposable Male Dog Wrap
Check Price on Amazon
What We Love About This Choice
Keep your little buddy comfy and dry with Honey Care All-Absorb Male Dog Wraps! whether you want protection from incontinence, excitable urination, or to just form a dog who has a tendency to mark areas that are not his own, these wraps are a great solution.
The wraps are designed with a breathable outer layer, allowing optimal comfort while keeping your pup dry. It also features a 360 degree leak-proof protection barrier and a super absorbent core that prevents any accidental spills or marking.
You Should Know This
Additionally, the unique stretchy fabric fits comfortably and securely, fasteners are easily adjustable for fur-less application, and the wetness indicator will let you know when it's time for a brand-new wrap!
The 50-count packs come in four different sizes so there's sure to be something perfect for every pup.
Let Honey Care All-Absorb Male Dog Wraps take care of all the messy clean-ups so you can focus on cuddles and games with your furry friend!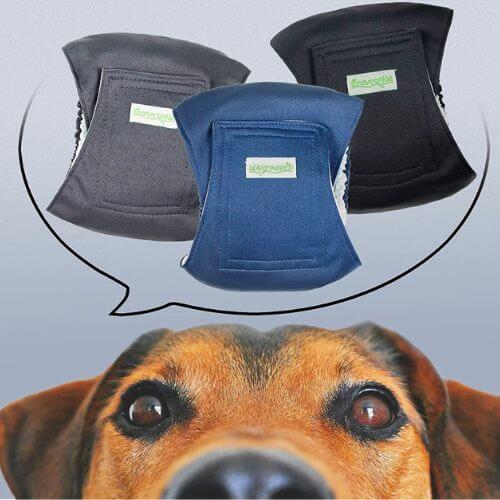 wegreeco Male Dog Belly Bands
Best Washable Male Dog Wrap
Check Price on Amazon
What We Love About This Choice
If you are looking for an eco-friendly and economical alternative to disposable diapers, then the wegreeco Male Dog Belly Bands are the perfect choice for you and your furry friend.
These belly bands make it easy to provide protection against potty accidents, excitement urination, urinary incontinence, or spot marking while maintaining a consistent level of comfort and a healthy home environment. Keep your canine pal feeling secure, comfortable and clean with these wraps that are softer and more comfortable than disposable wraps.
These belly bands utilize a soft jersey material that wicks away moisture from the body quickly and easily. A super-absorbent fleece lining helps keep your pup drier for longer, and the adjustable hook-and-loop closure makes for easy adjustment no matter the size or age of your pup, super easy to put on and take off.
You Should Know This
Wegreeco belly bands are machine washable and can be reused over and over again. They come in packs of 3, and there's a size to fit everyone from small to extra large! Plus there's a  range of cheerful colors and designs you can choose from that are sure to please every pooch!
In addition to being incredibly cute, these belly bands are comfortable, affordable and environmentally friendly – what more could you want? Switching to washable diapers will significantly reduce costs with each use and offer continued peace of mind knowing you're making a positive impact on the environment for generations to come!
Thanks for choosing Wegreeco Male Dog Belly Bands – we know you (and your pup) won't regret it!
Hartz Disposable Dog Diapers
Best Disposable Diapers for Male and Female Dogs
Check Price on Amazon
What We Love About This Choice
If you've been searching for a reliable and effective way to help manage your dog's incontinence, puppy training, or time in heat, look no further than Hartz Disposable Dog Diapers! These diapers are made to provide the ideal fit for maximum protection and comfort. Their highly absorbent core with FlashDry technology instantly turns urine into GEL so you don't have to worry about leaks.
You Should Know This
Hartz Disposable Dog Diapers come with adjustable and repositionable Velcro tabs that ensure a proper fit without sticking to their fur or irritating their skin. No matter the size or shape of your pup's tail, the adjustable tail hole will make sure the diaper still fits perfectly. And with four sizes available, you can give your pup a gentle and friendly solution for managing incontinence without sacrificing style or comfort.
Whether you are looking for disposable male dog diapers or disposable female dog diapers, Hartz Disposable Dog Diapers have all your diapering needs covered!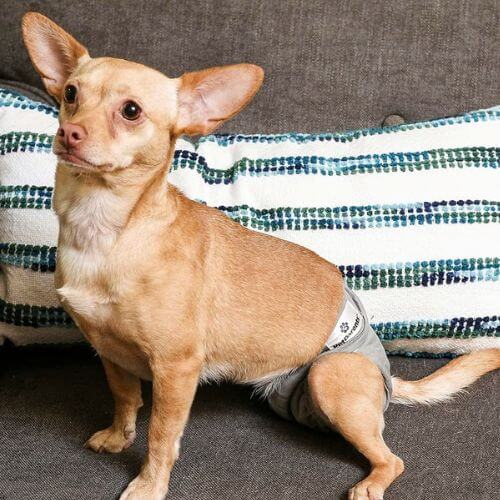 Pet Parents Washable Dog Diapers
Best Washable Dog Diapers for Male and Female Dogs
Check Price on Amazon
What We Love About This Choice
Pet Parents Washable Dog Diapers - the perfect solution for protecting your pets from leaks and messes! The diapers are made with soft and extremely wearable materials that provide a comfortable fit for your pup, and won't rub, itch or have irritating textures like disposable diapers They feature specifically-placed elastics to allow easy play and naps without the worry of leaks and messes, plus Velcro closures, securely fasten the diapers without pulling or catching your pup's fur!
You Should Know This
Pet Parents' WickQuick material prevents diaper rash, urine burn, or irritation from soiled diapers by drawing liquid away from the surface. Super absorbent pads are sewn in, while a waterproof & leakproof exterior shell ensures liquid stays inside. They come in packs of 3 (neutral colors or black) with 5 sizes to fit most breeds! They're machine washable so you can use them over and over again - making them more environmentally friendly and cost-effective than single-use disposable dog diapers.
Give your pet the care and protection they deserve with the Pet Parents Washable Dog Diapers.
Best Dog Diapers FAQs
Dog diapers are a handy item for any puppy parent. Not only do they help to keep your dog clean and dry, but they also provide a barrier against bacteria and other potential hazards.
With so many different types and brands of dog diapers on the market, it can be difficult to know which one is best for your pet.
To help you make an informed decision, we've compiled a list of the most frequently asked questions about dog diapers.
What Are Dog Diapers?
Dog diapers are basically like human diapers, but made for dogs! They are specifically designed to fit the anatomy and lifestyle needs of canine companions.
They come in both disposable and reusable (washable) versions, and some are designed specifically for male or female dogs, while others are unisex.
Dog diapers are an important tool for pet parents to have in their arsenal, as they offer a variety of benefits. Dog diapers can help to keep your home clean and dry in the event that your dog is not yet house-trained. They can also be used for dogs who are incontinent or who suffer from diarrhea.
Additionally, dog diapers can provide peace of mind for pet parents who take their dogs on long car rides or hikes, as they will help to avoid accidents in the event that your dog cannot hold them until you reach your destination.
Dog diapers are a versatile and convenient solution for a variety of pet parenting needs, so be sure to stock up. But just remember they are not a substitute for house training!
What are the different types of Dog Diapers?
Dog Diapers come in a variety of styles to suit different needs. Some common types include disposable diapers, reusable diapers, belly bands, and wraps.
Disposable diapers are ideal for short-term use, such as when traveling with your dog or taking them to the vet. Reusable diapers are more economical in the long run and can be washed and reused multiple times.
Belly bands are helpful for male dogs who tend to mark their territory, while wraps are a good option for female dogs in heat.
Are doggy diapers a good idea?
Yes, they most definitely are! There are lots of reasons why you should use them.
The primary purpose of dog diapers is to provide protection from wetness or accidents in the house for puppies who aren't yet potty-trained, senior pets with incontinence issues, or females in heat. However, they can also be used as an efficient way to prevent messes when taking your pup out on a long car ride when you can't make a rest stop!
Diapers can provide necessary protection from soiling carpets and furniture with urine or feces. The diapers offer comfort and dignity for dogs who are no longer able to control elimination as much since no one wants their pet feeling embarrassed because of inevitable 'accidents'. Additionally, these types of diapers will give you peace of mind when leaving your elder pup home alone while away at work or school; they'll keep them clean while you're gone!
How often should I change my dog's diaper?
Dog diapers are a great way to keep your furry friend clean and dry, but they do require changing, just as you would a baby's diaper. The frequency of diaper changes will depend on the individual dog, but as a general rule of thumb, it is best to change the diaper every 2-3 hours or as needed. If the diaper is not soiled, you should still change it every day.
Many brands of diapers also come with wetness indicators so you will know when it's time for a change.
If you notice that your dog is starting to have accidents more frequently, it may be time to increase the frequency of changes. In addition, it is important to regularly check the diaper for leaks and replace it if necessary. By following these simple tips, you can help your dog stay comfortable and clean.
How do I know if my dog is comfortable in their diaper?
The best way to tell is to observe their behavior. If they seem agitated or uncomfortable, it may be time to try a different brand or style of diaper.
Otherwise, most dogs adjust just fine to wearing diapers and continue their usual activities without issue. If you're still not sure, consult with your veterinarian for their professional opinion. With a little trial and error, you'll find the perfect diaper solution for your furry friend in no time!
Why would a male dog need a diaper?
Diapers for male dogs may be necessary for a couple of reasons. You could use a diaper on a male puppy while he is being house-trained. An older dog who suffers from incontinence, or has some other bladder issues would also benefit from using a diaper.
Luckily there are several diaper options available that specifically cater to a male dog's anatomy - so there's sure something out there that works best for your particular situation!
What are Belly Bands for Male Dogs?
Belly bands (also known as male wraps) are bands that fit snugly around your dog's midsection, just above his hips. They can be used for potty training, incontinence, or to prevent your pup from leaving his mark where he's not supposed to!
Belly Bands are just like a diaper, but made for the male dog's anatomy. They are available as disposable or washable.
Can I use human diapers on my dog?
Many pet owners have tried using human diapers or baby diapers on their dogs. They may try cutting a hole in the diaper to fit the dog's tail and hope that it fits.
However, we do not recommend using human diapers on your pets. If you want a proper fit, comfort, and the best absorbency for your pet, always go with a dog diaper. There are many options available that are both effective and economical.
The Best Dog Diapers - the Choice is Yours
Picking the right dog diaper is an important decision for any pet parent. We hope our list of the best dog diapers has helped you narrow down your options and choose the perfect product for your pup.
Click the buttons above to check the prices on Amazon and find the perfect match for your four-legged friend today.
---
You may also like to read: