Planning your next outdoor camping adventure and want to bring your furry friend along?
If you're like me and love taking your dog camping with you, then you know how important it is to have a comfortable bed for them. Not all dogs are used to sleeping on the hard ground, so you'll need a great bed to make your pup happy and relaxed while enjoying nature with you.
Dog camping beds are perfect for bringing your pup along on all your outdoor adventures. They're made with water-resistant fabric and a comfortable foam mattress, so they'll be happy and dry no matter where you pitch your tent. Plus, they come with a carrying case so you can easily pack them up and hit the road.
In this article, we'll talk about the best dog camping beds on the market, how to choose one - and why every pup needs one!
👉🏻
We are here to provide you with the best choices. Clicking on some of the links on this page may generate a small commission from purchases you make through those websites, but there is no extra cost to you.
How We Choose a Dog Camping Bed
Do you want to take your beloved pup camping, but don't know what kind of bed to buy them?
It can be tough trying to find the perfect camping bed for your pup when there are so many options out there. And if you're like most people, you probably don't have time to read through thousands of reviews on Amazon.
We've done the hard work for you - so keep reading to see which ones we have chosen that stand out from the rest!
Our Top Choices: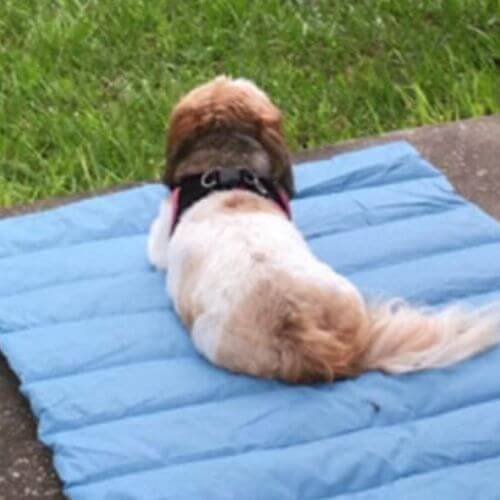 CHEERHUNTING Outdoor Dog Bed
Check Price on Amazon
What We Love About This Choice
Provide your pup with a comfortable place to relax while you're out camping or hunting with the CHEERHUNTING Outdoor Dog Bed! This lightweight bed is easy to fold and pack in the included carry bag. Plus, it's water-resistant and easy to spot-clean when you're out and about.
Not only is this bed designed to be used outdoors, but you can also keep it inside too! That means even if your pup is in the house they can still lay down on the super comfy mat and rest after a long day of playing.
You Should Know This
This is not just any ordinary dog bed – it is made from durable polyester and high quality oxford cloth for maximum sturdiness, plus clean recycled polyfill for a comfortable sleep no matter where you are. Not only that, but it's waterproof and odor-repellent too so you don't have to worry about any accidents!
Choose from 3 sizes that cater to small, medium and large dogs, as well as 4 different colors. Even the messiest of dogs will be all tuckered out on our wonderful new dog bed. Plus, if your furry friend manages to get their bed dirty, it's easy to clean – simply wipe off stains with a damp cloth or pop it in the machine washer!
With CHEERHUNTING's Outdoor Dog Bed, your pup will remain fully energized for those adventures out in nature!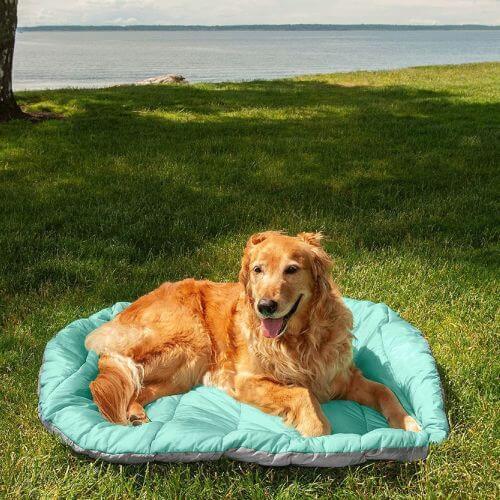 Furhaven Trail Pup Dog Bed
Best Pillow Bed for Camping
Check Price on Amazon
What We Love About This Choice
Outdoor-loving pet owners, it's time to introduce your four-legged family members to the world of adventure with the Furhaven Trail Pup Dog Bed! This cozy pillow bed is designed for any and all outdoor activities, from camping trips to hikes, picnics and more, and will provide optimum comfort for pets of all ages The Trail Pup bed comes with a separate stuff sack for enhanced portability and easy storage.
You Should Know This
The quilted, reversible design features a two-color sleep surface that stretches along the entire bed and has high-loft cushioned padding for optimum comfort. With three color options—Flame Red & True Blue, Aqua & Granite Gray, and Paprika & Camo-Paw—your pup can put their own personal touch on their journey. And when the time comes to clean the packable travel dog mat, simply pop it in the machine! Plus, you'll enjoy peace of mind knowing your purchase is backed by a 90-day limited coverage against material defects. Prepare your furry friend for an exciting new world today with Furhaven Trail Pup Dog Bed —the perfect way to explore nature together.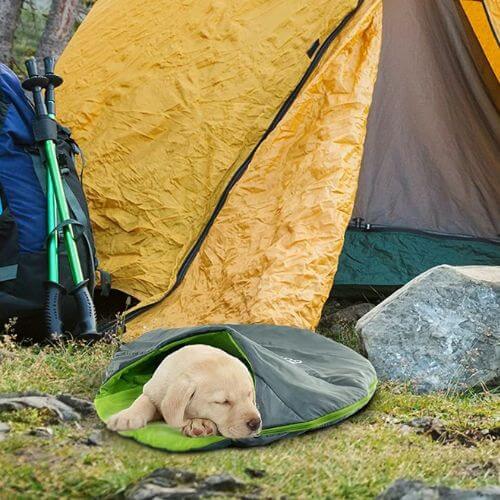 Outrav Dog Sleeping Bag
Best Dog Sleeping Bag for Camping
Check Price on Amazon
What We Love About This Choice
The Outrav Dog Sleeping bag is the perfect addition to your next outdoor camping adventure with your pup. Constructed out of a waterproof polyester shell and with a warm, cozy interior it will provide superior comfort and dryness throughout colder camping months.
With an unfolded size of 26" x 36", Fido will be able to snuggle in with ease on any outdoor adventure. Lightweight in design, easy to carry and store, it won't weigh you down on any hikes.
You Should Know This
This waterproof and quick-drying sleeping bag is made of a durable polyester shell and features a soft, comfortable interior, and comes with a double zipper. When your pet bed needs a deep clean, simply toss it into the washing machine and hang it to dry. Available in a choice of green or red, it comes in an easy-to-manage folded size of 15" x 5.5".
Give your furry family member their own spot to rest while camping with Outrav's Dog Sleeping Bag!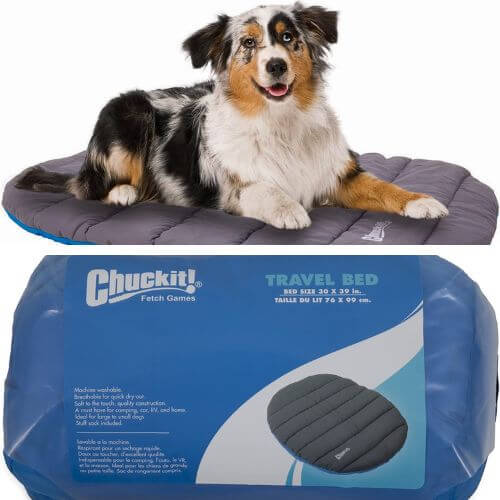 Chuckit! Travel Dog Bed
Best Quilted Travel Dog Bed for Camping
Check Price on Amazon
What We Love About This Choice
Introducing the Chuckit! Travel Dog Bed! If you have an active pup that loves to explore the outdoors, then this is the perfect bed for them. Whether you're camping, road-tripping, or just lounging in the park, your pet will stay comfortable no matter where you go.
The travel dog bed also comes with a nylon stuff sack so it can be rolled up easily and transported anywhere.
You Should Know This
This dog bed is built for outdoor use, with quality construction. Double offset quilting offers cushioning on firm surfaces, and a waterproof ripstop nylon base ensures durability wherever your travels may take you. This one size fits most pets ranging from small to large dog breeds, so that all members of the family can join your adventure. And when the adventures are over, this pet bed can be completely washed without shrinking or clumping - it's worry-free and perfect for all carefree dogs out there!
Your pup deserves comfort at home or on the go. So let the adventure begin - with the Chuckit! Travel Dog Bed!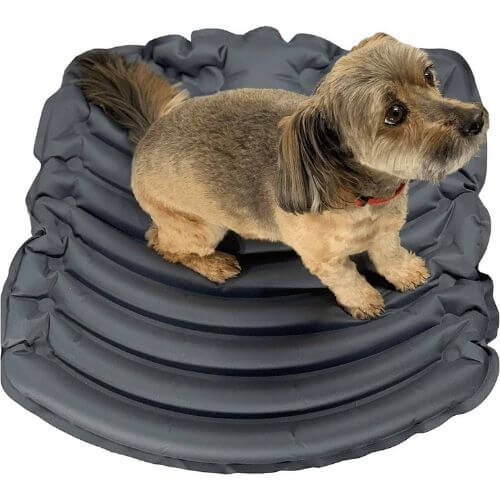 K9 Sport Sack Travel Dog Bed
Best Inflatable Dog Camping Bed
Check Price on Amazon
What We Love About This Choice
Ready to take your furry best friend on an outdoor adventure but don't want to lug a bulky and uncomfortable dog bed? Look no further than the K9 Sport Sack Travel Dog Bed! You'll never have to worry about your pup won't dozing off on hard, uncomfortable ground anymore.
This inflatable dog bed was made specifically with hikers, campers, and adventurers in mind, using advanced Klymit technology. It's designed for maximum durability and comfort - giving your pup a soft place to rest without requiring you to carry extra weight.
You Should Know This
The durable material that makes up the bed is both waterproof and scratch/claw-resistant, so it will stand up to any shenanigans your pup can dish out. Easy to inflate, and with a flush flat valve for deflation, the K9 Sport Sack fits easily in any side pocket of a regular K9 Sport Sack—meaning there's no need for extra bulky gear.
Plus, it comes in two sizes—Small/Medium and Large/Extra Large—so every pup is likely to find their perfect fit. And this American-made product is backed with a 60-day guarantee too… how can you beat that?
So if you're looking for a comfortable bed that won't weigh down your outdoor adventures, check out the K9 Sport Sack Travel Dog Bed!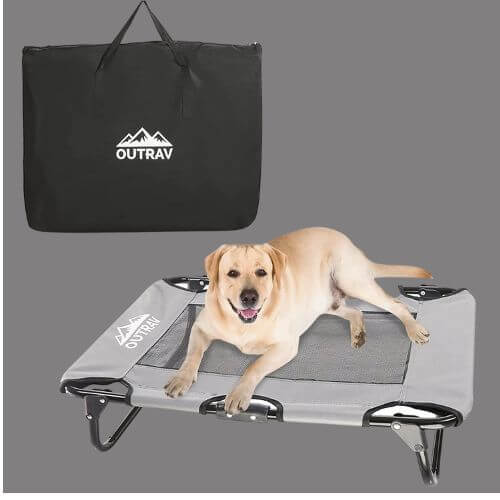 Outrav Elevated Dog Cot
Best Foldable Elevated Dog Bed for Camping
Check Price on Amazon
What We Love About This Choice
If you are searching for a luxurious sleeping option to replace the traditional puffy dog beds, which often become too hot and accumulate dust and dirt, look no further - the Outrva Elevated Dog Cot is just what your beloved pet needs! This sturdy sleeping hammock is easy to fold and carry nearly anywhere, so you won't have to leave your furry friend at home ever again. Its fold-open legs and rubber grips mean less work for you since the doggie bed does not require any assembling. And included in this package is a practical carrying bag with the OUTRAV logo.
You Should Know This
Heavy-duty metal legs keep the bed 8 inches above the ground, keeping your dog cool and away from dust and extreme temperatures. This hammock is constructed to last, thanks to its super-strong double-stitched edges, and the netting in the middle uses a rubber mix plastic that withstands wear and tear.
This dog cot comes in 2 sizes, and a choice of grey, brown and green. To top it off, Outrav offers premium customer support as well as a 30-day money-back guarantee for extra confidence in your purchase.
So don't miss out! Get your own Outrav Elevated Dog Cot today!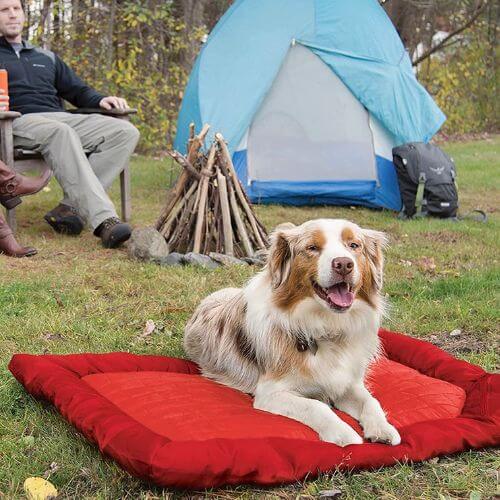 Kurgo Outdoor Dog Bed Roll
Best Portable Bed Roll for Camping
Check Price on Amazon
What We Love About This Choice
What better way to keep your pup comfy and cozy on your next outdoor adventure than the Kurgo Outdoor Dog Bed Roll? This versatile and travel-friendly bed is lightweight and easy to carry, rolling up like a sleeping bag, with its own built-in handle for portability. Featuring a sturdy waterproof design on both top and bottom, it's perfect for outdoor adventures.
You Should Know This
This portable dog bed provides durability and coziness for your furry friend, with a top made from quilted microtomic ripstop fabric, and polyfill. The non-slip, waterproof rufftex bottom also provides added protection against moisture or dampness. And, to make cleanup easy, the bed is machine washable!
Next time you take your pup out camping, hiking, or on a road trip, don't forget the Kurgo Outdoor Dog Bed Roll. It's sure to make any outdoor excursion pawsome!
Dog Camping Bed FAQs
Many people think that because their dog loves to be outside and run around, they don't need a bed when camping. This simply isn't true! Not only can a bed provide extra comfort for your pup, but it can also help keep them warm and safe while camping in the great outdoors together.
We have answered some of the most frequently asked questions about dog camping beds to help you make the best dog bed to choose for your furry friend's camping trip.
What is a Dog Camping Bed?
A Dog Camping Bed is a specially designed outdoor bed for dogs that are accompanying their owners on camping trips. This type of bed provides comfort, security, and warmth for your pup, even in the most rugged terrain.
Dog Camping Beds come in different materials and designs and are intended to suit your dog's size and breed. The most common types of Dog Camping Beds include inflatable beds, elevated mats or cots, canvas beds, sleeping bags, hammocks, and air mattresses.
Do dogs need a bed when camping?
The short answer to the question of whether dogs need a bed when camping is yes. While some adventurous pooches may be content just plopping down on grass, dirt, or sand during their travels, providing a familiar and comfortable place for your canine companion will help make sure they are resting safely and comfortable, not only on the journey, but all throughout your stay.
When considering how best to provide comfort for your pup while on a camping trip, it is helpful to think about things from their perspective. Just like us humans have our own beds at home that give us not only a physical space but also emotional comfort after we've had a long day out and about, and so do our trusty furry friends! Providing them with something familiar will not only bring them relief from any anxiety they may feel being in an unfamiliar environment but also make them significantly more at ease and relaxed.
There are practical considerations as well. If you let your dog sleep outside without some kind of protection (such as blankets or bedding) then you can put them at potential risk of developing hypothermia due to cold temperatures. Having something cozy like blankets or foam mattresses allows canines to keep warm while sleeping in colder climates.
It also helps protect their joints against hard surfaces which might cause pain and discomfort due to prolonged exposure over time; coats don't always provide enough cushioning!
What Size of Dog Camping Bed do I need?
Purchasing the correct size camping dog bed is essential for your furry friend's comfort and safety as you explore the great outdoors.
First and foremost, make sure your dog camping bed is large enough for them to sleep on comfortably. However you don't want it to be larger than necessary because space may be at a premium when traveling!
Most manufacturers will provide measurements and instructions on how to measure your dog for a bed.
Do dogs like going camping?
Yes, dogs absolutely love going camping! After all, they love being with their humans wherever they go and many dogs just simply adore the great outdoors.
Camping offers a unique opportunity for your pup to explore new smells, sounds, and sights that are not typically available in their day-to-day lives. This can provide them with an exciting experience that may even improve their overall mental health when done on a regular basis. Furthermore, the more you camp with your dog, the more comfortable they will become with traveling in unfamiliar settings and environments.
What do I need when camping with a dog?
Camping with a dog can be an exciting and fun experience when you're properly prepared. Your pup needs some special items to ensure that the outing is enjoyable for everyone.
First, make sure your pup has its own bed to sleep in and lounge around on during the trip.
Pack supplies like a collar/leash/harness combo that is appropriate for camping conditions - especially if you plan to take lots of walks or hikes together! This way, you can make sure your pup stays safe while exploring nature with you.
Don't forget food! If possible, bring the same type of food that they get at home; sudden changes in diet can cause digestive issues which will not only ruin their adventure but yours as well! Pack plenty of treats too for training purposes as well as rewards for good behavior.
Toys are great companions when camping with your pup - toys such as tug toys or balls will keep them engaged during downtime and give them something fun to do during long periods away from home territory.
Also pack any medications or supplements that your pooch needs. And bring along a first aid kit - it will come in handy should anything go wrong such as cuts or scrapes due to rough terrain, heatstroke or insect bites etc.
Finally, always remember poop bags - you don't want to be caught out during an outdoor holiday!
Do dogs get cold while camping?
Yes, dogs can get cold while camping. It's important to consider the weather and climate when deciding whether to bring your pup along on a camping trip. If you're going somewhere with cold temperatures, it's best to take steps to keep them warm and safe throughout their stay.
Many pet owners tuck one inside their pup's sleeping bag before bedtime so they have a source of consistent warmth on those extra chilly nights outside!
How do I keep my dog warm at night camping?
Keeping your furry companion warm during camping trips can be a challenge, especially at night. While you want to make sure that your pup stays comfortable, you also need to ensure their safety and comfort throughout the whole journey. To help keep your dog warm at night when camping, here are some tips:
Make sure they're warm and dry at all times, not just at night. Dry them off - wet fur not only loses heat faster, but it also chills them in the cold air and can result in hypothermia.
Provide extra warmth with a dedicated bed or sleeping bag – You don't have to get fancy here - an old blanket laid on top of their sleeping spot will do just fine! Your pup will appreciate having something soft and cozy to snuggle up into as well as helping trap additional heat from their body as they sleep soundly through the night.
You can always select one of the best camping dog beds from our list above.
In colder temperatures, you'll want to make sure they're wearing appropriate clothing or gear that fits their breed size and fur type. Consider such items as sweaters, coats, and boots. Dressing your canine companion appropriately helps lock in more of their own heat around their body more effectively than less restrictive clothing would allow while keeping them dry too!
Dog Camping Beds - the Choice is Yours!
If you're going camping with your furry friend, you're going to want to make sure they have a comfortable place to sleep. The beds we've featured in this blog post are all great options that will surely make your pup happy.
What are you waiting for? Get the perfect dog camping bed, and start planning your next adventure today!
Click the buttons above to check the prices on Amazon.
Thanks for Reading, and Happy Camping!
---
You may also like: