Is your pup's dinnerware looking a little drab?
Introducing ceramic dog bowls! These attractive and durable bowls are a great way to provide your pup with meals in style. Not only do they look chic and stylish, but the non-porous materials help reduce the spread of germs in comparison to standard plastic or metal bowl counterparts.
Ceramic dog bowls are also a great way to add some personality to your home and make every mealtime feel special for both you and your pet. With their colorful variety, you're sure to find one that fits your taste as well as your pup's needs. And since no two pups are alike, these dishes come in all shapes and sizes - from small to large; from plain white or blue glazed designs - so you can easily customize it as unique as they are!
Read on to learn more about our selection of ceramic dog bowls today – perfect for every pooch (and their humans too)!
👉🏻
We are here to provide you with the best choices. Clicking on some of the links on this page may generate a small commission from purchases you make through those websites, but there is no extra cost to you.

How We Make Our Choices
Making the best decision for your pup can be daunting when choosing the perfect ceramic dog bowl. With so many beautiful ceramic bowls on the market, it can be tough to figure out which one is right for your furry friend.
We've done the research for you and compiled a list of the best ceramic dog bowls available on Amazon. Now all you have to do is pick your favorite!
Our Top Choices: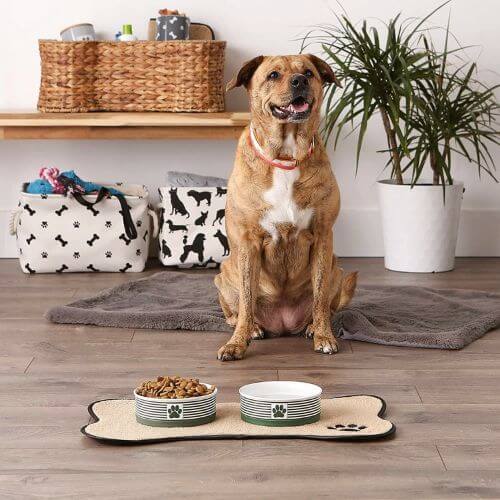 Bone Dry Ceramic Dog Bowls
Best Set of 2 Ceramic Dog Bowls
Check Price on Amazon
What We Love About This Choice:
If you have a pet, feeding time can often end up becoming a messy affair. Bone Dry Ceramic Dog Bowls are here to make your clean-up times faster and easier! Designed with ease and convenience in mind, these ceramic bowls feature a silicone ring at the bottom that helps keep them upright on any floor surface.
Plus, with different designs, colors, and three sizes to choose from, these dog bowls are sure to match any home's style.
You Should Know This:
The set of 2 bowls is available in a variety of designs (such as marble, lattice. trellis, and dog bone - the illustration shows the Paw and Patch style), colors, and 3 sizes (small, medium, and large). And matching canisters are also available.
These durable ceramic bowls will last for years to come. Not only that but these bowls are also easy to clean — just pop them in the dishwasher for hassle-free cleaning! And to ensure the best health for your pet companion, Bone Dry Ceramic Dog Bowls are California Prop 65 compliant and FDA food safe.
Get started feeding your dog in style now with this essential addition to every pet owner's life —Bone Dry Ceramic Dog Bowls!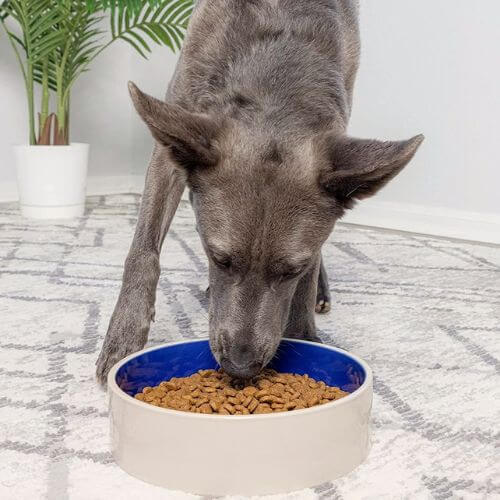 SPOT Ceramic Stoneware Dog Bowl
Best Ceramic Dog Bowl for Small Dogs
Check Price on Amazon
What We Love About This Choice:
Looking for a stylish and high-quality dish for your small dog? Look no further! SPOT Ceramic Stoneware Dog Bowl is the perfect choice. With its classic simple blue and white design, it will fit perfectly into any home décor.
Thanks to its heavy weight, it won't tip over or spill. The smooth surface makes it easy to rinse and clean, saving you time and energy. In addition, it's also dishwasher safe and microwave safe so you can clean and heat up food with ease.
You Should Know This:
Thanks to its solid stoneware construction, this dish is chew proof meaning your pet won't be destroying it anytime soon! SPOT Ethical Pets offer five different sizes too – from 5" (which can take 2 cups or 16oz) to 9.5" (which can take 8 cups or 64oz). Now there will be no excuse for overflowing plates! And if all of that isn't enough, SPOT guarantees the quality of their products with a 100% satisfaction warranty.
With a SPOT Ceramic Stoneware Dog Bowl you always know you are getting the best possible product for your dog's needs.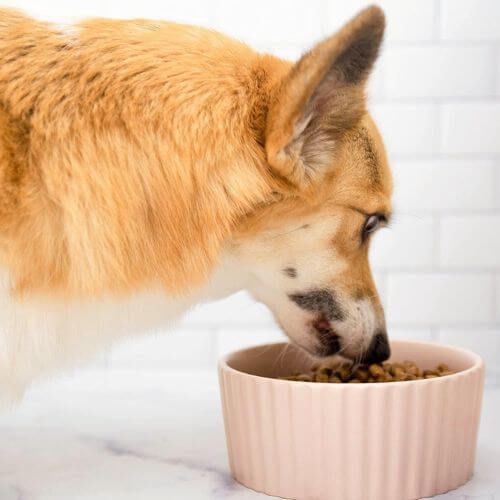 Waggo Ripple Ceramic Dog Bowl
Best Ceramic Dog Bowl for Medium and Large Dogs
Check Price on Amazon
What We Love About This Choice:
Are you in the market for a stylish, sophisticated, and durable ceramic dog bowl? Then look no further than Waggo Ripple Ceramic Dog Bowls! Not only is this bowl beautifully designed with a unique ripple effect on the outside, but it's also made with premium materials to ensure lasting durability.
Available in five different colors and three sizes, your furry friend won't have to settle for an ordinary bowl anymore. Your pup will go nuts for the perfect fit of their new Ripple Ceramic Bowl and you'll love having one more way to show off how much you care about them.
You Should Know This:
These are hand-dipped heavyweight stoneware bowls are made with the highest quality clay and stand up to everyday use. They can be easily washed by hand or in the dishwasher, as well as microwaved! Whether you use them for food or water, it's never been easier to keep your pet's dishes clean.
However convenience isn't our only perk; these gorgeous bowls can be paired with a beautiful matte treat jar or mixed and matched with other designs from the modern collection of dog bowls from Waggo - perfect for making a statement in your home.
So don't wait - pick up one of these stylish Waggo Ripple Ceramic Dog Bowls and give your furry friend something extra special today!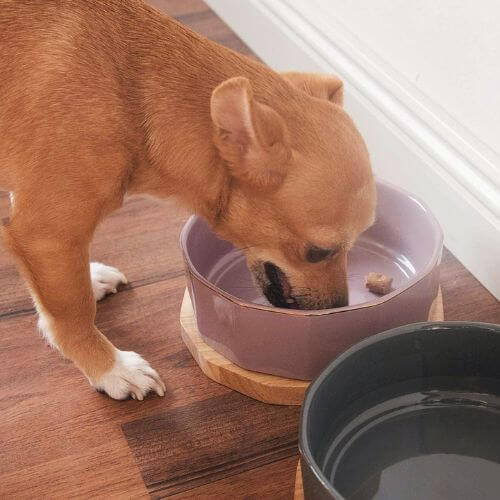 Navaris Ceramic Dog Bowls
Best Ceramic Dog Bowl with Non-Slip Wood Underlay
Check Price on Amazon
What We Love About This Choice:
Make mealtime more stylish for your furry friend with the Navaris Ceramic Dog Bowls. The unique design features an anti-slip underlay made from real oak wood, that acts like a coaster, not only helping keep the bowls in place but adding a luxurious touch to their sleek ceramic finish!
With two bowls provided in each set, you can use one bowl for food and one as a water dish - saving time while ensuring your pet has everything they need at their feet.
You Should Know This:
Each bowl is capable of holding 27oz (800ml), you can rest assured there will be enough food and water to satisfy the needs of even a medium or large dog.
Plus, if cared for properly, ceramic is an extremely durable material that should last through years of tail-wagging dinners. And with the natural grain pattern on the bottom of each bowl providing slippage prevention, these bowls are a must-have item for any pet owner who loves style as much as practicality!
Don't let mealtimes be ordinary, get the Navaris Ceramic Dog Bowls today!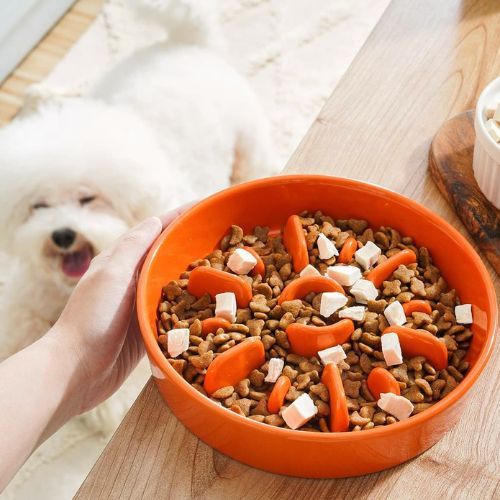 LE TAUCI Slow Feeder Ceramic Dog Bowls
Best Slow Feeder Ceramic Dog Bowl
Check Price on Amazon
What We Love About This Choice:
When it comes to taking care of our pet family members, we want to make sure they have everything they need for a healthy and happy life. With LE TAUCI Slow Feeder Ceramic Dog Bowls, you can give your four-legged companion a stylish and fun way to enjoy every meal.
The slow-feeder design includes raised ridges which help prevent your pup from eating his food all at once for a challenging and fun mealtime. And with the non-slip base, there's no risk of your dog's bowl sliding around while he eats!
You Should Know This:
These slow-feeders are made from the very finest ceramic material and feature a smooth glazed surface that won't hold any residual odor. And that's not all – these ceramic dog bowls are also microwave safe if you'd like to heat your pup's food anytime. In addition, they are dishwasher safe and easy to clean making them perfect for busy parents who don't have the time or energy to spend on extensive dish cleaning!
Your furry friends will eat as happily as ever thanks to this mealtime set-up that both looks great in any home setting and provides them with all the benefits a slow-feeder bowl brings. When it comes to your pup's dinnerware, enhance your kitchen décor and treat them to LE TAUCI Slow Feeder Ceramic Dog Bowls!
Ceramic Dog Bowls FAQs
Before investing in a ceramic dog bowl for your pup, it's essential to take the time to learn more about the product.
To aid you in making an educated decision on the most suitable ceramic dog bowl for both yourself and your pup, we have compiled a list of answers to some of the queries that are most commonly asked about this product. Included are explanations as to why you need one, how to select it, and more.
What are the benefits of using a ceramic dog bowl?
Ceramic dog bowls offer numerous benefits over plastic and stainless steel alternatives. They are non-porous, which means they won't absorb odors or bacteria as some other materials do. Additionally, they can be easily cleaned and sanitized in the dishwasher, making them hygienic and safe for your pet.
Ceramic dog bowls also tend to stay cool to the touch, so they're ideal for hot weather or if your pet has sensitive skin. And ceramic bowls have a sleek look that adds to the aesthetic of your home décor.
For more about the benefits of ceramic dog bowls, see our article (link below).
Are ceramic dog bowls durable?
Yes, a ceramic dog bowl is highly durable when compared to another material, such as a plastic or stainless steel bowl. Many manufacturers use high-fired stoneware that is kiln-baked at high temperatures for added strength and durability. Additionally, most modern ceramic bowls are designed with thicker walls than their plastic counterparts for extra durability and stability. As long as you take proper care of it, a good quality ceramic bowl should last you many years with proper use.
Do ceramic dog bowls get too heavy when filled with water?
Generally speaking, no; most ceramic dog bowls do not become overly heavy when filled with water or dog food. However, the weight can vary depending on how much liquid is placed in the bowl and its size; larger vessels may become slightly heavier than smaller ones due to additional weight from more liquid. Additionally, certain brands may produce heavier models than others due to their construction material or design features (e.g., thicker walls).
Are there any special considerations I need to make when using a ceramic dog bowl?
Yes; while using a ceramic bowl offers considerable advantages over plastic or metal alternatives, there are several considerations you should make prior to purchasing one for your pet's use. Firstly, ensure that the product is dishwasher safe – this guarantees better hygiene and cleaning capabilities compared to those not designed for such purposes.
Secondly, look for a bowl that has been made using high-fired stoneware – this ensures greater durability and overall longevity of service compared to other types of ceramics. Lastly, consider whether an anti-skid base is included on the bottom of the bowl – this helps prevent slipping and sliding around during meal times which reduces messes in your home environment!
What type of food is best suited for serving in a ceramic dog bowl?
Any type of food can be served in a ceramic dog bowl provided it meets all safety standards set by your local regulatory agency/body (e.g., FDA). For instance, dry kibble, as well as wet canned foods, can both be placed inside these vessels without issue; however, it is important to note that certain types of wet foods may contain ingredients that may cause staining if left inside for prolonged periods of time (e.g., fruits/vegetables), so be sure to discard any uneaten meals after feeding time ends!
Additionally, it would also be wise to refrain from adding hot liquids into these vessels until they have cooled down first as this could potentially lead to breakage/cracking due to sudden temperature changes occurring within the material itself.
Ceramic Dog Bowls - the Choice is Yours!
All in all, ceramic dog bowls can be a great choice for your dog' dinnerware.
Even though they may seem expensive at first glance, don't forget to factor in the durability of this item against plastic or metal alternatives. With proper care and maintenance, ceramic dog bowls can last for years. If your ultimate goal is to find an attractive way to serve your canine companion their food and water, then a ceramic dog bowl might just be the perfect solution.
So why wait? Click one of the buttons above to start shopping now!
---
You may also like: