Does it surprise you how many people assume all dogs are friendly and would love the attention of strangers or other passing dogs? Color-coded dog collars (or other accessories) are an excellent way to show off your pup's personality, while also conveying important information to those you meet along the way.
Choosing a collar with the right hue is important because it can help convey different messages to other people when they see it on your pet. For example, certain colors may signify that your dog is friendly, aggressive, blind, or a service animal in training.
Unfortunately, most people have yet to learn the significance of these colors. So some manufacturers have come up with the idea of adding wording to convey the message more clearly. This way dog owners can anticipate unforeseen mishaps by alerting others of their dog's presence.
In this blog post, we look at the full range of products by Dexil Limited, including collars, leashes, harnesses, vests, and bandanas, that send a clearly worded message to anyone you may meet when out on your walk or at the park - wherever you may be - about how or even if they should interact with your dog.
👉🏻
We are here to provide you with the best choices. Clicking on some of the links on this page may generate a small commission from purchases you make through those websites, but there is no extra cost to you.
How We Make Our Choices:
We have chosen to review products from Dexil Limited, because the full range of products is available on Amazon, in all the appropriate colors, with the relevant message added. Additionally, you have the option to mix and match these accessories, such as leashes with collars.
Other manufacturers also make color-coded products, and we will be looking at them in a later blog post.
We have also tried to feature at least one product in each of the colors. However, because there are so many combinations available, we have linked to only one color within that product in each category.
The Dexil Range:
Dexil Limited Color-Coded Dog Collars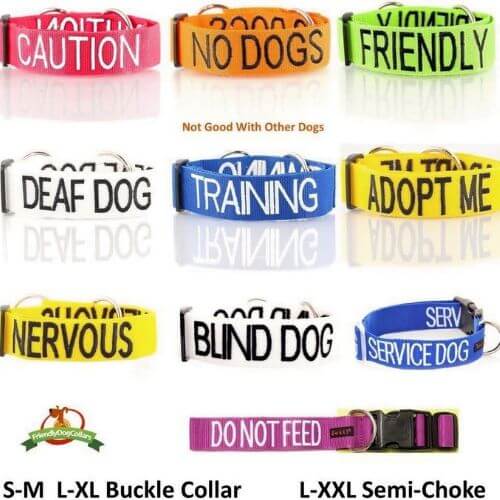 Looking for a stylish way to communicate your pet's status quickly and easily? These colorful collars are perfect for every pup! They come in two styles - buckle and semi-choke - AND they feature all the right hues with embroidered wording with the message you wish to convey. With these collars on, you can let people know a lot about your four-legged friend in just one glance. Rest assured knowing that your pup will look great (and be safe) when information needs to be communicated quickly.
Choose from either buckle or semi-choke styles and pick up the appropriate message to match each color.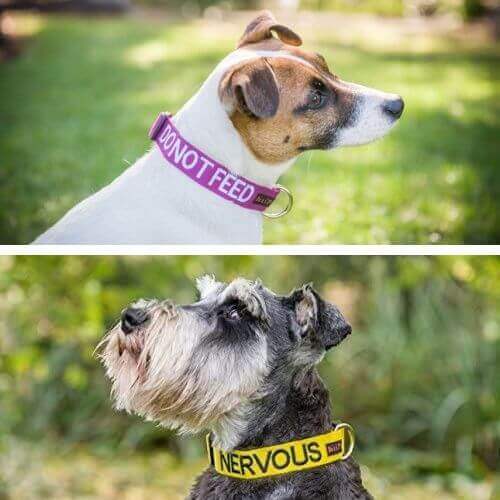 Buckle Collars
Purple "Do Not feed" Buckle Collar (Also Illustrated: Yellow "Nervous" Buckle Collar)
Check Price on Amazon
Help your pup send the right message with this adjustable nylon dog collar! The high-quality and durable buckle collar comes in two sizes - Small/Medium (fits neck sizes between 10-17 inches x 1 inch), and Large/Extra Large (15-25 inches x 1.5 inches).
Finding the right size can be essential for maximum comfort, so this adjustable buckle collar gives doggie parents peace of mind knowing their pup's perfect fit is easily attainable. This buckle collar offers the quality you need to keep your pet safe and secure while walking or playing.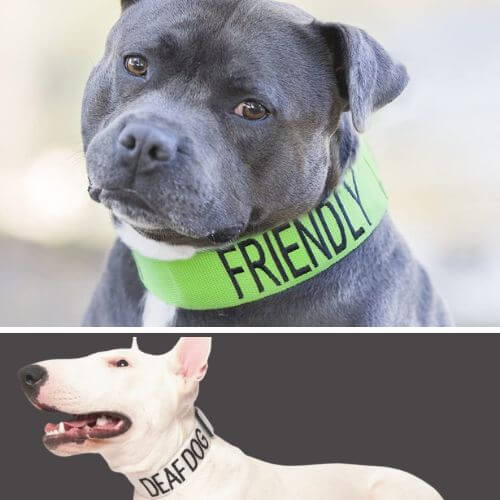 Semi-choke Collars
Green: Friendly Dog Collars (also shown is the White: Deaf Dog Collar)
Check Price on Amazon
The semi-choke collars are made for large to XXL dogs. This 1.5-inch wide semi-choke adjustable collar fits neck sizes of 18-28 inches to make sure it is comfortable for your canine companion. The durable nylon and adjustable size mean that your pup will be secure and content while wearing this collar.
Dexil Limited Color-Coded Dog Leashes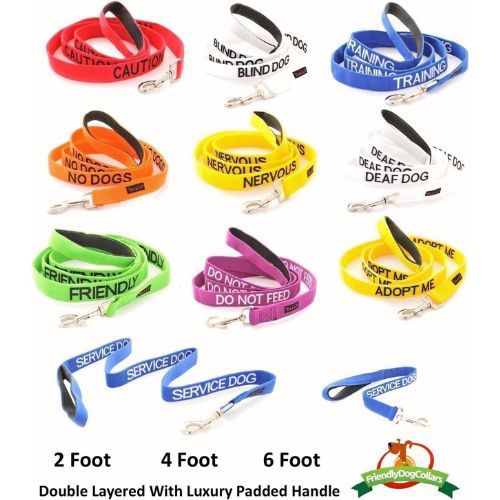 Stylish and practical, this high-quality double-layered nylon leash in 2', 4', and 6' lengths, is a must-have for all dog owners looking for a color-coded leash. It even has a luxury padded handle which gives an extra layer of comfort when walking your pet. These leashes are the perfect combination of style and substance for your canine companion.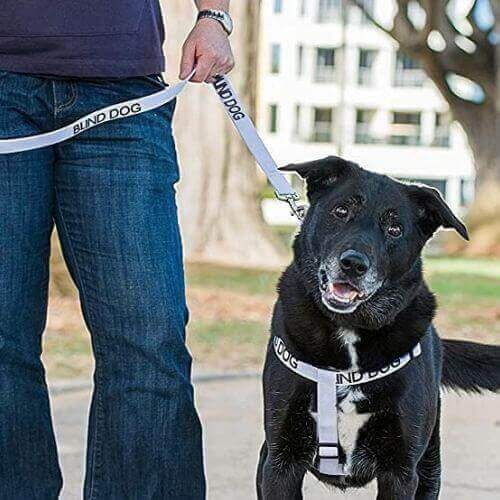 Leashes
Check Price on Amazon
Dexil Limited Color-Coded No-Pull Dog Harnesses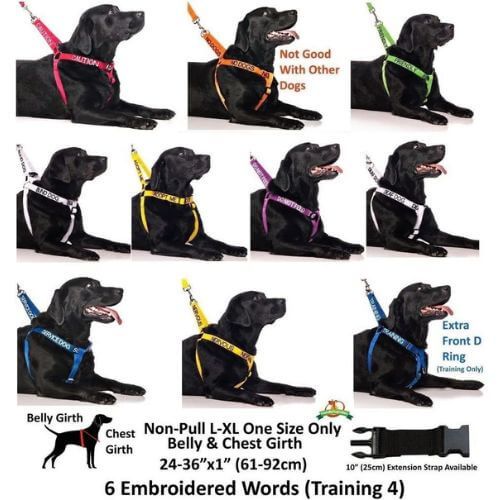 Color Coded No-Pull Harnesses come in one size, with a girth of 23 to 36 inches, with an optional 10-inch extension. With your dog wearing this high-quality nylon harness can be sure you have an irresistible way to keep your pet safe and sound. Your furry friend will thank you!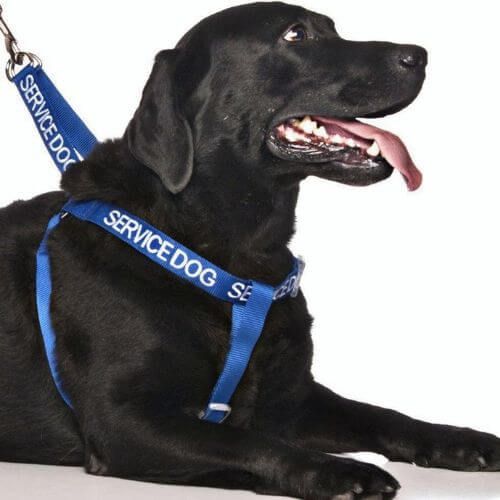 No-Pull Harness
Blue: "Service Dog" No-Pull Harness
Check Price on Amazon
Dexil Limited Color-Coded Dog Vest Harnesses
Get comfort and functionality with Color Coded Vest Harness! Made for superior durability and performance, this harness is waterproof and padded, adjustable for fit, and has non-pull front and back rings. No matter what size your furry companion is, this harness will have the right fit as they come in four convenient sizes – extra small to large. Keep your favorite pup safe and secure in a color-coded vest harness.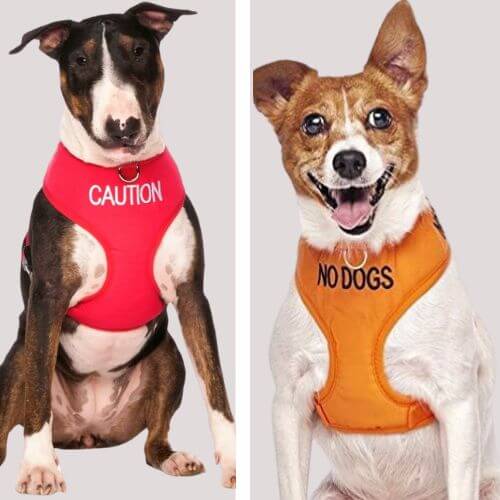 Vest Harnesses
Red: "Caution" Vest Harness (Also shown: Orange "No Dogs" Vest Harness)
Check Price on Amazon
Dexil Limited Color-Coded Dog Coats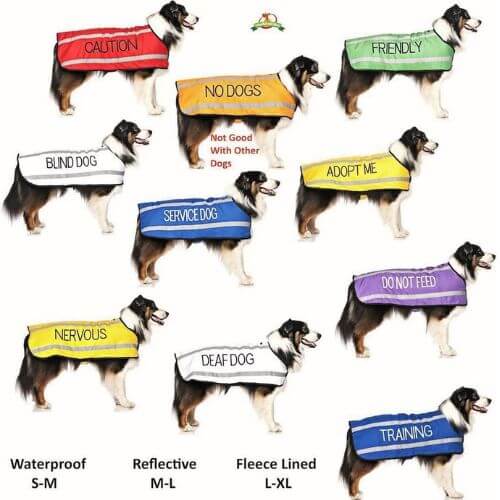 The Color-coded coats not only keep your pup dry in any weather, but also provide extra fleece lining for added warmth. Crafted with waterproof and reflective materials, these coats are designed to fit comfortably, with their adjustable sizes of S-M, M-L, and L-XL. Each coat is incredibly durable and carefully crafted with the highest weather-proofing technology available.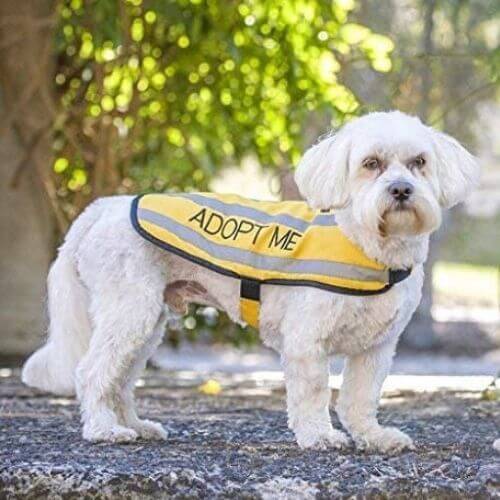 Coats
Bright Yellow "Adopt Me" Coat
Check Price on Amazon
Dexil Limited Color-Coded Dog Bandanas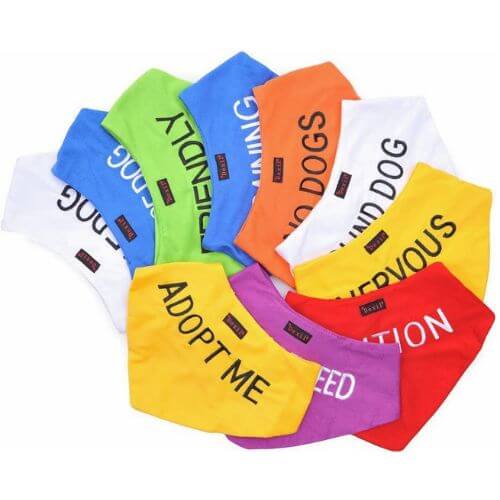 Color coded dog bandanas are an easy and stylish way to add a personal touch to your pup's look, and send out your message at the same time! They're made with durable, weather-proof fabric that is easy to clean and use. Plus their adjustable size makes them suitable for most pooches—they fit necks from 30-46 cm (12-18").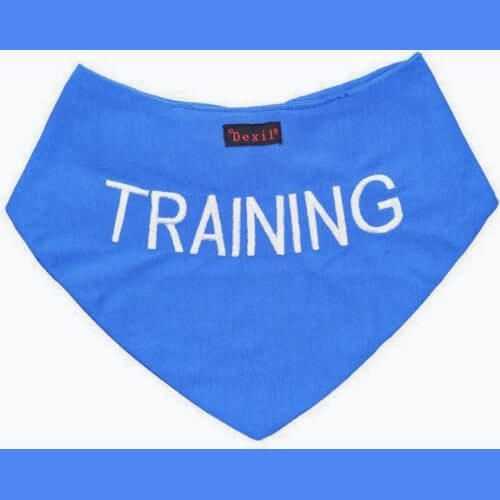 Bandanas
Check Price on Amazon
Color Coded Dog Collars, Leashes, Harnesses, Vests, Coats, & Bandanas - FAQs
The two most frequently asked questions about color coding for collars and other accessories, are about the meaning of the different colors, and how it came about:
What do the different colors mean?
In the Dexil range, the different color/word combinations are as follows:
Red says "Caution" - Do Not Approach
Orange says "No dogs" - this dog is not good with other dogs
Green says "Friendly" - this dog is known as friendly
Yellow says "Nervous" - the dog may be unpredictable
Blue can say "Training" - do not disturb this dog because he is in training (for working dogs)
Blue can also say "Service Dog" - do not disturb this dog because he is in working as a Service Dog (working dog)
White says "Blind Dog" - the dog has limited or no sight
White can also say "Deaf Dog" - the dog has limited or no hearing
Bright yellow says "Adopt Me" - this dog is looking for a new home
Purple means "Do Not Feed" - this dog may have allergies
You can also read our article on this topic, the link is given below.
How did color coding for dog collars originate?
The origin of color coding for dog collars began in Australia in the early 2000s when Terry Ryan, a professional dog trainer, developed the idea. He wanted to create a way to quickly identify a dog's temperament and behaviour from afar. It started with yellow ribbons on the dog's leash to indicate to those around that the dog needed space.
This concept has progressively gained traction around the globe, and its expression has extended far beyond just a yellow or red ribbon. Nowadays, we can find collars, leashes, harnesses, and even bandanas in different colors that each carry their own message.
Color Coded Dog Collars, Leashes, Harnesses, Vests, Coats, & Bandanas - Choose the One Your Dog Needs!
We hope this article has been helpful in providing you with the best options to choose from, as well as an understanding of the benefits these products will bring to you and your pup while you are out on your walks together.
Now that you've read about all the amazing features and advantages that color coded accessories bring, why don't you click on one of the buttons above to see prices on Amazon?
Make sure you send the right color coded message with these convenient accessories – it'll make all the difference!
---