With more and more people taking their furry friends with them on the road, it is important to make sure that you are outfitting your pup with all of the necessary supplies. A comfortable travel dog bed is an absolute must-have for any long road trip or extended stay away from home.
When shopping for a travel dog bed, there are a few key features to look for that will ensure your pup has maximum comfort and convenience during the travels. Make sure your pup is ready for every journey with these five must-have features in a travel dog bed.
Portable (that also means lightweight and compact)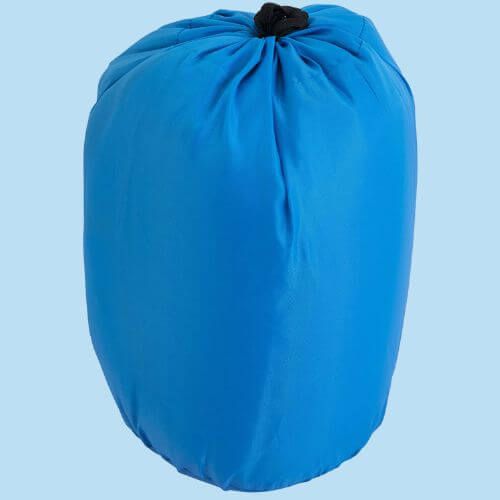 If you're looking for a bed to take with you on your travels, the first thing you should look for is portability. Most travel beds come with their own carrying case. In addition, look for straps or handles so you can easily carry the bed while on the go.
And of course, you don't want to be lugging around a heavy bed - a travel bed needs to be lightweight, so you move it wherever you need easily. A lightweight bed is particularly important if weight is going to be an issue, e.g. for air travel.
How does the bed pack down? The more compact the better - if space is going to be at a premium, you may want something compact, that takes up minimal room in your car or luggage.
Comfortable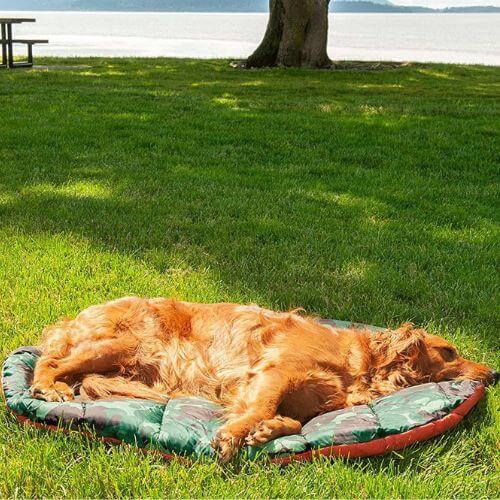 The next most important feature is comfort. Let's face it - if you take along a bed that's not comfortable, the chances of your dog actually sleeping in it are pretty slim! Look for things like cushioning, support, and insulation against damp surfaces (when camping etc.)
Size: Your dog is not going to be comfortable in a bed that's too small for her. Many brands now offer beds specifically tailored to different sizes of dogs. Measure your pup from nose to tail and compare those measurements to travel beds in the same category. This will help you narrow down which options may prove comfortable during travel.
Durable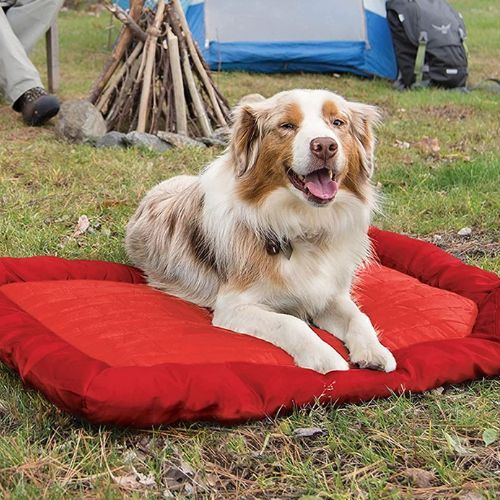 A travel bed should be durable enough to handle being packed up in a suitcase or backpack and taken on many trips. This means looking for materials that can withstand wear and tear like nylon or ripstop canvas. A good material choice will depend on how much your pup needs to move around during journeys – if they are very active travelers or tend to scratch their bedding, then a thicker material might be a better option.
If you are considering using the bed outdoors, then again the base should be made of durable material such as rip-stop so it won't get torn easily when placed on the ground.
Easy to Clean
Whether you've been at the beach, camping, or at a friend's house, this bed is going to pick up some dirt! Many beds are completely machine washable, just check the manufacturer's instructions. You can also spot-clean them between washes.
It may also be useful to look into whether removable covers are available allowing you to change them between trips/cleaning cycles if necessary too.
Water-Resistant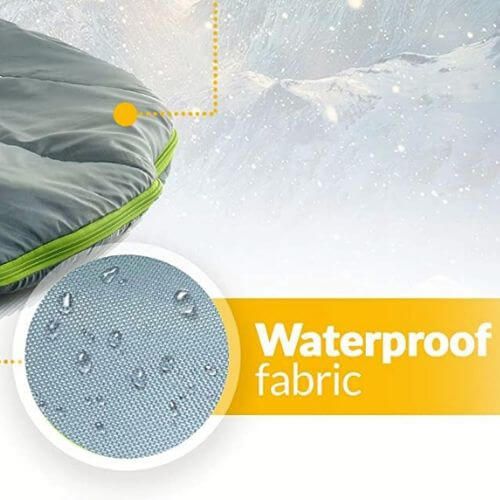 A waterproof bed would be an ideal choice, especially if you want to use it outdoors. A waterproof base is great to keep your pet dry if the ground is wet. If you don't need a fully waterproof bed, a water-resistant material is still a good choice.
To Sum Up:
When selecting a travel dog bed, make sure to keep portability, comfort and size in mind. Also consider whether the material is durable and washable, and if you plan on using the bed outdoors, look for something water-resistant. With these features in mind, you will be sure to find a bed that suits your pup's needs. Have a safe and enjoyable trip!
---
You may also like: