Are you planning to take your beloved pup along on your next trip - whether you are traveling for business or pleasure, visiting family, or on a weekend getaway? While he may have a cozy and comfortable bed at home, how do you plan on providing him with the same comfort, not only on the journey but once you reach your destination?
Traveling with a dog can be difficult and stressful, but it doesn't have to be. With the right travel dog bed, your pup can remain comfortable and relaxed in any environment. Travel dog beds provide a little piece of home wherever you are, offering a cozy place for your pet to rest after a long day of sightseeing or chasing squirrels in the park.
When you're away from home, it's important to make sure your pooch is well taken care of. That's why investing in the best dog bed you can find, one that's both comfortable and supportive, is essential. Not only will it provide your pup with much-needed rest during long car rides, but it can also serve as a safe zone while you explore new places or visit with family.
Travel dog beds come in many different sizes, shapes and materials so you can choose one that fits your pup's needs perfectly and enhances their comfort on the go. With ample cushioning and support, these beds are designed to keep pets cozy while alleviating pressure on joints, back and neck muscles – allowing them to settle into sleep seamlessly no matter where they lay their head.
👉🏻
We are here to provide you with the best choices. Clicking on some of the links on this page may generate a small commission from purchases you make through those websites, but there is no extra cost to you.
How We Choose a Travel Dog Bed
Shopping for the best travel dog beds can be an overwhelming task. With so many different sizes, shapes, and materials available on the market, it's hard to know which travel bed is right for your pup.
Luckily, we've done the legwork, and scoured through thousands of reviews to determine which travel dog beds are the best. Our recommendations provide you with quality options that are specifically tailored to your pup's needs and lifestyle, taking the guesswork out of shopping for a travel-friendly bed that both you and your pup will love!
Our Top Choices: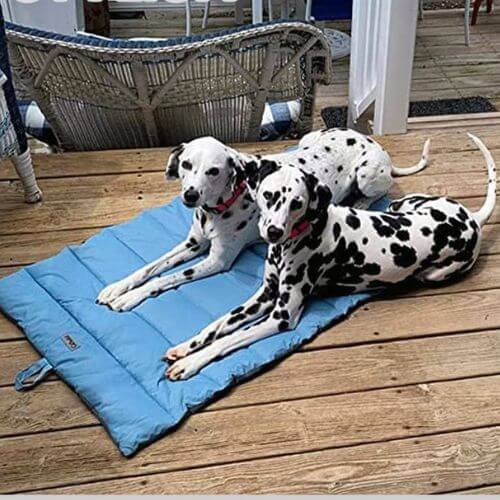 CHEERHUNTING Travel Dog Mat Bed
Best Mat Style Travel Dog Bed
Check Price on Amazon
What We Love About this Choice:
Introducing the CHEERHUNTING Travel Dog Mat Bed, the traveling companion your furry friend needs. This mat is perfect for car rides, indoor use, and outdoor ventures, making it more than ideal for those who want to share some of their adventures with their pets.
It's easy to fold and pack, coming with a portable bag that you can carry anywhere you go. Portable, yes - but also comfortable! It's also double-sided - meaning you can use one side or the other depending on your pet's needs at the moment.
You Should Know This:
The CHEERHUNTING Travel Dog Mat Bed comes in four colors: orange, blue, olive green, and dark blue - so there's sure to be something that fits your style. And they offer two sizes so you can pick one that suits your pup best whether they're small or large!
The mat has a waterproof and odor-repellant surface made of durable polyester and high-quality Oxford which provides just enough cushion for your pup to stay warm and comfortable anywhere. And when it gets dirty? Don't worry! You can easily clean it either in the machine or by hand.
Give your pet the comfort they deserve during journeys AND save space while doing it: Get them the CHEERHUNTING Travel Dog Mat Bed today!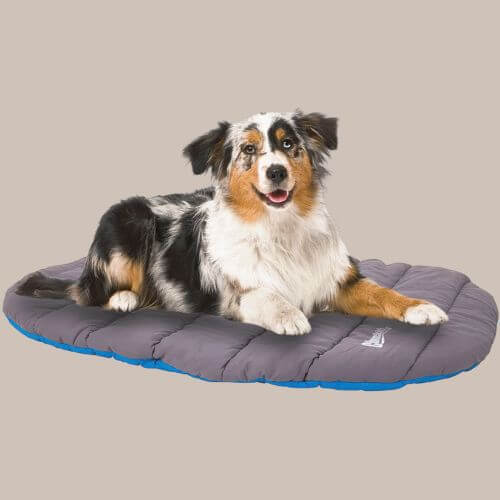 Chuckit! Travel Dog Bed
Best Waterproof Travel Dog Bed
Check Price on Amazon
What We Love About this Choice:
Are you looking for a way to keep your furry best friend comfortable on the go? Look no further than the Chuckit! Travel Dog Bed! Perfect for all of those road trips, camping adventures, beach days, or family visits with your pup, this dog bed is an essential addition to your pet's gear.
This easy-to-carry bed conveniently rolls up and fits into a portable nylon stuff sack that's included with the purchase.
You Should Know This:
The soft, poly-suede quilted top delivers cushion and comfort while the durable ripstop bottom ensures longer use. It's also completely washable so you can keep it clean throughout your travels.
Designed to accommodate small, medium and large breeds, this one-size bed measures 39"x30" — perfect for almost any pup!
It doesn't get easier than the Chuckit! Travel Dog Bed— perfect for when you and your pooch are out and about.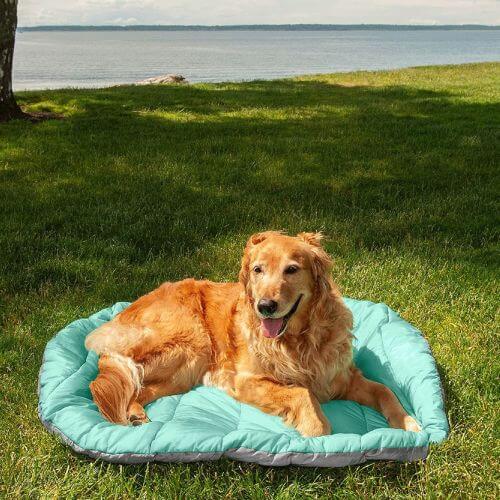 Furhaven Travel Dog Bed
Best Pillow Style Travel Dog Bed
Check Price on Amazon
What We Love About this Choice:
Treating your pet to a Furhaven Travel Dog Bed is the epitome of luxury and convenience. This super cozy pillow bed provides optimum comfort no matter where they are - indoors, outdoors, or when you're on the move.
The lightweight and soft material makes it ideal for lounging - anytime, anywhere. Not only that but with a stuff sack included for easy storage and portability, you can bring your furry friend's new favorite comfort along with you!
You Should Know This:
But that's not all! This luxurious two-tone reversible sleep surface features quilted polyester batting that spreads all the way through the bed. This means you get extra high-loft padding for enhanced cuddling comfort - perfect for small to large pets of any age!
No more worrying about dirty beds either, as this one is completely hand or machine-washable for easy cleaning. You even get to choose between two sizes and three color combinations to suit your pet's needs and décor perfectly.
Give your pet their own special place to sleep comfortably with a Furhaven Travel Dog Bed - you won't regret it!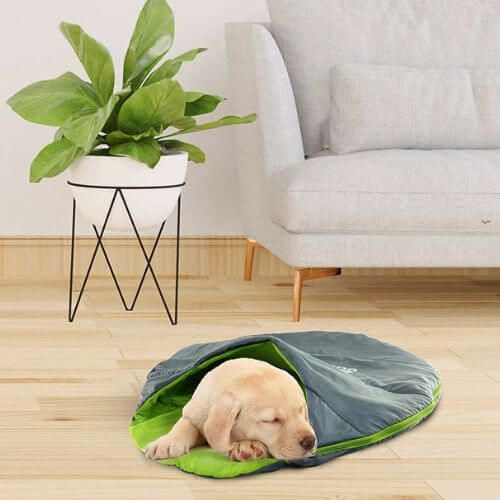 Outrav Dog Sleeping Bag
Best Sleeping Bag Style Travel Dog Bed
Check Price on Amazon
What We Love About this Choice:
Are you looking for a cozy, durable sleeping solution for your pet to take with you on those camping trips, or just about anywhere? Then look no further than the Outrav Dog Sleeping Bag!
This lightweight yet insulated bag provides your pup with just enough warmth for cold surfaces and its waterproof polyester shell and soft and cozy interior will keep them comfortable and dry.
You Should Know This:
The double zipper and quick-drying fabric make it easy to store and carry of all your trips, plus it comes with a convenient waterproof carrying sack so it's easily transportable. Many nights spent roughing outdoors can finally be easy for both you and your pup, as this dog sleeping bag is sure to guarantee canine comfort without fail at an extra large 26" by 36" when unfolded; or an amazingly small 15" by 5.5" when folded.
Get your Outrav Dog Sleeping Bag now!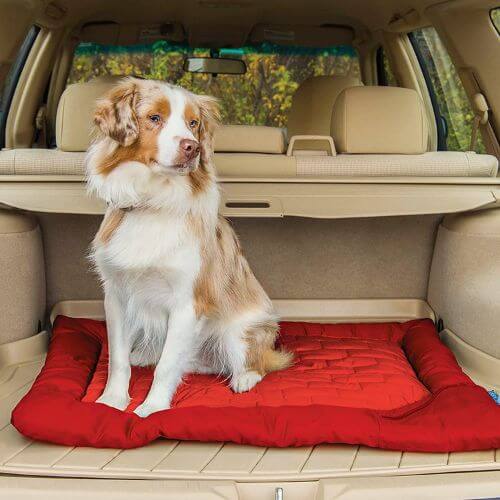 Kurgo Portable Bed Roll
Best Bed Roll Style Travel Dog Bed
Check Price on Amazon
What We Love About this Choice:
Don't let pet ownership stand in the way of your active lifestyle! The Kurgo Portable Bed Roll offers comfortable and convenient pet ownership on the go - so you can take your furry companion anywhere, without compromising comfort. With a rugged waterproof top and bottom, this is the ultimate travel dog bed for road trips away from home. Whether in your car, campervan-ing or at a remote rental having a lakeside staycation, you never have to worry about having enough supplies for Fido!
You Should Know This:
The top is made of a quilted, waterproof microtomic ripstop fabric that is durable while still offering cozy warmth thanks to its polyfill stuffing. There's also a non-slip, waterproof rufftex bottom that keeps it from slipping around in the car. Plus, it rolls up in seconds like a sleeping bag with its own built-in handle for easy transportation - so you never have to lug around bulky pet beds ever again.
Clean-up's a breeze too; just toss it in the washing machine for hassle-free sanitation! This roll fits all types of lifestyles; with two sizes (medium and large) as well as two color options (brown and chili red), there's no better way to show your pup some love than with this space-saving comfort favorite from Kurgo.
So whether you're taking them on vacation or staying local - never compromise on quality when bringing fido along for the ride - take the Kurgo Portable Bed Roll with you!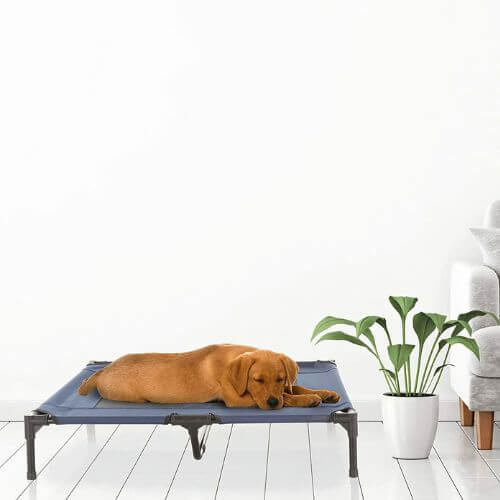 Petmaker Portable Dog Bed
Best Elevated Travel Dog Bed
Check Price on Amazon
What We Love About this Choice:
No matter where your adventures take you, make sure your furry friend is always rested and cozy with the Petmaker Portable Dog Bed! Don't let finding comfortable, pet-friendly sleeping quarters slow down your trip.
This bed is lightweight and travel-friendly, so you can bring your pup along with ease. It comes complete with a carrying case for added convenience. This elevated bed provides better ventilation and body temperature regulation for your pup, making it a practical and comfortable solution for the perfect nap spot.
You Should Know This:
Made of coated steel, durable canvas, and a special mesh center panel,this elevated dog bed is also easy to keep clean. Just hose it off or handwash with cold water when needed. With four sizes and four colors to choose from, there's something to suit any pet owner's style. It's even weather resistant, so whether you're headed indoors or outdoors this bed is ready to go!
Both you and your pup will love the Petmaker Portable Dog Bed - so why wait? Get yours today!
Travel Dog Bed FAQs
How do you ensure that you make the most suitable purchase for your pup? What features should you look for to ensure the bed meets the travel needs of both you and your pet? Is a bed with a removable cover more practical for travel? Does easy portability appeal to you?
To help narrow down choices and provide peace of mind as you review a selection of travel dog beds, we have provided answers to some of the most commonly asked questions about travel dog beds, such as why you need them and how to select the right one for you and your pup, we can help ensure that you make an educated decision on which bed is best suited for both of your needs.
What is a travel dog bed?
A travel dog bed is a special type of dog bed that is designed to be taken with you wherever you go. They are lightweight, compact, and usually made from a durable material such as water-resistant canvas or nylon. Travel dog beds provide your pet with the support and comfort they need while on the go.
These types of beds are great for car rides, vacations, camping trips, and more! They usually feature a removable cover that's machine washable so it's easy to keep clean while traveling. Since they fold up into a small package they can easily fit into luggage or backpacks without taking up too much space.
What are the benefits of having a travel dog bed?
Travel dog beds offer numerous advantages for pet owners. They provide a comfortable, consistent sleeping environment for your pet when you're on the go, which can help reduce anxiety and make it easier for your pet to get rest. Having a high-quality travel bed also helps ensure that your pet has its own space to relax in, no matter where you are.
Additionally, the best dog beds offer convenience by allowing you to easily transport your pet's resting space from one place to another without having to worry about packing or carrying bulky items. Finally, traveling with a portable bed eliminates the need to buy multiple beds or blankets for all of the places you stay.
What features should you look for in a travel dog bed?
When buying a dog's bed to take on your travels, it's important to look for certain features that will make the journey comfortable and safe for your furry friend.
First of all, you want something that is lightweight but also durable enough to handle being packed up in a suitcase or backpack and taken on many trips. Many travel dog beds also come with their own carry bag.
Second, look for something with convenient portability features such as straps or handles so you can easily carry the bed while on the go but also quickly pack it down when needed.
Thirdly, you want to find a comfortable dog bed; consider the comfort options available with each model in terms of things like cushioning support, insulation against damp surfaces (when camping etc.), as well as any additional design elements such as pockets that could store items safely during transit periods etc.
Finally, think about compactness; does the bed collapse down enough so that it won't take up too much room in your luggage.
Are there any special considerations when taking a large breed dog on trips?
Taking large breed dogs on trips requires some additional considerations when choosing the right travel bed. First, make sure that whatever pet bed you choose can accommodate their size without becoming uncomfortable or unstable while they sleep.
Secondly, it's important to find one that offers plenty of cushioning to keep them comfortable during long journeys. Lastly, opt for materials that are particularly durable and strong enough to handle larger breeds if necessary.
Are there any tips I should follow when washing my pet's travel bed?
Yes! You should always check the manufacturer's specific guidelines before cleaning any type of pet product including their travel bedding as certain fabrics may require different cleaning techniques than others in order to preserve their quality over time (i.e., machine washable vs hand wash only).
As a general rule of thumb though most travel beds can be spot-cleaned using warm water and gentle soap followed by air drying until completely dry before being used again by your pup – this will ensure maximum hygiene levels at all times!
A Travel Dog Bed - the Choice is Yours!
Traveling with your furry companion can be a great way to make memories and enjoy some quality time together. And a dog travel bed can make travelling with your furry friend a more comfortable and stress-free experience. We hope this article has given you a better understanding of travel dog beds to help narrow down your choices and make choosing one easier.
With travel dog beds, there are many great options for you and your pup. From sleek and stylish designs to something softer and plusher, no matter what style you're looking for, there is sure to be an option that meets your needs.
Now that you have all the information needed, it's time to get shopping! Click on any of the buttons above to check out prices on Amazon. Happy travels!
---
You may also like: