If you are going to walk your dog at night, a light-up dog harness is a great way to keep both your dog visible and safe.
A light-up dog harness is bright and visible to both you and other people, and can help you see your pup in the dark, as well as be seen by approaching vehicles. With a variety of colors and sizes, you can find just the right one to fit your pup and suit your aesthetic preferences.
Our review article will help you find the perfect light-up dog harness to keep your pup safe and looking stylish. Let's get your pup ready for their nighttime walks by checking out the best light-up dog harnesses you can buy on Amazon!
👉🏻
We are here to provide you with the best choices. Clicking on some of the links on this page may generate a small commission from purchases you make through those websites, but there is no extra cost to you.
How We Make Our Choices:
Are you looking for a great way to keep your pup safe and be seen at night but you don't know how to go about picking the right one? Maybe you'll have to do some research!
To save you time and effort, we've trawled through thousands of reviews on Amazon to bring you the top 4 products that, in our opinion, will keep your dog safe when out on your night walks. Our selection includes only the highest quality items so that you can rest assured knowing your pup is in the best harness.
Our Top Choices:
DOMIGLOW LED Dog Harness
Best LED Light Up Dog Harness
Check Price on Amazon
What We Love About This Choice
With the DOMIGLOW LED Dog Harness, you can keep your pup visible in low-light conditions and protected from any potential hazards with enhanced visibility. Its breathable padded design gives your furry friend an extra layer of comfort without hindering their freedom to move around. Quick snap buckles make it easy to put on and take off while adjustable belts at the chest and neck provide a custom fit every time.
This no-pull harness is perfect for daily outdoor walking, running, jogging, hiking, training and more - just clip on their lead and hit the road! Pulling pressure is evenly distributed across the dog's body to protect against choking or discomfort.
You Should Know This
Take your pick from four different colors with two flashing modes - plus there are three different sizes depending on your pet's size. And with adjustable buckles, you will be able to get a custom fit at the dog's neck and chest.
Each harness comes with a rechargeable battery that can be removed prior to washing. Plus, the 100% satisfaction guarantee ensures only the very best for your furry friend every single time!
If you are looking for the best led dog harness, invest in the DOMIGLOW LED Dog Harness today!  best led dog collar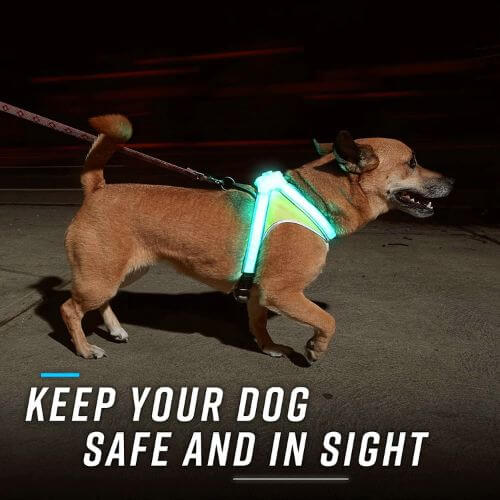 Noxgear LightHound Illuminated Dog Harness
Best Light Up Dog Harness with Multicolored LED Fiber Optics
Check Price on Amazon
What We Love About This Choice
The Noxgear LightHound Illuminated Dog Harness is the perfect way to keep your beloved pup safe and visible, day or night - you'll never have to worry about losing track of them – even from an incredible half-mile away. It clips on easily, and can be worn with your dog's favorite collar, harness, or jacket. With a choice of 4 sizes, where both the neck and chest are adjustable, you can get the perfect fit.
You Should Know This
This lightweight and rainproof reflective dog harness made from Nylon, Cordura and Silicon, has flexible fiber optic cables and 3M Scotchlite reflector technology that enable you to change between 8 bright lighting solid colors and 6 multi-color flashing modes.
And for those long outdoor adventures, the rechargeable battery gives up to 12 hours of lighted playtime per charge. Plus it's machine washable for easy cleaning whenever it's needed!
So let the Noxgear LightHound Illuminated Harness show you what best friends are made of in a way that keeps them safe and stylish!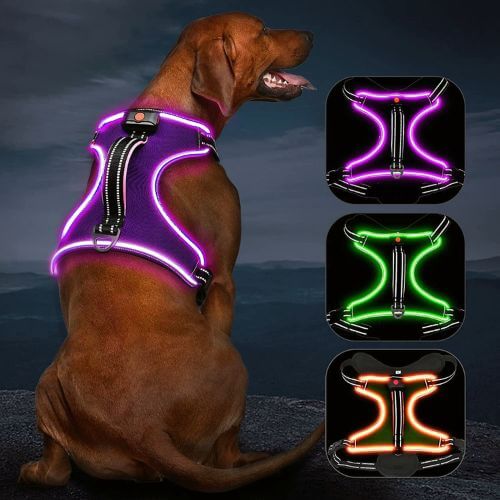 Vizbrite Light Up Dog Harness
Best No Pull Light Up Dog Harness
Check Price on Amazon
What We Love About This Choice
Don't worry anymore about losing sight of your precious pup when out on late-night walks - the Vizbrite Light Up Dog Harness has you (and them!) covered! This innovative led harness offers superior visibility and safety in the dark, as well as many other great features. And if you need to control your pup pulling, no problem - attach the leash to the front clip and you're all set to start controlling them!
You Should Know This
It's made with two breathable neoprene padded panels to reduce discomfort and pressure around the chest. With four easily adjustable straps, you can create a perfect fit for your pup. Coming in five sizes and three impressive colors (black-green, green-orange or purple-pink), it's no wonder that this is one of the most popular light up dog harnesses on the market!
Keep your furry friend safe on those nighttime strolls while still looking awesome - get ready to shine bright with the Vizbrite Light Up Dog Harness!
ILLUMISEEN LED Dog Vest
Best Light Up Dog Safety Jacket
Check Price on Amazon
What We Love About This Choice
Introducing the ILLUMISEEN LED Dog Vest! With this orange dog vest, you can be sure that your pup will stay safe and visible in low-light, high-traffic areas. It combines reflective strips and two rows of ultra-bright LED lights for maximum visibility. When it comes to nighttime walks, keeping your pup happy and healthy should always be top priority.
The LED lights work all the time whether it's day or night, unlike most other reflective vests that require an external light source to reflect off of them. Plus, with a rechargeable battery stored in a pouch on the vest, you don't have to worry about replacing batteries every few months.
You Should Know This
The Illumiseen led dog vest comes in five distinct sizes so you can be sure that your pet is comfortable at all times—They're also made of soft and durable materials that make sure they're cozy while they explore. And thanks to their adjustable belt and quick-release buckles, putting the LED Dog Vest on your pet doesn't have to be a chore—just slide on the vest and clip it into place then adjust for a snug fit!
So go ahead and keep your pet safe no matter where you go with the ILLUMISEEN LED Dog Vest!
Light Up Dog Harness FAQs
Still don't know whether a light-up dog harness is the best option for you and your dog?
We have answered some of the most frequently asked questions about them,
including what they are, and the benefits of using one. We hope this will help you decide on one that will suit your needs.
What is a light-up dog harness?
A light-up dog harness is a special type of harness that lights up in the dark, allowing you to keep your dog visible and safe when out for walks at night. Most light-up harnesses are designed with a built-in LED system, offering increased visibility from all angles. This helps dog owners as well as other road users, such as cars and bicyclists, spot your pooch in dimly lit areas like parks or pathways.
The most popular designs of light-up dog harnesses come equipped with adjustable straps and bright colors like orange or yellow to ensure maximum visibility while walking your pup after sunset. They can also feature reflective bands around the chest to provide extra safety on nighttime walks.
Why should I use a lighted dog harness?
A light up dog harness is an essential safety accessory for those who like to take their pup out for nightly walks and outdoor activities. There are a number of advantages to having a lighted dog harness, the main one being improved visibility. Lights on your dog's harness can increase overall visibility from all directions, which makes it easier for cars and pedestrians to spot them. By using lights, you'll help reduce the risk of an accident occurring as there will be fewer opportunities for collisions when your pet is clearly visible in the dark night hours.
Another advantage of using a lighted dog harness is that it helps make sure your pup is seen if they happen to wander off or get lost in unfamiliar territories at night. The bright signaling lights on led harnesses can be seen from a distance when they are running through tall grass or swimming across wide bodies of water during evening adventures.
What is the best light-up dog harness?
When looking for the best light-up dog harness, there are a few key features to take into consideration. Firstly, the lights on led dog harnesses should be able to be seen from a distance - this ensures that your pup will be seen even in low-light conditions by vehicles or anyone approaching well before they get up close enough to cause an accident.
Secondly, it should be durable, so that it's able to withstand wear and tear from adventures outdoors. Last but not least, look for one with a long battery life so you don't have to worry about charging up frequently.
Are dog harnesses better than collars?
Dog harnesses are often better than collars in certain situations.
One of the main benefits of using a dog harness instead of a collar is that it helps protect the neck from injury. Collars tend to put pressure directly on the trachea when pulling, which can be uncomfortable or even painful for dogs. By redirecting the pressure onto your pup's chest rather than their throat, a properly-fit harness makes walks much more comfortable for them.
Harnesses also provide extra control if you have an especially active or strong pup - with an additional handle around the back of their shoulders, it is easier to manage any unexpected spurts of energy! And they can't slip out of them as they may be able to do with a collar.
Another advantage is that most modern dog harnesses will feature adjustable straps so you can customize them to fit your pet perfectly - this ensures that they don't slip out or become too tight as they move around during walks or playtime.
That said, many pet parents opt to have both a collar and a harness. The harness is used when out on walks, but can wear the collar either with the harness (possible with some harnesses) or simply when indoors.
What are some other ways to keep dogs visible at night?
Keeping your dog visible at night is an important safety measure. Fortunately, there are a number of solutions available to help you achieve this goal.
One option that has become increasingly popular recently is the LED dog collar. LED collars come in various sizes, colors and styles so you can find one to match your pup's personality and style! LED dog collars light up brightly when activated and can make sure your pup stands out from the crowd - even in low light conditions.
Reflective collars or harnesses are also a great way to keep your dog visible while walking during dark hours. They come in all sizes and in a range of options so it should be easy to pick one that matches your pooch's size and temperament perfectly.
A clip on light is another option. These attach easily to most collars, allowing your dog to stay safe and provide light for your walks at the same time!
Light Up Dog Harness - the Choice is Yours!
We hope you enjoyed our article on the best light-up dog harnesses. While there are many factors to consider when choosing a harness for your dog, we believe the most important thing is picking one that will keep them safe while out on walks. All of the products we've featured in this article are high-quality and sure to please both you and your furry friend. So, what are you waiting for?
Click the buttons above to check prices on Amazon and get started on finding the perfect light-up dog harness for your pup today!
---
You may also like: