Having a dog door can be incredibly beneficial. It provides your pet with the freedom to come and go as they please, giving them access to the outdoors while keeping your home safe and secure. Not only that, but it can also save you time and energy when it comes to letting them in and out of the house on a regular basis.
But with all the different types of dog doors available, it can be hard to know which one is best for your pet. Read on to learn about the different types of dog doors and how to choose the right one for your pup!
Consider Where You Want to Install the Door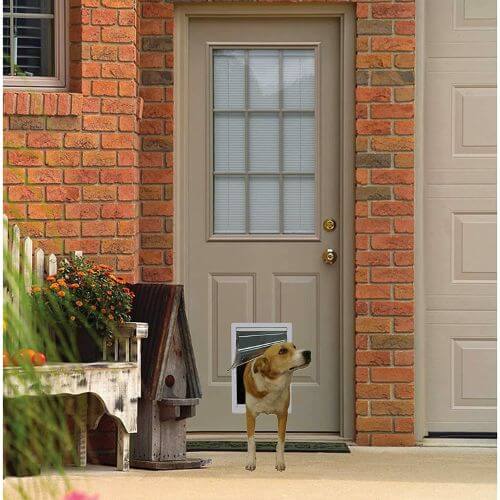 Door Mounted
There is a large selection of doors that can be installed in an external door. They are commonly made of Aluminium, steel, or plastic. When choosing a door, you will also need to consider the material of the door you want to install it in. A lot of these doors can be installed by someone with good DIY skills, or you can get them installed for you.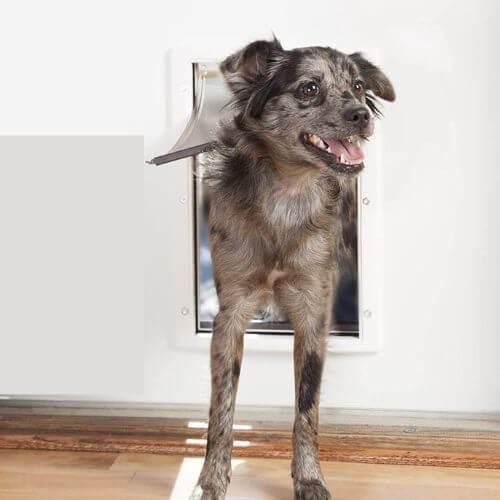 Wall Mounted
Another option to consider is a wall-mounted dog door. These doors are installed directly into an exterior wall, and may offer better insulation. You will need to choose a door that will fit the thickness of your wall, and it will generally need to be installed by a qualified tradesperson.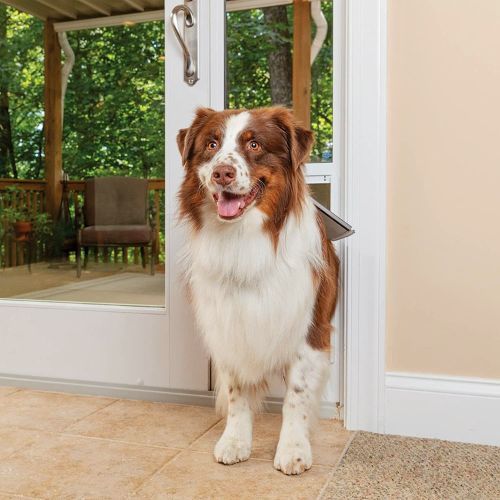 Sliding Glass Dog Door Inserts
One popular option for homes with sliding glass doors is a sliding glass dog door insert. This type of pet door fits directly into an existing sliding glass door or window pane. Most of these types of doors fit directly into an existing sliding glass door track and can be easily installed.
Consider The Type of Door You Want
Manual Dog Doors
Manual dog doors are the most common type of pet door. They come in several varieties, including sliding panel doors or hinged flap doors with one or two flaps. They generally offer better insulation than an electronic door.
Electronic/Automatic Dog Doors
Electronic or automatic dog doors use different technologies to control who goes in or out of the door.  One of the most common methods is to use an RFID (radio-frequency identification) chip installed in either a collar or key fob to detect your pup's presence and then automatically unlocks the flap when your pet approaches it. Some doors can also be programmed to allow multiple pets to use the door.
These doors have the added advantage of security, as they will keep other pets (or any other animal - or human!) from getting in.
Consider Security
Security is an issue that most pet owners worry about when considering whether to install a dog door. Some doors can be locked manually - but you have to be there to do it. Your best option in this case is an electronic door. Unfortunately, these come with a higher price tag, but most people agree that the added peace of mind is worth the extra cost.
Consider Weatherproofing
If you live in an area where temperatures drop below freezing during the winter months, then weatherproof dog doors might be a good choice for you. These types of pet doors are designed with insulated flaps that keep cold air from coming through the opening when it's not in use. They also help seal off any drafts that might enter through the opening during colder months, keeping your home warm and cozy all year round.
Even if you live in a milder climate, it is beneficial to install weather strips around the door, to keep out draughts and prevent heat loss.
Consider The Size of Your Pet
When choosing your dog door, you need to consider not only the size of your pet now, but if he is not fully grown, how big is he going to get? Because, of course, your dog needs to fit through the door! Most manufacturers will give you instructions on how to measure your dog to ensure a good fit.
That said, a door that is large enough for a big dog could be large enough for a small person - so security becomes an issue. In this case, you will want to consider the security options below.
Conclusion:
When choosing the right kind of dog door for your pet, there are several factors to consider. Think about size - will it fit through the door? Is it secure enough? Will it provide adequate insulation value if used on an exterior wall? And lastly, does it come with any additional features like RFID locks that will help keep unwanted visitors out? Whichever type of dog door you decide on, make sure that it meets all safety requirements so that both you and your pup can enjoy its benefits!
No matter which type you choose, getting a dog door is an excellent way to give your pup some extra freedom while still keeping them safe inside your home when needed.
---
You may also like: