If you love hiking with your pup, you'll know that you will need the proper gear - and that includes a good leash.
With the right leash, your pup will stay safe while still being able to explore his surroundings freely. You won't have to worry about them getting away or pulling on their lead when taking a break on the trail – no matter what size or breed of dog you have. With one of these great options from our list, each and every hike will be fun and enjoyable for both you and your pup.
Get ready to hit the trails with our roundup of the best leashes for hiking. Our selection of leashes come in different sizes and styles, so you're sure to find one that fits both you and your pup perfectly. They're made from durable materials, so you can be sure they will last through all of your adventures together. And some come with extra features like reflective material or storage pouches so you can keep all those important items right within reach!
With these great leashes, hiking with your dog is easy!
👉🏻
We are here to provide you with the best choices. Clicking on some of the links on this page may generate a small commission from purchases you make through those websites, but there is no extra cost to you.
How We Choose the Best Dog Leashes for Hiking
Have you ever wished for the perfect leash to bring along on your adventures? Well, good news: we have done the hard work for you and rounded up the best leashes for hiking!
After reading thousands of reviews, from hiking enthusiasts just like you, we have chosen the 7 best leashes that are available on Amazon.
Check out these leashes for your next hike with your pup!
Our Top Choices: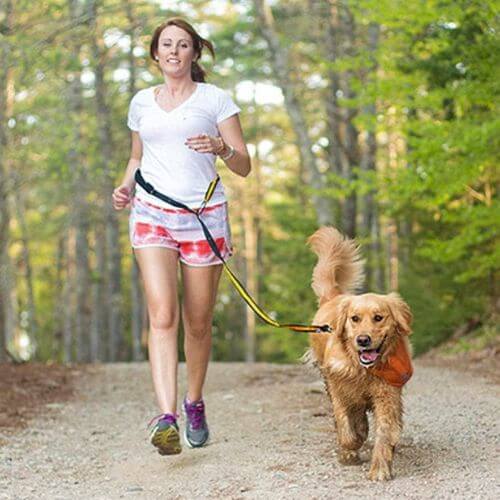 Kurgo Quantum Dog Leash
Best Hands-Free Leash for Hiking
Check Price on Amazon
What We Love About This Choice:
Take your pup on a hike, a walk or a run with the Kurgo Quantum Dog Leash! This versatile leash is perfect for everyday use and can be used in 6 different ways depending on your needs. This makes it easy to switch from hands-free around the waist to over-the-shoulder courier style or a traditional leash.
You Should Know This:
With an adjustable length of 48-72", you can tailor it for whatever adventure you and your pup are embarking upon.  It also features reflective material for enhanced visibility in low light or nighttime. The strong nylon webbing and padded handle make sure that control stays in your hands, even if your pup pulls!
Get out there and explore with Kurgo's Quantum Dog Leash - its strength, flexibility, and comfort make it the perfect choice for all kinds of outdoor activities.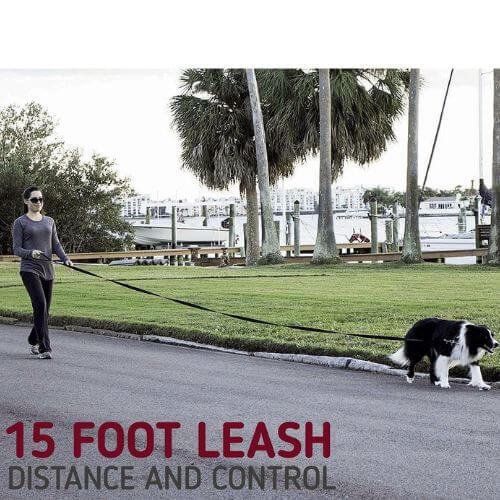 Leashboss Dog Leash
Best Long Dog Leash for Hiking
Check Price on Amazon
What We Love About This Choice:
Explore the great outdoors with your dog, unhindered and without worry – get the Leashboss Dog Leash! Perfect for those big open spaces and hiking trails, these leashes come in 10 or 15 foot options so your pup can roam freely but within eyesight as they explore. There's also a padded handle that makes it super comfortable to hold while out and about.
You Should Know This:
This leash is made with strong nylon webbing so it won't wear down easily. It also features a tangle-free swivel clip, along with a D-ring to attach other items or to use as a tie-out.
And best of all, you get peace of mind when using this leash as each one comes with a 5 year manufacturer's warranty—a testament to its incredible quality and USA assembly.
Get ready to take on exciting adventures and bring along the best companion there is—your dog! Unleash fun and exploration for both of you with the Leashboss Dog Leash!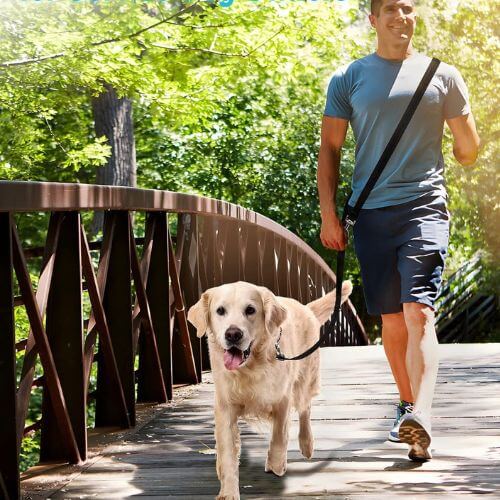 oneisall Hands-Free Dog Leash
Best Adjustable Length Dog Leash for Hiking
Check Price on Amazon
What We Love About This Choice:
Are you ready to make your life easier? The oneisall Hands-Free Dog Leash is the perfect solution for any dog owner who wants to enjoy a hike, walk, or run with their pup like never before. With an adjustable and versatile 8-foot nylon leash that's long enough to give your furry friend freedom of movement, this leash ensures the safety of your pup without hindering his adventure.
Just adjust the clasps at the ends to give you control over the length of the leash, so it's just right for you and your pup. Its multiple loops also mean there are plenty of ways to clip it around so you can have hands-free enjoyment when walking your dog.
You Should Know This:
Comfort has not been neglected with this product either; constructed from high-density nylon fabric, and a mesh velvet handle, it feels soft and luxurious against your skin.
Don't waste another minute; get the oneisall Hands-Free Dog Leash today! You'll give yourself - and your pooch - a new way to explore while keeping them safe, secure, and comfortable.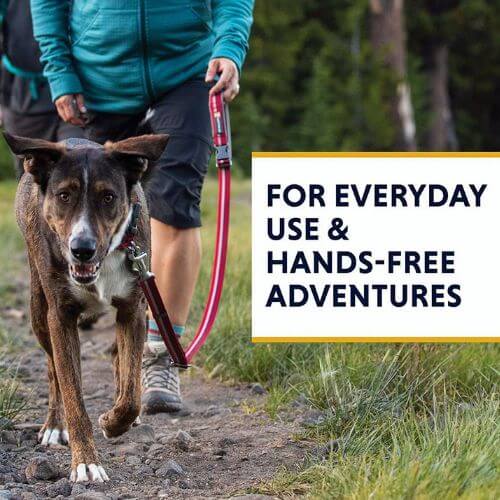 RUFFWEAR Crag Dog Leash
Best Reflective Dog Leash for Hiking
Check Price on Amazon
What We Love About This Choice:
Take your adventures to new heights with the RUFFWEAR Crag Dog Leash! Perfect for any outdoor enthusiast and their pup, this leash offers an adjustable length lead that you can clip onto your waist for hands-free convenience, allowing you to explore wild terrain without sacrificing safety. Easy one-handed adjustment is at your fingertips thanks to the ergonomic metal slider, and the talon clip ensures secure attachment.
You Should Know This:
This 6-foot-long leash can be adjusted down to anything as low as 3.5', and it comes in 6 color and pattern options, all with an integral reflective trim for added visibility and safety. It's made with durable Tubelok woven material that stands up against wear and tear so you can rely on it when tackling tough trails.
Get ready for your most adventurous walks yet with the RUFFWEAR Crag Dog Leash - explore further because nothing should hold you back!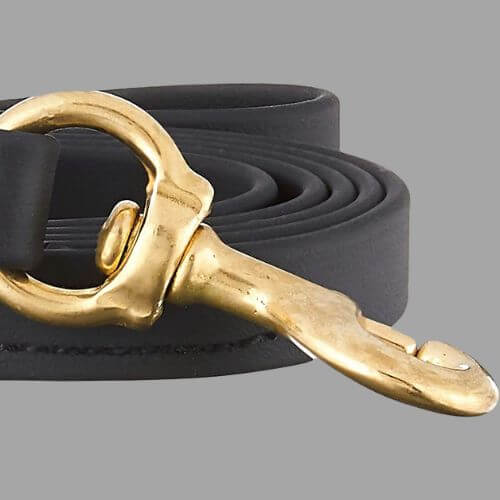 Signature k-9 Biothane Leash
Best Durable Dog Leash for Hiking
Check Price on Amazon
What We Love About This Choice:
Introducing the Signature k-9 Biothane Leash – the robust, reliable and comfortable way to take your furry best friend for a walk! This premium leash won't let you down, no matter what terrain you find yourselves in.
Made of lightweight, long-lasting biothane material with a brass bolt snap for easy fastening and unclasping, this 6-foot leash is 3/4 inches wide.
You Should Know This:
Unlike leather leashes that weaken over time and even rot or crack due to weather or wear and tear – requiring laborious upkeep – this biothane leash won't stretch, crack or rot! It also provides an exceptional grip - even when wet - so it won't slip out of your hands easily.
American made by old-world Amish craftsmen in Pennsylvania, USA; it's high fashion meets old school quality that guarantees pleasure and comfort in equal measure.
Get your Signature k- 9 Biothane Leash today! You won't regret it!
TUG XL 360° Dog Leash
Best Retractable Dog Leash for Hiking
Check Price on Amazon
What We Love About This Choice:
TUG XL 360° Dog Leash makes every hiking experience with your pup a pleasure – every time! Get ready for the most convenient leash you've ever tried - an extra-long 26' retractable leash. You can adjust the length - brake, pause, or lock - all with one hand! And the ergonomic grip gives you and your dog a gentle and comfortable walk.
You Should Know This:
Let your pup explore further while still keeping them safe. The retraction opening allows you to control the leash from any angle, and the 26' of nylon tape won't get tangled as you retract it.  When it comes to leashes, you can trust Tug - an American company committed to quality. Your next great adventure with Fido awaits!
Get the elite TUG XL 360° Dog Leash today and let the journey begin!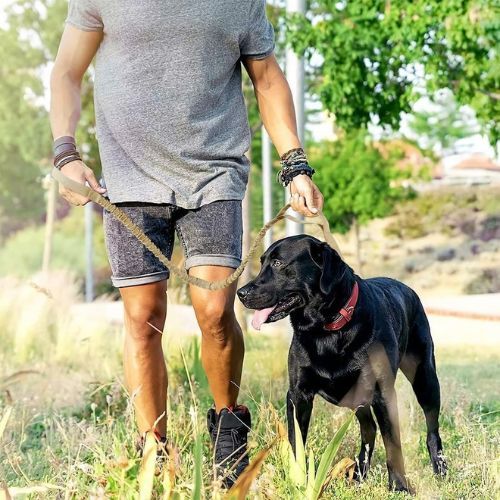 OutdoorMaster Dog Leash
Best Bungee Dog Leash for Hiking
Check Price on Amazon
What We Love About This Choice:
Whether you're a casual dog walker or an experienced hiker, the OutdoorMaster Dog Leash offers a unique formula of flexibility and strength so you can expend less energy and reduce fatigue on your exciting outdoor adventures. With the bungee effect of the elastic leash, you don't have to worry about bone-jarring shocks when your pal takes off unexpectedly.
You Should Know This:
This bungee leash is 4' long when extended, providing great control and comfort for both you and your pup. Crafted with 1000D Nylon ultra-comfortable tubular nylon webbing, this high-quality yet lightweight leash also features two handles — one in the middle of the leash & one close to your dog's collar for better control — plus padding on both handles for ultimate comfort. It comes with an impressive 6-month warranty!
So don't wait – get started on your next outing with the OutdoorMaster Dog Leash!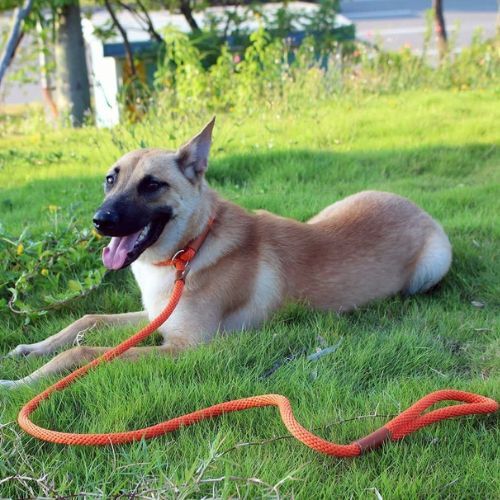 Lynxking Slip Lead Dog Leash
Best Rope Leash for Hiking
Check Price on Amazon
What We Love About This Choice:
With the Lynxking Slip Lead Dog Leash, you're always prepared for whatever adventures come your way! Whether you and your pup are out on a hike or just taking a stroll, this sturdy rope slip lead is designed to fit any situation. And it's ideal for times when you are hiking with your dog off the lead, but have it handy when you need to put one on again in a hurry.
You Should Know This:
A slip lead works by tightening when your pup pulls, and it loosens as soon as they comply with your commands. With its durable polypropylene mountain climbing rope and genuine leather attachments, the Lynxking Slip Lead is long-lasting, yet lightweight, and soft on the hands for maximum comfort. Choose from seven bright colors, perfect for any pup's style, in lengths of 6' or 8'. Take control with the Lynxking Slip Lead Dog Leash!
Best Dog Leash for Hiking FAQs
Choosing the best dog leash for hiking can be a daunting task. There are so many different kinds of leashes on the market, and it's hard to know which one is right for you and your pup.
Not only do you have to worry about choosing the right leash, but there are also a million other things to consider when taking your dog hiking for the first time. What kind of dog hiking gear do you need? What should you pack in your dog's backpack? How do you keep them safe on the trail?
We have answered some of the most frequently asked questions about dog leashes for hiking, so that you can make an informed choice. Whether you're a first-timer or a seasoned pro, we've got the information you need to make sure your hike is enjoyable for both of you.
What kind of leash is best for hiking?
When it comes to choosing the best leash for hiking, there are a few key factors that should be taken into consideration, that may not be available with a standard dog leash.
First and foremost, you need to ensure the leash is well-made and can support your dog's size and weight comfortably. It is also important that your dog is comfortable since this could be an extended hike – so make sure the material isn't abrasive or too thin in order to prevent any rubbing or chafing.
Additionally, having an adjustable length leash can greatly improve its versatility when used during different kinds of hikes. This allows you greater control of your dog's behavior as you may need more slack depending on how much space your pup needs to explore around them while still keeping them safe from potential danger ahead on the trail.
Many hikers opt for hands-free dog leashes. There are several options, from waist belts to over-the-shoulder courier styles - just choose the style that is most comfortable for you.
It's also recommended to choose a type of hiking dog leash that works with whatever kind of collar or harness your dog wears (e.g., nylon strap or heavy-duty chain). Lastly, opt for a brightly colored option for visibility in case someone gets lost along the way!
What is the best dog leash length for hiking?
When it comes to selecting the best dog leash length for hiking, it's important to consider both safety and comfort. While some people may prefer a longer leash that allows their dogs plenty of freedom, the ideal length for outdoor activities should be six feet or less. This is to ensure your pup stays close enough for you to retain control if needed, as well as prevent them from getting tangled in trees or other obstacles along the path.
Retractable leashes are a good option if you are unsure of what length you need. You can experiment with different lengths, and you can also adjust them to fit the situation, as you go along.
Do dogs enjoy hiking?
Yes, dogs definitely enjoy hiking! While it can depend on the individual dog and the type of terrain you're walking on, most pups love getting out there to explore new sights and smells.
Hiking provides plenty of opportunities for socialization with other animals and humans, exercise, mental stimulation, and learning experiences like making connections between their environment and potential food sources. Hiking is also a great way to get quality time together with your pup since it allows you to go off-leash or control their movements in an open-air space.
Is tape or cord better for a dog leash?
When it comes to choosing a material for your dog's leash, the answer depends on a few factors.
First, consider the size and breed of your dog. Heavier breeds and big dogs may require a more sturdy material such as cord or rope for their leash, while lighter breeds may be fine with using tape. When using tape, make sure that you select one that is strong enough to restrain your pet but not so thick that it affects their breathing when they pull against it.
Second, take into account how often and where you will be walking your pet. If you are going to be doing walks in areas with heavy foliage or rough terrain then cord or rope might work better than tape because these materials will be less likely to tear or break under the wear of these conditions compared to tape which can easily fray or snap under pressure. On the other hand if you are taking short trips around town then tape should perform just fine as long as it is strong enough for your pup's weight and size as mentioned earlier.
Finally, ask yourself what kind of feel do you want from the leash? Tape can provide an almost "barely there" sensation since its thin form factor won't get in between both of you on walks, while cord and rope have more bulk which gives owners better control over their pets due to the bigger grip handle they offer them during extended strolls together!
Ultimately choosing between tape and cord/rope dog leashes really depends on the individual wants and needs of both owners and pups alike!
How do I protect my dog while hiking?
Protecting your dog while hiking is an important part of ensuring your pet's safety and having an enjoyable time on the trail. Here are a few tips to make sure that you and your canine companion have a great time:
Keep Your Dog On-Leash; Bring Plenty of Water; Provide Protection from Sun & Insects; Carry First Aid Supplies in Case of Emergencies. By following these simple guidelines you'll both be ready - with the right dog gear - for an awesome hike together, without compromising safety!
How far is too far for a dog to hike?
When it comes to determining how far is too far for a dog to hike, there is no single, definitive answer. The amount of distance that your pup can safely handle will depend on multiple factors such as the age and breed of the dog, their physical condition and fitness level, environmental conditions (temperature, terrain, etc.), and the length of time per day they are able to travel.
In general, though, a puppy under the age of one should not be taken on hikes lasting more than two miles at any given time since puppies are still developing their muscles and joints. For an older dog in good physical condition who has built up endurance levels through regular activity or training with the owner (or other dogs), a five-mile trek would typically be considered safe depending on their build size. With proper training, many dogs can hike further distances, even as much as 25 miles.
Overall though, creating a personalized plan that takes different variables into consideration such as breed type & size; conditioning & health; temperature range & terrain; plus available resources & personal preferences should help you determine an ideal route length for your group's specific needs!
Should you pick up dog poop on a hiking trail?
Yes, picking up dog poop on a hiking trail should be part of every responsible dog owner's routine. Not only is it the respectful and courteous thing to do, but it can also help keep our trails and natural environment clean and healthy.
Picking up your pup's poo shows respect for other hikers too by keeping our shared outdoor spaces clean from hazardous debris so everyone has an enjoyable experience outdoors without having to worry about potential health hazards caused by irresponsible owners' pets leaving germs everywhere they go!
Should I bathe my dog after a hike?
Bathing your dog after a hike is a great idea for several reasons. First, it's important to get rid of any harmful or toxic substances that your pup may have come in contact with during their outdoor adventures, such as foxtails, pesticides, and other potentially harmful elements found on hiking trails. These can cause irritation and infection if left unattended.
It also gives you the chance to thoroughly inspect them for ticks and fleas which are also commonly found outdoors and can cause health issues if not dealt with promptly.
So don't skip out on giving your furry friend a bath after their outdoor exploration - it could make all the difference!
Best Dog Leash for Hiking - the Choice is Yours!
There are a lot of great dog leashes on the market and it can be tough to decide which one is right for you and your pup. We hope this article has helped you narrow down your choices and pick the best leash for your needs. Whether you're looking for an extra-long lead for hiking adventures or a hands-free option, we've got you covered.
Be sure to click the buttons above to check prices on Amazon - happy shopping!
---