How does your dog tell you that she needs to go outside? Does she stand at the door and bark, scratch on the door, or whine? Does he come up to you and paw at your knee to get your attention?
However your dog tries to tell you that he or she needs to go outside to do their business, there is an easier way - the dog bell! It's just like a doorbell, and all they need to do is press the bell with their paw or nose. You hear the bell and (hopefully) you will go and let them out.
Training your pup to use a bell to signal when it needs to go outside for potty breaks can be an effective and convenient way to potty train your dog.
Not all bells are created equal, however; choosing one that is loud enough for you to hear, easy for your pup to use, and stands up to the wear and tear of everyday use is key. In this blog post, we will explore the best dog doorbells for potty training, looking at what makes them special and why they could work for you.
We will also provide tips on how to effectively introduce your pup to the bell and teach them how to use it effectively. With this information, you will have all the knowledge you need in order to select the perfect bell for both you and your furry friend!
👉🏻
We are here to provide you with the best choices. Clicking on some of the links on this page may generate a small commission from purchases you make through those websites, but there is no extra cost to you.

How We Choose the Best Dog Bell For Potty Training
Many dog owners struggle with potty training their furry friends. It can be frustrating when your dog doesn't seem to understand what it is you want them to do.
Even if your dog is fully trained, it would be great if you could have them communicate to you that they want to go potty outside.
Don't waste your time trawling through thousands of Amazon reviews trying to decide on the best dog doorbell for potty training. We've already done the hard work for you by hand-selecting only the highest-quality bells so that you can make an informed decision with ease!
Our Top Choices: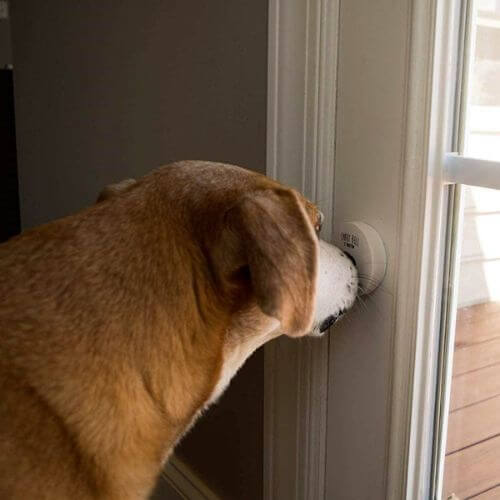 Mighty Paw Dog Doorbell
Best Smart Potty Training Dog Bell
Check Price on Amazon
What We Love About This Choice:
Make life easier for both you and your pup with the Mighty Paw Dog Doorbell! Easily teach your furry pal to communicate their potty needs by ringing this clever bell that's so easy, even a puppy can do it. With just .75 lbs of pressure, any pet of any size will be able to alert you and save you time!
The bell is conveniently mounted on either your door or wall using a 3M adhesive strip—no need for battery power or electricity, just set and play! You'll even have 38 different tinkling ringtones to choose from.
You Should Know This:
The Mighty Paw smart bell is water resistant, making it perfect for both indoor or outdoor purposes. A training guide is also provided so getting started will be a breeze. With Mighty Paw quality products you're in good hands, as they're a USA-based company and offer a full 90-day money-back guarantee on their products.
Take away the potty call drama and give your pup the convenience of their own doorbell with Mighty Paw Dog Doorbell today!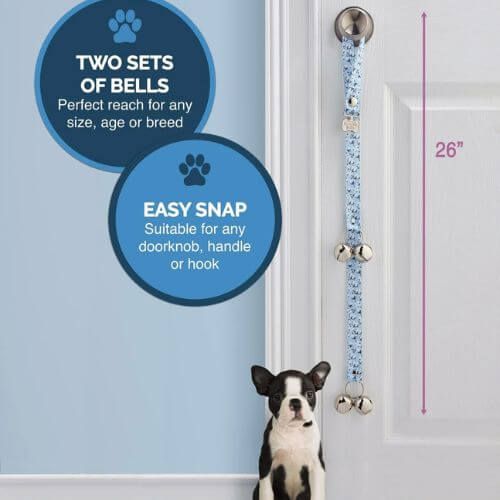 PoochieBells Doggie Potty Training Bells
Best Hanging Potty Training Dog Bells
Check Price on Amazon
What We Love About This Choice:
Introducing PoochieBells, the perfect solution for pet owners who are looking to effectively and easily train their dogs to signal they need to go potty! These Pet Potty Training bells feature a distinct sound - when the bell rings, it can be heard throughout the entire house so you'll never miss a moment.
And if that's not enough, they offer a range of beautiful designs on the straps so you can customize your selection. Designed to fit any type of door handle or knob, each strap features a secure snap closure that prevents it from being pulled off by an eager tail-wagger and comes with 2 sets of bells.
You Should Know This:
With a one-size-fits-all design, the 26" length will accommodate any age, breed, or size of puppy. Plus, the 1.25" smooth bells are lead-free, and reinforced for safety.
Handcrafted in the USA with love, PoochieBells are a tested, quality choice in potty training bells. So be sure to get your hands on a set of these dinger doodles and start training your pup today!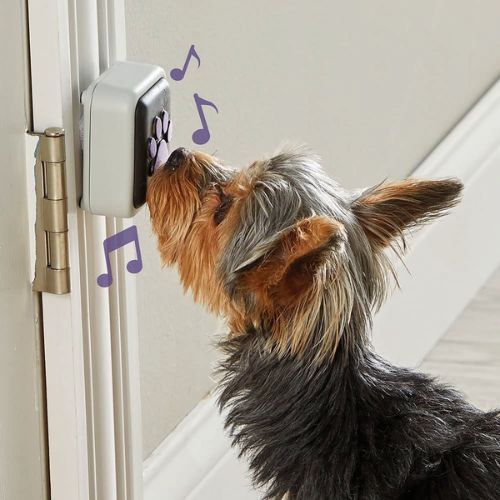 Hunger For Words Talking Pet Doorbell
Best Talking Potty Training Dog Bell
Check Price on Amazon
What We Love About This Choice:
Are you looking for a way to help your pet communicate his need to go outside? Hunger For Words has the perfect solution: the Talking Pet Doorbell! With just a simple press of his nose or paw, your pet can now ring his own doorbell. It's the perfect way to eliminate confusion and guesswork when it comes to them needing to go outside.
This innovative, 2-in-1 design allows you to either use the prerecorded bell sound or record your own words and create a unique message that is tailored just for your pet. Plus, with the included mounting strip, you can easily attach it either directly to the wall or on the floor near your door.
You Should Know This:
And don't worry about powering it - this wireless dog doorbell uses AAA batteries so all you have to do is insert and there you have it! Built from durable plastic designed by speech therapist Christina Hunger, creator of the talking dog movement, you can be sure this doorbell will stand up in any household and give you the joy of stress-free communication between you and your pet. And there's guidance on how to go about training your dog to use it too.
Get Hunger For Words Talking Pet Doorbell today and help put an end to those days of figuring out why your furry friend is barking at the door!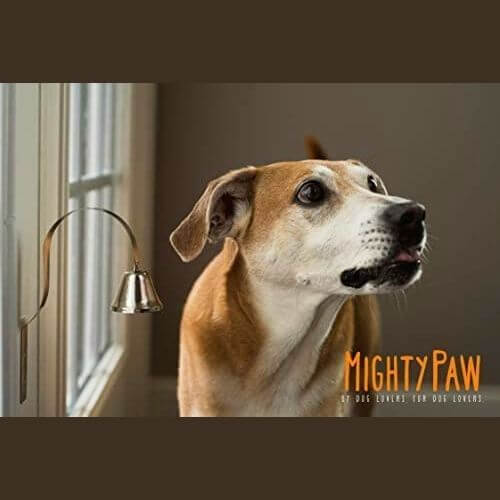 Mighty Paw Tinkle Dog Doorbell
Best Metal Bell for Dog Potty Training
Check Price on Amazon
What We Love About This Choice:
Train your furry four-legged family member the right way with Mighty Paw's Tinkle Dog Doorbell! This handy doggy doorbell is an effective and efficient house-training tool that will replace barking, whining, and scratching with a single crystal clear "tinkle." Featuring a silver-coated thick-walled brass bell for maximum sound quality and durability, this product by Mighty Paw is designed with both sound quality and longevity in mind.
You Should Know This:
Unlike fabric-based potty training products which are prone to wear, the Mighty Paw Tinkle Bells are built to last. Plus, you'll receive a 3-step training guide with your purchase from this American company.
When it comes to teaching your beloved pup appropriate communication techniques, the Mighty Paw Tinkle Dog Doorbell is the way to go!
Best Dog Bell For Potty Training FAQs
One of the best ways to train your dog to let you know she wants to outside is to use a bell. So when they ring the bell, you can take them outside so they can do their business.
With so many dog bells to choose from, how can you make the best decision?
We've compiled some of the most frequently asked questions about potty training dog bells to help you decide - first, whether you want to get one, and then to be able to confidently select one.
What is a dog bell for potty training?
A dog bell for potty training is a very helpful tool for teaching your pup their potty routine. It's an easy, stress-free way to establish and maintain good habits that will benefit both you and your pet in the long run. Even once your dog is fully potty trained, he can still use it to let you know when he needs to go outside to potty.
The basic concept of a dog bell is that you hang it on the door (or place it beside the door) where your pup needs to go out to do their business, such as the back door or front porch area. When they need to go outside, they ring the dog potty doorbell with their nose or paw. It's that simple!
Do bells help potty train a dog?
Bells are one method that pet owners use when potty training their dog - the idea being that the dog rings the bell when he needs to go out. Several studies have been conducted on dog training bells, each concluding that it does indeed work in many cases. In one study, results showed that most dogs were able to learn how to open a latch and make noise using bells within four weeks of practicing in repeated trials.
However, while this may be an effective method for some pet owners, keep in mind that all pups are different; some may take much longer than others before being able to pick up on this particular technique due either to age or intelligence level (or simple lack of interest!).
What is the best type of dog bell for potty training?
The best type of dog bell for potty training is one that is easy to use, and has loud bells and adjustable volume settings, allowing owners to adjust the sound accordingly in order to be heard in any environment. Additionally, the bells should be of high-quality material that will last for a long time.
How long does it usually take for a dog to learn how to use a potty bell?
It typically takes around 4-6 weeks for most dogs to become comfortable with using a potty bell. Some breeds may take longer depending on their temperament and the amount of exposure they get with the bell during training.
What should I do if my dog isn't responding to using a potty bell?
If your dog isn't responding to using the potty bell, try providing them with more frequent exposure and practice during training sessions. Additionally, make sure that you offer rewards such as treats or praise when it successfully rings the bell when needed.
Are there any alternatives to using a dog bell for potty training?
Yes, there are alternatives to potty bells, such as crate training or clicker training which some pet owners find effective when used alongside the traditional method of ringing a bell when it's time for your pup to go outside.
Best Dog Bell For Potty Training - the Choice is Yours!
If you've made it to the end of this article, congratulations! Your dog is one step closer to being potty trained. By now, you should have a good understanding of what type of bell works best for your dog and your home.
All that's left to do is click the button above to check prices on Amazon.
Thanks for reading and we hope this article was helpful!
---
You may also like: