Are you looking for a way to keep your dog secure in the backyard, or while out camping? A dog tie-out may be the answer.
There are various reasons why people may want to tie their dogs outside. While tying them up may sound cruel, it can be done, so long as you go about it in the right way, and use the appropriate gear.
Using a tie-out is one of the most effective ways to keep your dog safe while they explore their outdoor surroundings. Whether it's for short periods in the back yard, or to keep them within range while out camping, there are many instances where it is acceptable to use a tie-out.
With the right dog tie-out, you can be sure that your pup is always secure and content. Plus, there are plenty of options available so you can find something that fits both your budget and lifestyle needs. From cable-style lines to a trolley system, our selection offers comfort and convenience for both you and your furry friend.
Not only will a quality dog tie-out provide security for them - it also gives you peace of mind - you won't have to worry about them running off or getting into trouble!
Keep reading to learn more about dog-tie outs, and to find just the right one for your dog.
👉🏻
We are here to provide you with the best choices. Clicking on some of the links on this page may generate a small commission from purchases you make through those websites, but there is no extra cost to you.
How We Choose the Best Dog Tie Outs
Dog tie-outs on the market today have so many features and benefits, it can be difficult to find the perfect fit for your pup.
Fortunately, this blog post has all the answers you need to make an informed purchase decision about the best dog tie-out for your beloved pet. After scouring through thousands of product reviews on Amazon, we have narrowed down our selection to the top picks – giving you peace of mind when making a purchase.
Our Top Choices: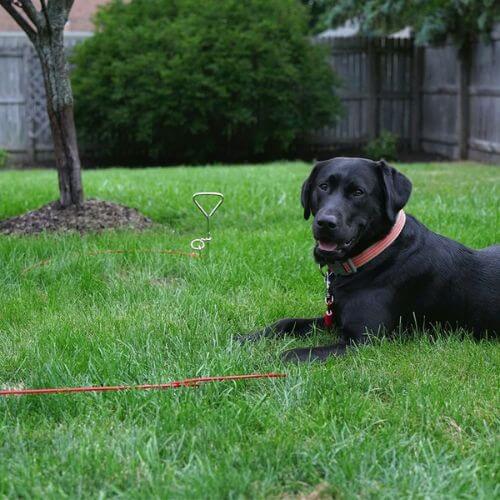 BV Pet Tie-Out Cable for Dogs
Best Steel Cable Dog Tie-out
Check Price on Amazon
What We Love About This Choice:
Are you looking to let your faithful friend explore the world outside your home? With BV Pet's Tie Out Cable, you can give your dog freedom with security! This lightweight and strong cable is easy to install - it uses a stake-free system, so you can just loop it around a tree or post. It also ensures that your pup can play untangled; the quick-release crimp and swivel clip rotates through 360 degrees for tangle-free use.
You Should Know This:
This durable braided steel cable is covered with vinyl for rust protection. It comes in lengths ranging from 20' - 30', so you can choose one just right for your pup, no matter what size they are - you can get one for dogs up to 250 lb! Plus, each purchase includes a reliable one-year limited product warranty, so you can rest assured that your pup—and wallet —can all be happy.
So why wait? Start giving your furry friends limitless security with the BV Pet Tie Out Cable today!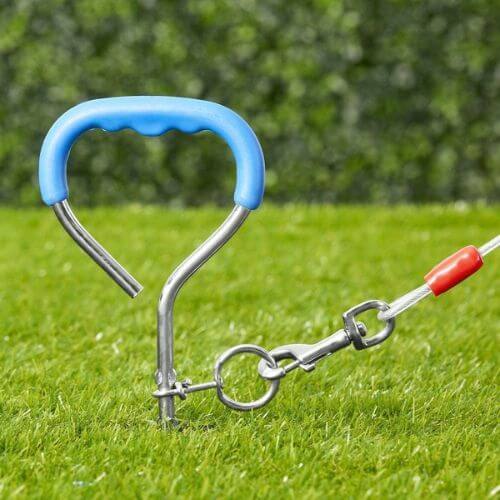 Petmate Aspen Dog Tie Out
Best Dog Tie Out Stake and Cable
Check Price on Amazon
What We Love About This Choice:
Are you looking for a way to give your beloved dog plenty of freedom and still keep him safe? Look no further than the Aspen Dog Tie Out from Petmate. The Corkscrew-style stake offers easy installation in any type of soil, providing secure anchoring and protection against strong pulling.
The tie out system comes complete with a steel cable leash. And with the Easyturn Stake's 360-degree swivel ring, your pup can move around tangle-free on a secure and safe lead.
You Should Know This:
Made with durable, double-welded steel, this heavy-duty stake offers dependable strength and stability. The 20' galvanized steel cable leash is coated with crack-resistant polyvinyl to keep it strong and resistant to pulling.
Don't let worries about safety get in the way of giving your pet the freedom they deserve -get Petmate's Aspen Dog Tie Out today and let your pup enjoy the best of both worlds – freedom and security!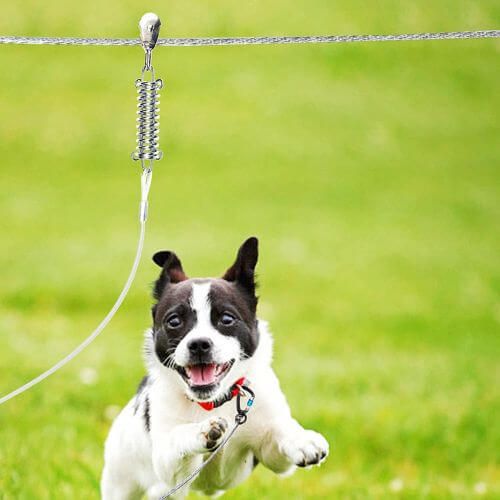 Snagle Paw Dog Tie Out
Best Trolley Sytem Dog Tie Out
Check Price on Amazon
What We Love About This Choice:
With the Snagle Paw Dog Tie Out your pup can enjoy some time out in the open, with more freedom to roam. This Zipline gives them unparalleled freedom to explore, and also gives peace of mind to pet owners who want a reliable and secure outdoor solution for their canine companion.
Quickly secure the cable with screws onto supports at each end and attach the trolley lead. There's a shock-absorbing spring on the runner lead - that way, if your pup pulls too hard, they'll stay safe and sound!
You Should Know This:
This tie-out eliminates any tangles with its 360° tangle-free clips that are crafted from top-quality rust-free aviation aluminium. The strong vinyl-covered durable and long-lasting cable and runner guarantee the safety and protection of your four-legged one outdoors. Coming in two lengths, 75' and 100', you can find the perfect option for your backyard.
Snagle Paw Dog Tie Out will give your pup freedom he hasn't ever experienced!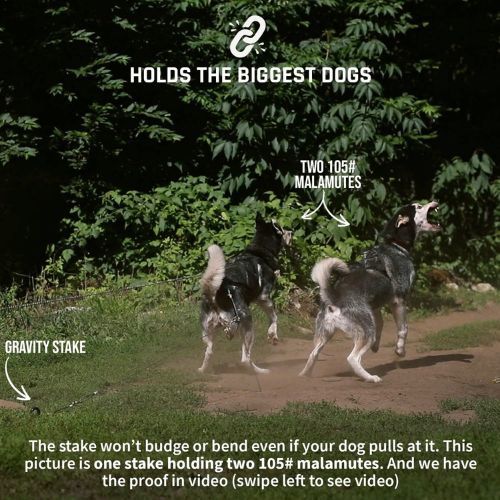 SÄKER Heavy Duty Tie Out Stake
Best Dog Tie Out Stake for 2 Dogs
Check Price on Amazon
What We Love About This Choice:
Introducing the SÄKER Heavy Duty Tie Out Stake – the perfect solution for pet owners who want to bring their beloved furry companions along with them on outdoor excursions, from beach trips and park visits to camping adventures. Now your canine friends can safely roam any direction without restriction, while you enjoy peace of mind knowing they're securely tied up using this gutsy stake.
Best of all, it works with any dog tie out or leash, and can accommodate one or even 2 dogs large dogs up to 180 pounds without fail.
You Should Know This:
The single-blade design is both durable and dependable, providing a robust anchor that won't bend or break even if your pup pulls hard!  Plus, no tools are required: simply set up in only a few turns and leave it outside in the yard unscathed; the patented Galvanized Steel stake is designed to resist all elements.
Enjoy stress-free outings with your furry sidekicks thanks to the SÄKER Heavy Duty Tie Out Stake.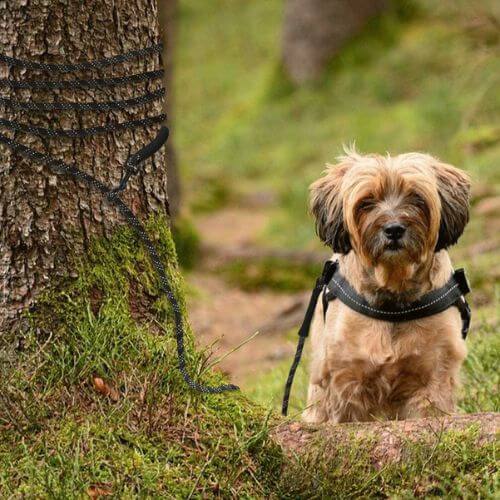 Taglory Dog Tie Out
Check Price on Amazon
What We Love About This Choice:
Do you want a safe and durable way to keep your dog secure in your yard? Look no further than the Taglory Dog Tie Out! This long rope leash gives you unparalleled flexibility and control, whether you're using it with a collar or harness. Conveniently pick between options with or without handles and choose between orange or black depending on your own style preferences.
You Should Know This:
Taglory Dog Tie Out offers superior protection with its durable metal clip hook and wear-resistant nylon rope that comes in lengths of up to 66 feet. With this reflective tie-out cable, you can rest assured that your canine companion will be visible even at night - keeping them safer than ever before!
For ultimate peace of mind, look no further than Taglory Dog Tie Out.
Best Dog Tie Out FAQs
What is a dog tie-out?
A dog tie-out is a device used to tether or secure your pet outside. It's usually a long cable, stake, or pulley system that has either a clip on one end that attaches to your pet's collar and the other end secured into the ground using additional hardware.
Dog tie-outs are commonly used in yards, porches, at the beach or park, or while out camping – anywhere you want to let your pup roam freely without being able to escape or wander away. Tie-outs can come in many shapes and sizes depending on how much space you have available and the size of your dog.
Why do people tether their dogs?
Tethering (tying your dog) is a common way to provide supervision and prevent them from wandering away or engaging in undesirable behaviors. Tethering can give dogs more freedom than they would have in a crate, but it also limits their ability to roam freely. Today, social conventions have made the practice of tying your dog outside less common; however, there are still some valid reasons why you may choose this course of action.
Tethering lets pet owners keep track of the whereabouts of their pets when outdoors or indoors without having to fit them with an electronic collar device or constantly monitor them. With a short tether connected to something stable like an outdoor deck, patio slab –or even furniture– owners can leave their pets outdoors unattended while still ensuring they don't wander away out of sight or into danger (like crossing busy roads).
What is the best way to tie a dog outside?
The best way to tie a dog outside is to use a strong rope or cable that can handle the strength of your pup. It should be as sturdy as possible so that it does not break if your dog decides to pull on it.
Additionally, you should also make sure you attach it securely to an immovable object such as a post, fence or wall so that the dog can't run around too much and get tangled in the rope. Make sure there's enough slack for him/her to move around comfortably but not too much where he/she can escape.
What should I consider when choosing a tie-out for my dog?
Choosing the right tie out for your dog can be a difficult process as there are many considerations to take into account.
First and foremost, you should consider your dog's weight. For example, a small toy breed like a Chihuahua will require a significantly smaller tie out than that of an adult Great Dane. Make sure the material of the tie is strong enough to support your dog's weight – otherwise it could break and put them in danger!
The length of the tie-out is also an important factor to consider when selecting one for your pet. Ensure that it gives them free rein over their territory while preventing them from wandering off or getting tangled up with nearby objects or other pets on adjoining properties. If your pup has already proved themselves to be an escape artist, opt for something longer with multiple clips so you can adjust the length as needed and give them more room without worrying about any potential escapes!
Finally, the anchor (stake) used in combination with the lead should be taken into consideration when selecting a tie-out; not all anchors are created equal and some may even put your pet in harm's way if not properly secured into the ground or walled surface you plan on using it against - so make sure whatever type of anchor/stake combination you choose is up for task over time!
Are tie-outs safe for dogs?
Tie-outs can be a safe and effective way to keep your pup contained outside, provided that you choose an appropriate product for its size and weight. It is best not to leave your dog unsupervised for long periods of time.
Ensure the tie-out is firmly secured and that there are no possibilities of the lead becoming entangled with other items. And make sure the dog has a comfortable and well-fitting collar or harness to which you can attach the tie-out lead.
Is a chain or cable better for a dog tie out?
In our opinion, the cable option is generally considered better than a chain.
First of all, cables are usually lighter and easier to carry than their chain counterparts. This is important because tying out your dog doesn't mean that they should be carrying extra weight - in fact, if you choose something too heavy, you run the risk of straining their neck and shoulders as they move around. Not only that, but since cables are lighter they are also much less likely to become tangled around themselves or other objects in your yard while your pup is having fun running around!
Cables will also usually last longer than a standard metal chain due to the fact that metal can corrode over time when exposed to moisture (especially if it's left outside). Cables don't rust quite as quickly so there's less chance of them wearing out before their time.
Finally, many people prefer cords simply because they look nicer than metal chains - giving your outdoor space more aesthetic appeal instead of appearing industrial which can often detract from its overall charm factor. So although both metal chains and cables have advantages depending on factors like budgeting needs strength requirements/desired outcome etcetera one generally tends to come out ahead of the other in regard to tie outs for canine companions: cables!
What is the best rope for tying up a dog?
When it comes to tying up a dog, the best rope to use is one that will be strong and durable enough for your pet. To achieve this, you have several options:
Nylon rope is a great choice as it's lightweight yet strong and abrasion-resistant. It's also easy to tie with knots so it makes an ideal choice if you plan on using tie-outs. For even more strength, steel cables are available in varying sizes and lengths which can be secured in sturdier ground anchors and provide a stronger solution than nylon ropes.
Can you put 2 dogs on one tie out?
Yes, it is possible to put two dogs on one tie out. However, you should make sure that the tie out is strong enough to withstand the combined weight and strength of both dogs. The best way to do this is by purchasing a specially made tie out for two animals - these are usually made from extra durable materials or with multiple anchors so they can handle the strain from two animals.
In addition, a separate dog tie out cable must be attached to each dog's collar when on the tie-out; this will help ensure there isn't an entanglement between them and that each dog remains safe and secure.
How long can a dog be on a tie-out?
The length of time a dog can be left on a tie-out will depend largely on where you live. Therefore, it's important to check your local by-laws before leaving your pup tied up for extended periods of time. Not only do these kinds of laws exist to ensure that dogs don't suffer from neglect or abuse when left alone, but violating the law can result in fines and other penalties as well.
In the US, individual states have adopted their own laws and regulations governing how long an animal may be tied up. For instance, in some states it is unlawful to leave your pet tied up for more than one hour at a time; whereas in others it may be permissible for up to 9 hours within any 24-hour period.
As much as possible, try to avoid tying up your pup if you won't be able to observe them for lengthy periods of time - perhaps there are better alternatives like installing a wireless fence or taking breaks throughout the day so that you can take them inside every few hours instead.
Is tying a dog up animal abuse?
Restraining a canine for extended periods of time, especially when they have no access to water, food or shelter can be deemed abusive. Nonetheless, it is permissible depending on the environment, the need for tethering (for example if you are out having fun together), and if done for short periods of time.
To tether an animal in any form - especially during inclement weather conditions - for long stretches at once should never be tolerated!
How do I keep my dog outside without a fence?
Keeping your dog outside without a fence can be a daunting task, but it is possible with the right tools and some training.
A great solution for dogs who are going to be spending more time outdoors is to invest in a GPS collar that will allow you to keep track of them at all times. These collars are usually quite affordable and come with many features such as an alarm that triggers when your pet goes beyond a pre-determined area.
For those who don't have the budget for a GPS collar, dog tie out cables or leashes can also be effective alternatives. With these methods, you'll need to frequently check up on the dog and make sure they don't get tangled up or hurt by other animals while they're out playing in their yard. Investing in quality dog houses or kennels is another great option for keeping your dog safe without a fence.
Finally, one of the most important things about keeping your pet safe indoors without any fences is proper training! Teaching basic commands such as "stay" alongside rewards for listening will help tremendously in ensuring your dog remains within boundaries set by you and nobody else no matter what situation arises.
Best Dog Tie Out  - the Choice is Yours!
With all of the factors to consider, we hope this article has helped you pick the best dog tie out for your needs. Be sure to take into account the size of your yard, whether your dog is an escape artist, and how many dogs you need to keep contained.
Click the buttons above to find out more about the products and check the prices on Amazon. Thanks for reading!
---
You may also like: